Back to selection
CASSIDY AND SHATZKY'S "FRANCINE" DEBUTS IN BERLIN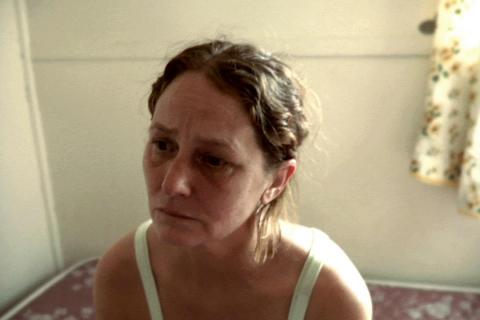 David Rooney's Hollywood Reporter review of Brian Cassidy and Melanie Shatzky's tough, piercing American independent character drama Francine, which premiered this week in Berlin, is masterful. As noted also by Jeffrey Wells, Rooney approaches the film on its own terms, and distills in his prose strengths that would be ignored or misconstrued by another critic.
A minimalist, image-based character study that is almost impossibly fragile and yet emotionally robust, Francine is a legitimate discovery. It's propelled by Melissa Leo's remarkable title-role performance, rigorous in its honesty and unimpeded by even a scrap of vanity. Made on a shoestring, this first narrative feature from husband-and-wife filmmaking team Brian M. Cassidy and Melanie Shatzky is raw, intimate and observed with penetrating acuity.

The austere approach and stark naturalism invite comparison with the work of Kelly Reichardt, and the subject specifically recalls Wendy and Lucy. (Producers Joshua Blum and Kate Stern have both worked with Reichardt.) The earliest films of Jean-Pierre and Luc Dardenne also come to mind while watching. But Cassidy and Shatzky, whose backgrounds are jointly in photography and documentary, have their own voice and their own nonjudgmental gaze.

As a window into a life of seemingly irreversible dissociation, the film performs the uncommon trick of being wide open and pellucid while simultaneously shut tight and opaque. One of the interesting aspects of Francine is that despite the unsettling intimacy of the portrait, only sparing use is made of facial closeups – the usual short-cut to accessing an introspective character. Dialogue figures just as frugally, and psychological background is entirely withheld. But still we come to know the woman onscreen, speculating about her history and contemplating her future after the film has ended.
In Francine, Leo plays a paroled convict, first seen showering and then turning to the camera where she is caught naked, full body, in a wide shot. The nudity foreshadows the emotional nakedness of the film to follow, as Leo's withdrawn, emotionally damaged character drifts through a series of dead-end jobs before finally working in a veterinary clinic and developing an odd, unhinged bond with the animals, living and dead. Her connection with them is an inchoate one, yet it has a directness lacking in her failed entanglements with other humans.
What makes Rooney's review especially perceptive is his understanding that the omission of things like backstory, conventional scenes built around dialogue, or shot-countershot sequences aren't failures of omission but rather attempts to develop a different narrative language, one that explores psychological space and the strangeness of everyday life.
We selected the two filmmakers for our
"25 New Faces" list in 2007
, and in the interview Cassidy said, "Our filmmaking shares something with documentary, but I'm not sure what that is. I suppose it is our interest in the actual world and how it can be shaped and represented, but beyond that I don't know." Describing their short,
The Delaware Project
, the couple might have been discussing
Francine
: "Without dialogue, the viewer is encouraged to look elsewhere for the story," the couple says. "They might even have to look more closely at the images, use their ears more, read the film rather than simply watch it."
One other interesting note about Francine: one of the strategies it replaces conventional narrative exposition with is scenes that are essentially performative in nature. Or, rather, scenes in which Leo is placed in what seem like real situations and is challenged to simply react and assimilate. Many scenes revolve around Leo simply doing, whether her actions be scattering pet food around her increasingly messy house or shoveling frozen animal bodies into a furnace. In one sequence, she wanders into a sparsely attended afternoon hardcore concert on a park lawn, swaying into the music as metalheads around her try to manufacture an impromptu mosh pit. In another, and perhaps the most challenging in the film, she cradles a dog as it is being euthanized. As Rooney notes, these "experiences are wrenching ones for her, as they are for the audience."
U.S. audiences will have a chance to encounter the bold and mysterious Francine at SXSW, where it screens in the Emerging Visions category.