Back to selection
AND PROUD WE ARE OF ALL THEM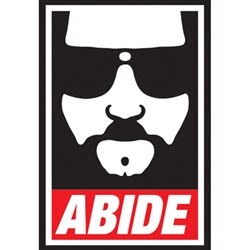 For anyone who's payed the ultimate tribute to the Coen Brothers' The Big Lebowski by attending the Lebowski Fest, this one's for you.
I first heard of the Achievers last September when I interviewed the creators of Lebowski Fest for FilmInFocus. This group of die hards for everything Lebowski span the globe and are not fans of the film but are obsessed over it. Some dress up as their favorite characters and attend Lebowski Fest, others yell out every F-bomb at midnight screenings and some practice the religion Dudeism. The Achievers are now the subject of a documentary, The Achievers: The Story of the Lebowski Fans. Originally a 15 minute featurette in the 10th Anniversary Big Lebowski DVD release (the one with bowling ball packaging) director Eddie Chung has now made a feature version which is currently having a limited theatrical release and will have a DVD release Oct. 27. It will also screen at upcoming Lebowski Fests (the next is in Denver on Oct. 8).
Check it out. It really ties the room together.
THEATRICAL SCREENINGS
September 10
Chicago, IL
Portage Theater
September 18
Boston, MA
MIT University Room 26-100
September 21
Brooklyn, NY
Cobble Hill Cinemas
September 27
Washington, DC
Arlington Cinema Draft House
October 2
Dallas, TX
Lakewood Theater