Back to selection
TORONTO 09: GUY MADDIN'S NIGHT MAYOR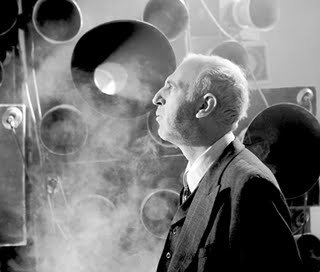 Over at Movie City Indie, Ray Pride posts a two minute clip of Guy Maddin's short film Night Mayor which will have public screenings at TIFF on Saturday, Sept. 12 @ 4:00PM (ISABEL BADER THEATRE) & Sunday, Sept. 13 @ 1:15PM (JACKMAN HALL – AGO). Looks like vintage Maddin to me.
A description of the short reads:
The filmmaker whose cinematic style inspired the term "Maddinesque" delivers a fantastical film about the night mayor of Winnipeg, an inventor of Bosnian descent who harnesses the power of the aurora borealis to transmit distinctly Canadian images across the Great White North. Guy Maddin's imaginative allegory for our cinematic history blends his signature humour with subversive social commentary.
Read Filmmaker's coverage of the Toronto International Film Festival starting later this week.