Back to selection
PUSHING AWAY: LEE DANIELS'S PRECIOUS |
By Jason Guerrasio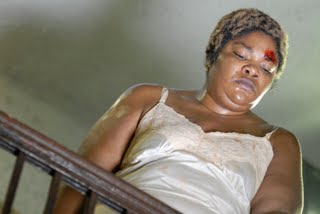 Leading up to the Oscars on March 7, we will be highlighting the nominated films that have appeared in the magazine or on the Website in the last year. Jason Guerrasio interviewed Precious director Lee Daniels for our Fall 2009 issue. Precious is nominated for Best Picture, Best Director (Daniels), Best Actress (Gabourey Sidibe), Best Adapted Screenplay (Geoffrey Fletcher) and Best Editing (Joe Klotz).
It's November 2007 and manager-turned-producer-turned director Lee Daniels is shooting a film in New York City for the first time. Having already been shut down by the NYPD for going over his permit time in Harlem, he's now in a cramped apartment in the Chelsea section of Manhattan working with a crew he's not clicking with and horrible reviews of his previous film hang over his head. But none of this seemed to be bothering him when I meet him on the Precious set. With his infectious laugh and signature unkempt hair, Daniels walks around the set like a mad scientist. Discussing the previous shot with his d.p., he then heads to the makeup trailer to look over Mo'Nique's physical transformation into Mary, his film's grotesque vision of motherhood. Finally he returns to his trailer and sinks into his couch. Unseen by the rest of the cast and crew, he seems exhausted. "I find myself weaker each time I do a movie," Daniels sighs. "It takes a bit of my soul."
Before Daniels made his mark as a producer with the Oscar-winning Monster's Ball, he was on a mission to make Precious, an adaptation of poet and novelist Sapphire's acclaimed novel Push. It's the story of Claireece "Precious" Jones, an overweight 16-year-old who battles illiteracy and has given birth to one child by her father with another of his on the way. She has also learned that he has transmitted HIV to her. Made fun of at school and abused at home by her mother, Precious is given the opportunity to change her life by enrolling in an alternative school, and Sapphire tells her story in a harrowing stream-of-consciousness that has a distinctive cadence and rhythm that's married to the vernacular and dialect of Harlem in the '80s.
Daniels says he immediately found similarities to his childhood in Philadelphia in the book's depiction of uptown New York City. But Sapphire (whose real name is Ramona Lofton) steadily refused to give Daniels — or anyone else, for that matter — film rights.
Daniels moved on, producing Monster's Ball and The Woodsman. Then he decided to direct the Helen Mirren/Cuba Gooding Jr. assassin pic Shadowboxer in 2006. Daniels received the worst reviews of his career; New York Post film critic Lou Lumenick called it "the worst movie of the century." For Daniels it was a humbling experience, but he later discovered the film had an unlikely fan: Sapphire. She contacted Daniels and agreed to let him adapt her book. After being unimpressed with drafts done by Hollywood screenwriters, Daniels approached recent NYU Film School graduate Geoffrey Fletcher, whose short film Magic Markers impressed him, to write the script. "I'd heard that a couple of other people had tried [writing the script]," Fletcher says. "I gave [Daniels] the first 15 pages I did, and he just said, 'Yeah, you're the one to do this.' I said, 'Are you sure?' and he said, 'Yes, you can just tell.' I'm just finding out now how odd that is." Daniels was not only taken by Fletcher's approach to scene structure but with the new fantasy scenes Fletcher created of Precious veering off to red carpet premieres, photo shoots and even imagining herself as a white girl when she's abused.
To play Precious, Daniels cast unknown Gabourey "Gabby" Sadibe, who outside of a high school play, has never acted before; for smaller bit parts he went to his friends in the music world like Lenny Kravitz, who plays a male nurse who befriends Precious, and Mariah Carey, who appears as a social worker. (Hands-down it's her best acting performance to date). But choosing Mo'Nique to play the despicable Mary could be the most rewarding gamble. Since screening the film at Sundance earlier this year, where the film won the Grand Jury and Audience awards and Mo'Nique received a special jury prize for her acting, the Oscar buzz for her continues to build.
The film's Sundance success has also brought out some of the most important African-American figures in Hollywood to come on board, as Oprah Winfrey and Tyler Perry will both be presenting the film when it opens in November. But it hasn't all been good for the film since Sundance. The title had to be abruptly changed (originally titled Push: Based on the Novel by Sapphire, but due to the release of Summit Entertainment's Push in February, the film was changed to Precious: Based on the Novel Push by Sapphire), and The Weinstein Company and Lionsgate filed lawsuits against each other over domestic rights to the film. (Daniels and Lionsgate, who is releasing the film, have no comment on the matter and The Weinstein Company would not return our calls as of press time.)
Daniels once again is in an exhausted state when we meet for this interview at his home a few months before the film's release. But it's different this time, as Daniels believes the worst is behind him. (That could be partly why he drastically cut his trademark mane shortly after this interview — to start anew.) As he explains here, bad press, arguments with crew members and the rigors of a New York City shoot were not going to stop him from making the film he wanted to make.
Filmmaker: When we last interviewed you it was for Shadowboxer. You said at the end of that interview that you were excited to direct again.
Daniels: I did? I must have been crazy. [laughs] Well, you guys interviewed me prior to the reviews coming in so I think I was naive. I just assumed people would like it. Up to that point I had no other experience — they liked my other two films [I produced]. To be at the complete opposite of what I'd experienced in the past made me [better] appreciate what I was doing and to understand the struggle of other filmmakers that suffer from people not liking or understanding their work. So it was a great experience now. Back then I didn't like it. I came back from Toronto and my doorman showed me the front page of the New York Post. It said "Shadowboxer, the worse film of the century." I was like, "What?" I literally went to my bed, put the covers over my head and stayed there for two days in the fetal position. But that inspired me to go out and direct again.
Filmmaker: Did reading Push bring back any memories of what you went through growing up in Philly?
Daniels: I had not experienced the things that Precious had experienced. Maybe a little bit, but I knew so many Preciouses in my life. I didn't have to deal with obesity but I knew all those nuances. I brought my world, the world that I grew up in, to Mary's home. The living room in Mary's home — from the wallpaper to the portraits on the wall to the couch, they're all memories of my childhood.
Filmmaker: Did Sapphire ever visit the set?
Daniels: She has a small part. She takes Precious's child at the end when she's about to walk up the stairs to the office. She was also on set one day, and I was really nervous. It was when Mary tells Precious that her father is dead. I just remember [Sapphire] laughing because I was laughing. It's a very serious scene and Mo'Nique was laughing, so we all were. I asked Sapphire recently, "Why were we laughing in the most politically incorrect places," and [she said that] it's because we understand it on another level.
Filmmaker: I think what people will be surprised about when watching the film is that it's okay to laugh.
Daniels: When I introduce the film I always say it's okay to laugh. Embrace it. And I think we laugh because we're not supposed to. Nervous laughter.
Filmmaker: Were there things you learned from doing Shadowboxer that helped you direct this film?
Daniels: I guess subliminally. I brought the same energy, the same person, the same everything. I didn't do anything different. Even as a producer I had the same spirit. But my boyfriend says I was much more serious for this one. I think what happens is you get older. And I was a little smarter, I knew what I wanted in a take faster so I could get in and out quicker. And this was my second time working with Mariah and Mo'Nique so there was a shorthand. There were just grunts, literally. I would just grunt or use my eyes or hands and they would get what I meant.
Filmmaker: Then you have Gabby. She's in every scene and she's never acted.
Daniels: She was a godsend. I mean, you can't call up an agency and say, "Give me a 300-pound woman." So we did an open call, and it was really hard. I had over 500 girls audition across the country. We did a "Precious camp" where girls worked with my acting coach. They came from Philly, Baltimore, Chicago, New York and L.A. But the thing was, they were very true, they were Precious, and Gabby is not Precious. What you see in the fantasy scenes, the way she talks — that's her. Gabby wasn't even in the boot camp. She came out of nowhere, just showed up in an audition one day. But she plays the role so convincingly that people will meet Gabby and think she should be talking the way she does in the film. I even did. When she would snap out of it, I would go, "Oh, that's right."
Filmmaker: Was it hard to teach her the dialect Precious speaks in the film?
Daniels: Yes, that was hard. I used to be a manager for talent, and I remember that when I had African-American talent during the '80s and they would go in for auditions, the casting director would say, "Great, but can you do that a little more ghetto?" [laughs] And here I was telling Gabby to do the same thing! But we worked on deepening her voice, working from the gut, because in real life she speaks from the head, and slowing down her speech. Often I'd just think about how my cousins spoke. I mean the guy who wrote the script, Geoffrey Fletcher, is an incredible writer, Ivy League school, teacher at Columbia, so it was written how you and I speak. We'd have to go back and remember how certain words were said or phrased at that time.
Filmmaker: Did you ever consider setting the book in the present day?
Daniels: We went back and forth, but it was the general consensus that we had to do it in the '80s because I don't think it would have the impact if we set it in the present. Especially with the AIDS issue because back then if you got it you were going to die. No questions.
Filmmaker: I remember visiting you on the set. Did you underestimate how hard the shoot would be?
Daniels: Yes. In the back of my head I believe that I can get anything [for my film], but when I had so many obstacles in front of me I started to question myself. It was a very hard experience.
Filmmaker: How so?
Daniels: I just think I am who I am and oftentimes I'm misunderstood. You can take my laughter and wanting everyone to get along as me being passive, but a good portion [of the crew] didn't understand the vision or what I wanted to execute.
Filmmaker: I've read that you fired a lot of key crew.

Daniels: People think that once that train leaves the station they cannot get fired, that they are going to do what they want to do and ignore what you want. When you see that your vision isn't being executed to exactly how you see it in your head, yes, you have to stop. I think filmmakers have to know that. You should never work in fear, nor should you work with people who don't get you. The problem was that the people who I've grown close to were unavailable because we got the money so last minute. Everyone I wanted was working. So I had these new people, all from New York, and I was forced to work with this person or that person. It was painful. The actors were great — you'll never hear about me firing an actor — but this was a very difficult shoot. Ultimately I fell in love with my editor, d.p., production designer and costume person. I mean, it takes a minute to understand who I am too. I'm not easy. [laughs] But let me tell you, people will compromise your vision, they will compromise your work and that's when you have to stand up for it. The minute you stand your ground and say, "No, this is not what I want," and they say, "This is the way it should be," that's when they have to leave.
Filmmaker: Was Mo'Nique your first choice for Mary?
Daniels: She was the first one cast. After Shadowboxer we became good friends. I was looking at a lot of women for the part and I thought of her. But I told her, "Mo'Nique, you shouldn't do this because you are the queen of BET and Showtime at the Apollo. They love you in the projects. This isn't that kind of party — you are going to lose your fans." But at the same time I thought she could do a really good job just based on the work that we did in Shadowboxer. She read it and said, "Sign me up."
Filmmaker: Would you guys have discussions on how she should dress or talk?
Daniels: That's the magic we have. It's not just respect, it's love. She knows what I want her to do almost as I am about to tell her to do it. "Grow your arm hair, I want zits on your face, eat greasy food. Put this wig on, no, put that wig on, no, don't wear a wig. How long is it going to take you to grow hair on your legs?" It was just, whatever. "Yes, Mr. Daniels." That's a direct quote, that's what she would say on set. Then behind closed doors it was like, "What the hell are you doing to me?" [laughs] So with her and Mariah, too, there was a trust.
Filmmaker: When did Mariah sign on?
Daniels: Much later. Helen Mirren was supposed to play the social worker and then she couldn't do it. People would ask me, "How are you going to go from Helen Mirren to Mariah Carey?" I'm just really happy for Mariah because in Tennessee [a film Daniels produced that was released earlier this year starring Carey] we developed our own working relationship and were able to take it to that next level for Precious.
Filmmaker: One of the most riveting scenes in the film is when Precious looks in the mirror and imagines she's a skinny, blonde white girl…
Daniels: And I don't think that's just about [being] black. I think a lot of women see themselves differently in the mirror. The way society deals with self-image is so destructive and unhealthy. [That scene] was really for my daughter who at 13 feels uncomfortable because she has some curves and all her friends are rail thin.
Filmmaker: Were there supposed to be more scenes of the white fantasy girl appearing?
Daniels: Oh yeah, but you can only do it so often. I had her appear originally three times and by the time we put the movie together we realized we were hitting people over the head with it. Same thing with Mary masturbating upstairs to a big O.J. Simpson poster and telling Precious to come upstairs. I [decided I] didn't want to hold onto it. I just wanted to get in and get out.
Filmmaker: Were Oprah and Tyler Perry instrumental in the sale to Lionsgate?
Daniels: I think so. I had given Oprah the film prior to my arrival at Sundance, and she had tried to see it but she couldn't get it to play. At Sundance Tyler's people saw it, so then he saw it and he told Oprah to see it. She found a DVD player that would play the DVD and then she called me. I was winning the first award and Oprah calls me as I'm walking up to the stage. I'm like, "Who is this?" And she says [in a whisper], "It's Oprah." And I'm like, "Who?" It was surreal. And Tyler has a brilliant brand and knows how to tap right into the African-American home.
Filmmaker: Are you concerned that general audiences won't respond as strong as festival audiences?
Daniels: No, because before I showed the film at Sundance I needed a barometer of African Americans and how they felt so I did a test screening at the Magic Johnson Theater in Harlem on 125th Street. Three hundred people, all African American and it scored amazing.
Filmmaker: Because of your success producing and now directing films about very tough subjects do you feel obligated to keep telling these stories?
Daniels: I don't feel obligated, but I am drawn to them. It is something in my nature, and it's something that I'm trying to fight away from.
Filmmaker: So you feel like you're getting pigeonholed?
Daniels: Yeah. I'm trying to find a romantic comedy, but what can I say, I'm as twisted as a pretzel. I'm probably going to find an edgy romantic comedy. But I really want to break away from this type of storytelling. I think it's important for me to grow as a filmmaker.
Filmmaker: Do you have things in the pipeline?
Daniels: I'm writing something for Oprah. I'm writing a very dark comedy.
Filmmaker: You've never had a screenwriting credit.
Daniels: I've always helped write but I don't start from a blank page. I'm also up for a few studio films to direct. I'm trying to figure out what the next thing is. It's really difficult because after Precious you think, "How do you make everyone happy?" but then you realize you have to [think], "No, make yourself happy." It's hard to find good material, so that's why I'm writing — I've given up on being at the mercy of garbage.