Back to selection
The Week in Cameras: The Software Edition
After the excitement of the last two weeks of camera announcements, here are some software announcements and updates that you might have missed.
Prelude is unbundled
One of the new apps to appear in Adobe Creative Suite 6 is Prelude, an ingestion and logging tool that is a separate application but works closely with Premiere. Prelude lets a user scan through the clips on a camera or memory card and select the ones they want to transfer or transcode. Metadata can be added, and it's also possible to create very simple rough cuts within Prelude. The rough cuts and the clips are then sent through to a Premiere Project to be completed.
As a logging tool Prelude is a promising first step, though whether it's right for your shop at the moment will depend upon your workflow; one current limitation is that there's no central repository of metadata for all the clips you've ingested.
When CS6 was released, Prelude could only be purchased as part of the suite, but last month they made it available separately. Field producers can now have a copy of Prelude and log and create rough cuts on machines that don't have the entire Creative Suite – or even Premiere. Prelude by itself costs $399, and includes a copy of Adobe Media Encoder for transcoding media.
Adobe: Prelude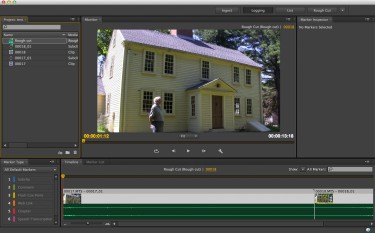 Adobe Story
Last month Adobe also changed some of the licensing details on Adobe Story. For those not familiar with Story, it is a script writing tool that has several interesting features; available as a web-based tool and an AIR app, you can edit and share files stored on Adobe's servers, or work on files locally (the AIR app is only available with the paid version of Story.) In addition to online collaboration features, Story is tightly integrated with Premiere, so you can import the script and have Premiere use the script to help with speech analysis of the clips.
Oddly, Adobe Story is not part of the Production Premium Creative Suite, but you can use it for free if you have an Adobe ID. Simply log into story.adobe.com and away you go. Unfortunately, the free version limits the collaboration options and only works online. If you want to be able to edit offline or create breakdown reports you will need to pay for it, and if you want to collaborate on a script you have to pay for it, but you can collaborate on someone else's script (provided they have the paid license.)
The paid version is $24.99 per month. Adobe did change the license details last month, adding some more features to the free version: there's now limited scheduling and you can create an unlimited number of production reports from schedules. You can also add basic camera shots to scripts and create one production revision for a script.
For a full comparison of features between the two version, see: Adobe Story Family Comparison
Final Draft Writer for iPad
Adobe's Story is a promising option, but Final Draft remains one of the best known and most popular dedicated script writing tools. For some time it was hoped they would bring out an iOS version of the tool, and there was major disappointment when they released Final Draft Reader at the beginning of the year.
But now they are back with Final Draft Writer, which promises almost feature parity with the desktop version. It's available for $30 until the end of September, the price will then go to $50. They've also dropped the price of the Final Draft Reader app from $19.99 to $9.99.
Initial reviews of Final Draft Writer seem positive, though Stu Maschwitz found the performance a little sluggish. Prolost: Final Draft Writer vs. the Innovation of Less
Stop Motion Software
Finally, Boinx software has updated their iStopMotion application for the Macintosh and have priced it at $50. Features include onion skinning, chroma keying, rotoscoping and multiple export options. On the face of it, iStopMotion also offers some interesting integration with your iPhone; you can link through Wi-Fi and control the focus and exposure of the iPhone camera. This is useful for quick experiments and learning, but you're probably not going to be shooting a major project with the iPhone.
There is support for other cameras connected through Firewire and HDMI, but if you want to connect your DSLR through USB, you're at the mercy of the connectivity gods. You will need to investigate closely whether your camera will work successfully with the program. More details on this in a review to come.
Boinx: iStopMotion