Back to selection
Five Questions with Knuckleball! Directors Ricki Stern and Annie Sundberg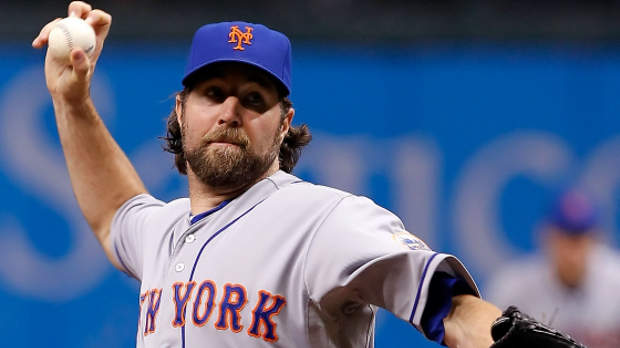 Knuckleball, the new documentary from Ricki Stern and Annie Sundberg, is about a small group of athletes who've gone against the grain. Just a handful of pitchers in the century-plus history of Major League Baseball have relied on the famously unpredictable knuckleball, a pitch that doesn't spin yet darts every which way. Stern and Sundberg followed two of these guys—Tim Wakefield, of the Boston Red Sox, and the New York Mets' R.A. Dickey (above)—for the duration of 2011 season. Significantly lighter than the Manhattan-based filmmakers' previous documentaries—The Devil Came on Horseback was about the genocide in Sudan; The Trials of Darryl Hunt profiled a man who spent two decades in prison for someone else's crime; Burma Soldier dealt with the perils of civil rights activism in a repressive state—the film is like its predecessors in its humane, perceptive focus on people who've experienced things the rest of us haven't. Knuckleball opens September 18, in theaters and via video on demand.
Filmmaker: How did you get started on this film?
Stern: We got a treatment from [producers] Dan Cogan and Christine Schomer the last week of spring training in 2011, so we all jumped on a plane and went down to Florida. Dan and Chris went to see Tim, and Annie and I went to see R.A. R.A. is a very charismatic guy, he's really introspective and a good storyteller. We immediately felt he was a great character for telling the bigger picture about the knuckleball and the guys who throw it. I think we were just generally attracted to this story of a small handful of guys who persevere and overcome obstacles in order to pursue their dreams.
Filmmaker: Your documentary notes that there have been just a few pitchers who've had success with the knuckleball, and that those who did often tried it as a last resort. In a sense, is Knuckleball like your other films in the way that it tells a very specific story about a small group of people in a unique situation?
Sundberg: I think Ricki and I are both drawn character first, people who are in very unique circumstances. Brian Steidle (the subject of The Devil Came on Horseback) was a former Marine whose work took him to Darfur Sudan where he witnessed atrocities. He was in many ways the classic reluctant hero—he was changed by his work in Sudan, and he became an activist through his work to end the genocide as he saw it in Darfur. He didn't go to the Sudan planning to be an activist on the ground—he became one. These pitchers, many of them didn't set out to become knuckleballers, but they chose the pitch, or as Tim put it, the pitch chose him. They were changed, in the same way that our best film subjects have been changed by circumstances. It's how each man responded to their change in circumstance that makes them amazing subjects for film.
Filmmaker: Wakefield and Dickey spend a lot of time thinking about technique, and about the nature of their craft. I'm guessing this made them pretty good subjects to build a film around?
Stern: They definitely were. R.A. was writing his book (the recently published Wherever I Wind Up: My Quest for Truth, Authenticity and the Perfect Knuckleball) at the time, so he was additionally introspective. And he was also trying to frame the actions in his life in a greater understanding of what motivated him and what stood in his way. And Tim had a book written about his career that had come out when we were filming, so he had been talking a lot about his career. I think the biggest challenge for us, which was somewhat unexpected, is that they're on the road for so many days, and even when they're not pitching, they're training and they're coming in late and their schedule is all off. It became a little bit of a cat-and-mouse game of trying to catch up with them in places and getting them comfortable with the fact that we might just be at the hotel where they are, and we might come over to their hotel room and do an interview with them. (We did this) in order to not only the bigger interviews when they're thinking about their lives and their careers, but also the minutiae that was happening during the day in the baseball year. I think it was Tim who said, "It's really hard when you're in the middle of it to be introspective, because as a baseball player you've got to think about the next game, the next game, the next game."
Sundberg: There's a protective bubble that any professional athlete who's been in the game establishes over the course of years, because you've got the press jumping in the clubhouse after every game, talking about how everything went. These guys become very good at coming up with the short answers for the press. I think it was an interesting process for them, and for us, to allow them to become more open in talking about themselves. As filmmakers, you're trying to differentiate yourself from the relationship that professional athletes have with the press.
Filmmaker: The film shows the knuckleball in flight quite often. How did you shoot these scenes? Were there any aspects that were particularly tricky?
Stern: It took us a couple different shoots with the Phantom camera, which is a high-speed camera that shoots thousands of frames per second, in order to get you that slow-motion look. It was very much trial and error. We had built this glass encasement for our camera so that our cameraman could sit inside of it and R.A. and Tim could pitch directly to the camera. We built it with the height and the width of the strike zone, but the thing about the knuckleball is that it doesn't just come straight at the camera. It kind of sits high for a while, and then it drops down right in front of the strike zone, or it kind of floats in and veers off right when it gets into focus. It was very technically challenging to get the focus accurate, because you don't just have a full focus of the whole depth from the pitcher's hand to the lens—you have a small window of focus, and it was almost impossible to predict when it would come into that focus zone.
And on top of it, the guys once they got warm pitching, they needed to pitch. You can't drag it out over three hours because it wasn't good for their arms. Then, something that we didn't know, is that they don't want to pitch more than a week or so after the season ends, because they really give their arms a rest. So we had this little window with each guy. When we were in Florida shooting Tim, we trucked down this 50-pound piece of glass that was shatterproof, except it shattered. And then we had a window of an hour to find glass to replace it. It's one of those film experiences, challenges, that everyone has, but we did it.
Sundberg: The other thing about filming is that all of the cameras in the wells at the Major League games are still cameras, so we worked with Major League Baseball Productions and each team's PR handlers to have really great positions. We'd often start the game in the third base well, and then we'd move. There were a couple games when we actually put Phantom cameras up in MLB positions.
Filmmaker: One of the sportswriters interviewed in the film calls the knuckleball a "patient" pitch, and that it's at odds with the speed at which life is lived today. As artists, as filmmakers, can you identify with these guys whose work requires such patience?
Stern: Absolutely. I think that's what we were drawn to when we first read the treatment of the story, that these are guys who are dedicated to their craft, which gets better with time but requires risk-taking and failure. That's very much what we experience on a day-to-day level making films. We were shooting something for Vogue at the same time we were shooting this, and we were interviewing some fashion designers. I went from a shoot with a fashion designer to go and interview Tim, and was kind of looking at him going, "You guys are kind of like fashion designers." And he was like, "Uh, I don't think so." And I was like, "But you kind of are. You're only as good as your last thing—your last design or your last game, you've constantly got to prove yourself to an audience." It just occurred to me that they very much are artists.