Back to selection
What's Special About This?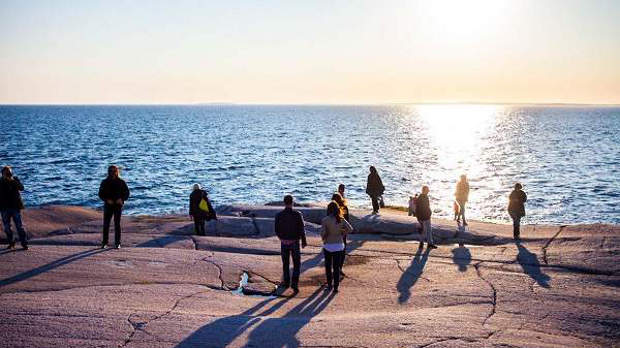 I had a series of epiphanies in the morning TAP session today. The most profound thought I had was a question, and I think it's a question that must have an answer if you are pitching a film.
I think this may be the toughest question in the world, because if the answer is not obvious you've got nothing. It's such a great lesson, and after today it's a new rule for projects we'll take on in our company.
What's special about this?
Today I also got another bit of what I came here for. There are very few places for most of us in our lives where we can share our experiences, good or bad, and almost certainly not in a group environment.
What has been so very special about TAP is the willingness of both the Resource People and the participants to share deeply from their experience. For me, to be able to feel safe in a group of peers to pitch, to be vulnerable and take a risk, to be open to feedback by being exposed, and then to really learn something, enough to take my pitch to the next level, was a real gift today.
I realize that I spend so much time trying to make a good film, trying to write a good script, but that I don't put the same energy in to communicating all the important decisions we made along the way: Why this genre, these characters, this type of villain – who will want to watch this film and why….
It made me feel a little lazy – hah! Me? Resting on my laurels – yes! I got what I needed, part two – my ass kicked (in a great way) to lift my game to where I want to be, to resonate on a higher frequency.
I heard a great quote last week from prof Tim Noakes: "If you aren't dead at the end of the race, you could have gone faster. What separates winners from losers is a mental attitude, not a physical ability."
So where am I in all this? I think I'm finally prepared to do some hardcore pitching. I have all the meetings here at Strategic Partners that I wanted, and am looking forward to New York and No Borders. I have worked hard for years, literally, to create this material, and this is the moment to present it, and you only get one shot, so again, the pressure is on. That's why I am really grateful for the preparation TAP has brought me – I've been able to test this pitch with feedback in a safe space, and to have an opportunity to get it right. Fantastic.
I was wondering if I could pitch the last two days' learning as a tag line, this is what I came up with– Film is FMCG goods – there are tons of choices out there, why will people buy this? What's special about this?
You have five seconds to convince someone about the emotional journey. What's the one-line pitch?
Big thank you's to the whole TAP, SP, IFP teams for an amazing run up to SP, and looking forward to more.
Jan treated us to a walk around Peggy's Cove, and this is my version of a group picture, Producers looking out to the horizon, hopeful and dreaming, and also looking back in the direction of my Cape Town office – it's the view from the other end of the Atlantic looking home.
Wish me luck!