Back to selection
Matt McCormick's Some Days Are Better Than Others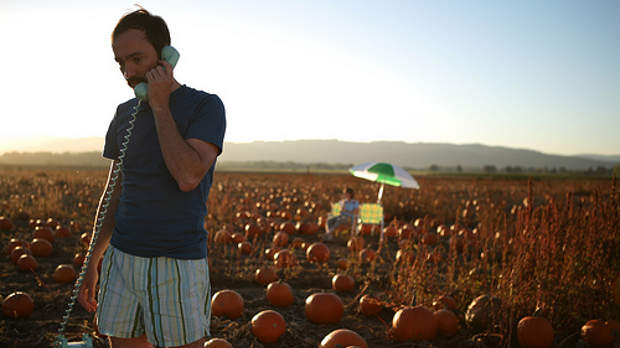 Matt McCormick may be premiering his first feature here in Austin this week, but he has long been a major figure within the Pacific Northwest's independent film scene. For over 15 years he has made work that is both experimental and humorous, formally challenging and beguilingly poetic. His 2002 film, The Subconscious Art of Graffiti Removal, is something of a short-film masterpiece, a wildly clever riff on art criticism that is also an ode to changing face of the modern city. In addition to his film work, which he presents in film venues but also bars and rock clubs, McCormick has run a film festival (PDX) as well as an experimental film and video distribution label, Peripheral Produce, that has released on DVD work by fellow artists like Miranda July, Bill Brown, Sam Green and Naomi Uman. And, he does music videos for bands like The Shins.
Needless to say, then, a lot of fans have been awaiting McCormick's foray into feature filmmaking. Some Days are Better than Others is that debut picture, and perhaps what struck me the most about it is its quiet confidence. McCormick has resisted easy jokes, satirical jabs, or surface-level ironies, instead investing in his characters real warmth and compassion. The film follows four characters whose stories echo and reinforce each other. Carrie Brownstein of the band Sleater-Kinney plays Katrina, a would-be reality TV show contestant who works days at an animal shelter while trying to incorporate the pain of a recent break-up in her homemade audition tapes. James Mercer of the band The Shins plays a directionless slacker who just hopes to land a production assistant job so he can pay his rent. He checks in on an elderly friend and widower, played by David Wodehouse, who is making an experimental science film about soap bubbles. And Renee Roman Nose plays a severely withdrawn Salvation Army worker trying to reconnect a discarded urn containing the remains of a young girl with its owner.
McCormick's structure of vignettes and interconnecting storylines may recall for some viewers films by Todd Solondz or Miranda July, but McCormick has a style and sensibility all his own. His confident direction, Gregg Schmidt's poetic cinematography, and Chris Jones' sensitive editing make these characters and events all part of a larger essay on loss, social responsibility and personal renewal that lingers in the mind like a good Haruki Murakami short story. The performances are excellent, and, coming from the music world, Brownstein and Mercer are particular surprises.
I spoke to McCormick by phone shortly before he traveled to SXSW with his film.
Filmmaker: This is your first feature, but through your music videos and short-form work you've been a "known filmmaker" for years. What were the origins of this project, your first feature? Was the move into feature narrative long-planned or something you did more spontaneously?
McCormick: The origins are spread out. For 15 years I have been making short films, and I have always had the aspirations to make a feature, but I never felt ready. And over these years I was never "working on a script," per se, but I was creating characters. So when I finally did decide to write a screenplay, I didn't have a story but I had these characters to form the story around. One funny thing – two of the characters are an extension of characters I created in a 2002 video I did for the Shins called Past Impending — James and an old man driving around. I really liked those characters, so I guess that was what started this larger story.
Filmmaker: I've liked your short-form work, particularly The Subconscious Art of Graffiti Removal, and I thought it was great how this film linked back to that other work with its little moments depicting broken down elements of Portland. In fact, I thought that small montage in the film of boarded over buildings was almost an homage to The Subconscious Art…
McCormick: While this was my first feature, it's not my first film. I knew that just because I'm making a more narrative feature film with actors that that doesn't mean I need to forget about the ways I have been making these experimental films for the past 15 years. I kept thinking, how would I make this movie with just me and my camera, and to always allow for that. But yes, there are all these repeating themes in all of my work. That's just how I make movies. That's what I'm drawn to.
Filmmaker: Talk about the structure. The different narrative throughlines aren't big, and, in terms of plot points, aren't even really connected. But they echo each other in theme, tone and mood. This type of construction is, I think, really hard to pull off.
McCormick: It was hard. Going into it, I knew the main theme of the movie would be discards of society, the abandoned dogs, the things dumped at the thrift store. I wanted that to be the common theme — looking at these things that no one wants anymore. So I tried to relate that theme to the characters while maintaining a real-life feel. But I had no idea how difficult it would be. It's a complicated way to make a film. What a puzzle it becomes!
Filmmaker: Were there any particular influences on the film? It reminded me a little bit of a Murakami story.
McCormick: There are a lot, but they are really spread out. I tend to pick and choose little elements of the movies or other things from music and visual art. There are films that I just love one aspect of. I guess I suck in lots of things and then nitpick out little things from them. But Jem Cohen is a huge influence on me as a filmmaker, and so is Bill Brown. And Miranda [July] too. She has lived in Portland, and she and I have collaborated before. They are all friends and have all been influences. But I guess I'm mostly just drawn to characters, more simple stories, and a real-life feel. If anything, that's what I'm a fan of.
Filmmaker: I loved how the stories weren't rigidly constructed. They pay off, but in small ways. Did you pare them back from the script while editing, or did they always have this minimalist sensibility?
McCormick: I left things open pretty intentionally. The only story thread in the whole movie that's stayed consistent through all the time I've been making the film is the story involving Camille and the urn. That was always the thread, the spine of the narrative — Camille finding an urn and overcoming her own worries and hang-ups to do something about it. The rest of the stories were always all just weaving in and out.
Filmmaker: How about in terms of backstory, then? Again, I was struck by how you didn't over-explain her. You let us figure her out by just witnessing her behavior.
McCormick: Maybe there was originally a little bit more [explanation] about her, but I don't think so. Her official backstory is that she's someone who suffers from extreme social anxiety to the point where it's a handicap. She can only get a job at Goodwill, where they'll hire people with problems. She has no social life and has never developed a social network. She is unable to communicate. When she finds the urn, between her simple mothering instincts and having that need for connection, she is drawn to it and it becomes something for her to care for. Renee [Roman Nose] brought so much to that character. When we were auditioning, I imagined a character a little more on the handicapped side, but she brought a deep emotion to it. She is a Native American activist and she felt a deep connection to this process of finding an unclaimed body. [She understood] the importance of properly respecting it.
Filmmaker: How about James Mercer and Carrie Brownstein? Was it always your idea to cast them — two rock stars? They're both great, and neither of them feel like "non-actors." They both give very controlled performances that have real arcs to them.
McCormick: James Mercer's character is based on this character I made for him [in 2002. I spent two months trying to cast that character with a real actor before I finally said, "James, you just have to do this. This character is essentially you." This is his first acting thing. And then Carrie Brownstein, I've known her for a while. I was a volunteer at the Oregon Humane Society and she was also working there. She was someone I had in mind for the character Chloe, the lesbian roommate that everyone has a crush on. She read it and was happy to audition for Chloe but she felt such a connection to Katrina because of the Humane Society. She auditioned and did a great job. I guess I just cast people who had real-life connections to their characters.
Filmmaker: How about the older man?
McCormick: David Wodehouse, we found him on Craigslist. He is in his late 80s and is a retired comedian. For 40 years, he would go out on those cruise ships. His wife responded to a casting call on Craigslist and encouraged him to go. He hadn't really been in any movies, but his ability to memorize lines was incredible. And he seemed to connect with this character. He is now in his second marriage, and he has gone through some loss.
Filmmaker: How did the financing and production come together?
McCormick: I probably spent two years writing, and I had been in touch with [producers] Dave [Allen Cress] and Neil [Kopp]. They were aware I was writing a screenplay, and their timing was opening up around the time I was feeling ready. It was actually Gus Van Sant who helped bring the three of us together. He had read the script, and he said, yeah, you should make this movie. After that it went pretty quickly, but the slowest and longest part was the fundraising, and even though it was super-low-budget movie. We spent eight months trying to find the money.
Filmmaker: Did the budget come from private investors?
McCormick: Yes, all local. Five different investors.
Filmmaker: How big was your crew?
McCormick: Depending on the day and the set up, about 15. Pretty small. The camera department was the biggest because we were shooting on the RED. We had someone downloading the data, a camera assistant, a key grip, a gaffer, a sound person.
Filmmaker: And the schedule?
McCormick: We hustled. Twenty shooting days.
Filmmaker: The film has a beautifully defined palette. How much of that was captured in-camera, and how much was done in color correction.
McCormick: There was not a whole lot of post color work because we ran out of money. But we certainly did spend a week using a Scratch system. It was crazy because our post house had just bought the Scratch. We couldn't afford to pay full rate, but it was a company we had a relationship with and they gave us a phenomenal rate. We were their guinea pigs — a good test project.
Filmmaker: There's a lot of talk in the independent community now about DIY distribution. With Peripheral Produce, your film collective, you've actually had experience in distribution. So, are you developing your own distribution plans for Some Days are Better than Others? Or do you hope someone else will deal with it?
McCormick: I'm going to see what happens. I do have a long history of distributing my own work and being involved, so I also know how much work that is. It is going to come down to looking at the opportunities that arise and from there deciding what makes the most sense. At a certain point I have to think, do I want to spend the next year distributing this film or get started making the next project? That's something I'm up in the air about. I need to wait and see.