Back to selection
Marion Cotillard Q&A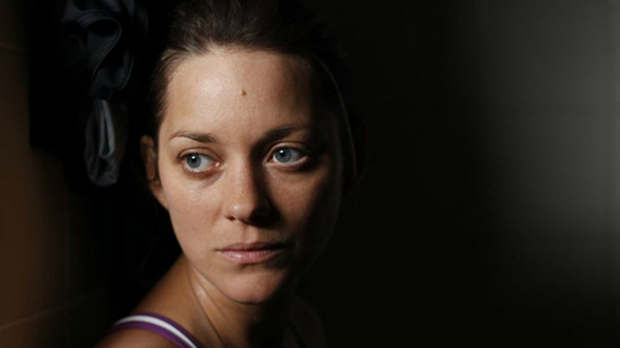 Filmmaker last interviewed Marion Cotillard in 2007, just prior to the release of the Edith Piaf biopic La Vie En Rose. Cotillard's stunning performance as the legendary French singer won her numerous Best Actress accolades, including a BAFTA, a Golden Globe and an Academy Award. She was subsequently inundated with Hollywood offers, which lead to Cotillard working with a string of great directors, including Michael Mann (Public Enemies), Christopher Nolan (Inception and The Dark Knight Rises), Woody Allen (Midnight in Paris) and Steven Soderbergh (Contagion). All of the above-listed films have boasted all-star ensemble casts, but Cotillard has failed to find stateside a lead role worthy of her virtuosic talents. Cotillard, however, was lured back to France for writer/director Jacques Audiard's Rust and Bone, and as Stéphanie, a trainer of killer whales whose legs are amputated after a tragic accident, she delivers a brilliant performance. While at the Telluride Film Festival, she spoke to Filmmaker about her collaboration with Audiard and the particular challenges of making Rust and Bone.
Filmmaker: How many of Jacques Audiard's previous films had you seen, and what were your impressions of them?
Cotillard: I've seen all of his movies. Actually he must be one of the few directors that I saw all the movies of. I've always wanted to work with him. I love his way of seeing things – it's very realistic and also very poetic, even if it's very realistic. And I love all the stories he tells. There's a lot of poetry in his work.
Filmmaker: How did you first become involved with this project?
Cotillard: Jacques wanted to meet with me and then I was lucky enough [Laughs] that he still wanted to work with me after this meeting. Then I read the script and I felt very lucky that he wanted to work with me in the first place. I thought it was such a beautiful love story and such a beautiful character.
Filmmaker: When you're reading a script, are you looking for something that you connect to, or a challenge that will sort of push you forward as an actor? What draws you to a role?
Cotillard: I just want to feel that it's something that belongs to me and something that I belong to. What I'm waiting for when I read a script is to have right away an impression that I need to do this, to tell this story. And that's what happened with Rust and Bone. Most of the time when I read a script, when there's a special connection with a character, maybe I will understand most of the character right away. But I have to say that after I read the script I thought, "Oh my God, I don't know who this person is." And then that's what I told Jacques that I had a long way to find her. Instead of freaking out, he told me very simply, "Oh, well, me too. And that's the journey that we're going to take together." I was very excited to have a journey with such an amazing director. Also, I understood that she would keep a mystery all the way, and that it was okay. It was part of her, and I kind of loved it.
Filmmaker: What was your reaction to the obvious physical challenges of playing this character?
Cotillard: I knew that I had to learn with a character what it feels like to experience this. And the thing is, I saw right away that she missed more with her whole body than with no legs. The journey of the character, the way she finds herself, I think is beautiful. I wanted it to be realistic, so I did technical research, but it was a very, very small part of the preparation because, basically, she doesn't know how it's going to be to move. She kind of refuses to be in that state. Jacques told me something that I thought was really amazing to describe part of her, that she forgets sometimes that she has no legs. He told me, "She could just stand up to grab something and fall because she's forgotten that she has no legs." It's like she refuses, but at the same time she feels that she's an entire thing for the first time of her life.
Filmmaker: The scene where Stéphanie discovers what has happened to her must have been incredibly difficult to play.
Cotillard: I was very anxious because what can it be when you wake up and you realize that half of your body is gone? So we tried different things. And that's really what is amazing with working with a director like Jacques, who pushes to find the authenticity of a moment, of a dramatic scene or a funny scene. He's an amazing director for actors.
Filmmaker: Can you tell me more about how you worked with Jacques?
Cotillard: Well, it's the first time that I've shot the same scene several times in different places. Sometimes even, I would shoot a scene with different actors in a totally different environment. And he would take what was the best movie at the end. I found it very, very interesting. It was sometimes a little disturbing for me, but then you get used to it, and you know that it's the way that Jacques and you find the authenticity of the scene. But sometimes he would tell me something and then the next take he would tell me the exact opposite. And sometimes I would be lost. But at the end of the scene, you knew that it was there, that something happened going in a totally different direction, to find the right direction and the right emotion, the right place, the right everything.
Filmmaker: Was there immediately that trust?
Cotillard: Oh, yeah. This is part of how I choose to do a movie. If I don't trust the director, I won't do it. I need to know that it's going to be an experience that I'm going to learn something, and that no matter what he asks, I know that I can trust him and I know that I can trust him 100 percent.
Filmmaker: You and Matthias Schoenaerts have real chemistry in the film. Is that something you can work on, or is it just there or not there?
Cotillard: I guess it's something that has to be there immediately, and when a director chooses his actors, he knows that it's going to work. When I first met Matthias, I didn't know who he was. And when I saw him, it's funny, but I didn't expect this huge, tall, beautiful guy. We met the first time at a table reading at Jacques' place, and when he started reading I thought, "Okay, this is going to be one of the greatest experiences with an actor, because he's just amazing." I think he's one of the greatest actors I've ever worked with. I would put him with a Daniel Day-Lewis or Leo DiCaprio. He's just a very hard worker. He will do anything to find the right thing, the authenticity of a moment, and at the same time, in a very, very simple way. He's very rich in so many things.
Filmmaker: How much had you previously sort of done stuff with CGI? I'm guessing this was the most involved you'd been in that kind of thing.
Cotillard: Yeah, totally. I was not very familiar with CGI before. And it's kind of a lot of fun because in some situations in the movie, we had to be very technical, especially the love scenes. It was like, "Okay, it was good, but you're making a shadow with your legs on Matthias' back, so please do it like this." [Laughs] It was kind of a funny thing to shoot, but it was never something that disturbed me.
Filmmaker: You had socks up to your knee, right?
Cotillard: Yeah, most of the time I wore green socks, but when I was in the wheelchair I was sitting on my legs. It became part of it very quickly because we didn't want to be disturbed by it. Actually, most of the time when I was in the wheelchair, we would really believe that I had no legs. And it created a very special energy. Already when we were prepping the movie, the first time I sat in the wheelchair without the legs and with my pants empty of legs, we were very, very, very impressed, and so, this image was very, very strong. Actually thinking about it right now while I'm talking to you, it was kind of weird that we forgot totally that I had legs.