Back to selection
Profiling the SFFS/KRF Filmmaking Grant Finalists (Part 3)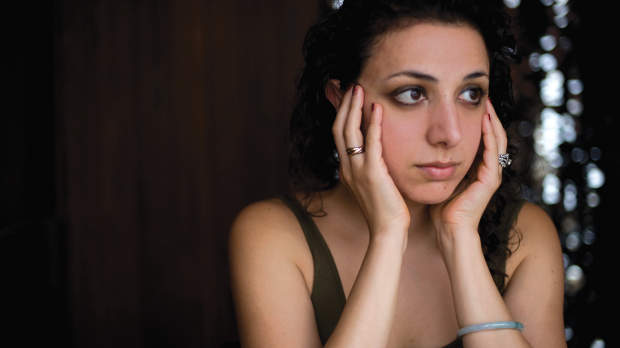 Following on from the Bay Area Boom article about the San Francisco Film Society's Filmmaker360 program, we are profiling the 13 finalists for the SFFS's Kenneth Rainin Foundation Filmmaking grant. The winners of this award will be announced on December 8.
SUSAN YOUSSEF AND MAN KIT LAM, MARJOUN AND THE FLYING HEADSCARF
Synopsis: With her father imprisoned on dubious terrorism related charges, a Lebanese-American teenager in Arkansas searches for identity in the headscarf and a motorcycle. This feature is an extension of the short by the same name that screened at the Sundance Film Festival. Marjoun and the Flying Headscarf is the first fiction feature that explores coming of age into the hijab.
Bios: Habibi, Youssef's first feature, was an official selection for the 2011 Venice Film Festival and Toronto International Film Festival. Habibi won Best Film, Best Actress, and Best Editor and the FIPRESCI Prize at the Dubai International Film Festival. It received the Camera Novo, the highest prize at the Cinema Novo Festival. In September, Tate Modern exhibited a piece by Youssef. Her other shorts have screened at the Sundance Film Festival, New Museum, Museum of Modern Art and elsewhere. Youssef has lectured at venues ranging from Princeton University to the U.S. Office of Cultural Affairs in Baghdad. Youssef is a Fulbright Fellow. She was born in Brooklyn, NY.
Man Kit Lam (producer) is a first-generation Dutch whose family comes from Hong Kong. He is a designer and filmmaker. Man Kit won a European Design Award for his work on Humanity House (Museum of the Dutch Red Cross). He has recently directed a film promoting the Dutch-Russian Federation 2013, and produced and edited Habibi.
What was your inspiration for this story?
After Marjoun the short screened at Sundance, there was such a positive reception internationally and a demand, from industry, other filmmakers, and audience alike to make it into a feature film. There were no Arab-American features at the time. I knew Marjoun the feature might be the first Arab-American feature with an muhajiba protagonist. So I took my time — completing my first feature Habibi, which is the story of forbidden love in the Gaza Strip. Through Habibi, I gained more confidence in my ability to engage with communities regarding such sensitive issues around representation and human rights. Making Habibi has given me the courage and the will to complete Marjoun the feature in a way that it is of service to American audiences and internationally.
What do you see as the greatest challenges for filmmakers today?
While there are the few that make one feature or even one short and shoot off into stardom with their future work easily, readily, and abundantly financed, for the rest that I personally know and engage with, it is a very long road of not getting paid, and paying a lot from our own pockets to make work and distribute it. I hear complaints about corruption, theft and other just nasty habits. So then the challenge is showing up anyway. Creating strategies so we find a way to get health insurance, have funds for our crew, and make better work each time.
Filmmakers are artists. We are dreamers. How do we keep our creative core while growing in the business? For me, the answer lies in the love I surround myself with. Some people say it is a "producer" that supports the director. For me, it is the team, the friends, and the fans.
If you could change one thing about the film industry, what would it be?
There is a minor yet growing number of women directors who make a body of work that exceeds one or two features; this includes Arab woman directors. I aspire to be a part of that change. I am inspired by the women who are doing that: Lebanese director Danielle Arbid and Moroccan director Narjiss Nejjar, for example.
MICHAEL TULLY, PING PONG SUMMER
Synopsis: Set in 1985, Ping Pong Summer tells the story of 13-year-old Rad Miracle, a shy white kid who is obsessed with two things: ping pong and hip-hop culture. During his family's annual summer vacation to Ocean City, Maryland, Rad makes a new best friend, falls in love, becomes the target of rich, racist local bullies, and finds an unexpected mentor in his outcast next-door neighbor. Ping Pong Summer is about that time in your life when you're treated like an alien by everyone around you, even though you know, deep down, that you are as funky-fresh as it gets.
Bio: After his directorial debut, Cocaine Angel, world-premiered at the 2006 International Film Festival Rotterdam, Michael Tully was named one of Filmmaker's 25 New Faces of Independent Film. His follow-up, Silver Jew, world-premiered at the 2007 South by Southwest Film Festival, and is now available on DVD through legendary independent music label Drag City. He wrote, directed and acted in Septien, which world-premiered at the 2011 Sundance Film Festival and was picked up for distribution by Sundance Selects. Since 2008, he has been the head writer/editor of HammerToNail.com, a website devoted to championing ambitious cinema.
What was your inspiration for this story?
As I've been writing and talking about making Ping Pong Summer since I was a high school senior in 1992, that's a tough one to pin down. But I guess my overriding mandate never changed over the course of these past two decades: I just really, really wanted to make a fun, artistic movie that merged the following forces: personal nostalgia, actual pop cultural history and wish fulfillment.
What do you see as the greatest challenges for filmmakers today?
I guess ultimately what matters most is getting the film made — marketing, distribution, all of those other elements come wayyyy down the line — so I would have to say that the ultimate core challenge is the same as it's always been: having the individual strength and courage to formulate an idea, then finding a supportive team of collaborators who will help you to perform the impossible magic trick of getting to day one of principal photography.
If you could change one thing about the film industry, what would it be?
I have a difficult enough time answering questions about things I do have control over, so trying to answer something like this only brings out the worst in me. That said, I would like to state for the record that I wish more people with crucial roles in the film industry actually watched and liked and understood movies. Also, I wish audiences were more adventurous and open-minded.
MARIO DE LA VEGA, THE UNDENIABLE CHARM OF SLOPPY UNRUH
Synopsis: The small West Texas town of Matame hasn't seen a drop of rain in seven years. It's a place that desperately needs water, but what they get instead is Sloppy Unruh, a charming rogue and musical prodigy, who's been wandering the country for the past 20 years. Sloppy turns Matame upside down, seducing the ladies, dazzling the citizens and running for sheriff against the corrupt incumbent…who happens to be his jealous younger brother.
Bio: Mario de la Vega's first feature, Robbing Peter, premiered at the 2004 Los Angeles Film Festival and received four 2005 Independent Spirit Award nominations. His script, The Undeniable Charm of Sloppy Unruh, won the screenplay section of the Tribeca All Access Connects program. Other projects include producing the documentary Wall: The Journey Up about a man with cerebral palsy who climbs El Capitan and directing a music video for Bright Eyes. Sloppy is currently being produced by Bona Fide Productions with John Hawkes (The Sessions), Amy Ryan (Gone Baby Gone) and Kyle Chandler (Friday Night Lights) attached.
What was your inspiration for this story?
My mother's childhood friend described her father as the last of the snake oil salesmen. He drifted across the plains of Nebraska and Colorado in the 1950s and 60s, selling wares from accordions to baby furniture to chinchillas. As I heard the details of this man's character, I began to fantasize about a life he might have led.
What do you see as the greatest challenges for filmmakers today?
As production budgets have decreased, filmmakers have had to make their movies with fewer resources. This has created the challenge of making more contained films entertaining.
If you could change one thing about the film industry, what would it be?
I think the film industry has been its most interesting when it has taken risks.
DIANE WEIPERT, BOYLE HEIGHTS
Synopsis: Boyle Heights tells the stories of two people affected by the 1978 class action lawsuit Madrigal vs. Quilligan, which accused the doctors at LA County Hospital of forcibly sterilizing Mexican women who went there to deliver their babies. Dr. Rosenfeld, a 26-year-old junior resident at the time, was the whistle blower who was eventually forced out of the program for working to end the sterilization policy. Guadalupe Tamayo is a fictionalized composite of the ten sterilized women whose lives were largely destroyed by the doctors, and who somehow found the courage to stand up for their rights.
Bio: The first film Diane Weipert wrote, Solo Dios Sabe, starred Diego Luna and Alice Braga, and premiered at the Sundance World Competition in 2006. Since then, she has written scripts for Eddie Izzard's production company and Argentine horror director Adrian Garcia Bogliano, and has developed projects with filmmaker Peter Bratt and actress Michelle Rodriguez. One of her original scripts is currently being packaged at a top-five Hollywood agency. Boyle Heights will be her directorial debut.
What was your inspiration for this story?
The inspiration came while I was having lunch with my producer, who told me the story of her aunt who'd been forcibly sterilized in Iowa in the 1970s. I was astounded. We'd been talking about working on a period piece together and thought there was a lot to explore here. When I went back to my office I immediately got online and began to research the topic. Landing on the Madrigal vs. Quilligan case was like a lightning bolt. The characters, the struggles — everything was so cinematic, and the issues were all extremely relevant today. Plus, I've spent a fair amount of my adult life in Mexico, I'm bilingual, and my first film was largely in Spanish, so it felt right to be gravitating back into that bi-cultural space that I love.
What do you see as the greatest challenges for filmmakers today?
Besides the obvious challenge of financing a film in this economy, or any economy, really, is the struggle to keep the storytelling fresh. With such a hyper-saturation of narrative content, it's harder than ever to come up with a unique film. People are constantly watching something — on TV, on their phones, on tablets — that expectations are higher and attention spans lower. It's wonderful to have this kind of access to story. It just means the filmmaker must work harder to produce something truly authentic and unforgettable.
If you could change one thing about the film industry, what would it be?
I'd make it a more hospitable place for female writers and directors. I'm amazed at how dismissive people can be. After Sundance, when I had a Hollywood manager, the minute he found out I was pregnant, he set me up to have brunch with his wife and never found me a job again. If there's one thing I've learned as a woman in this industry, it's that you have to be your own advocate and stay at the helm of your career as much as possible. And keep your shinguards on.
AURORA GUERRERO, LOS VALIENTES
Synopsis: Felix, a gay, undocumented Mexican immigrant living in San Francisco is unable to find work. Dumped by his lover, a disenchanted Felix is swayed by his sister to join her and new husband in rural Pennsylvania where, despite being undocumented, they have managed to carve out a decent life for themselves working at a processing plant. But once there, alienated by the town's newly proposed anti-immigration law and forced into silence regarding his sexuality, Felix finds unexpected solace in the company of one person: his sister's husband.
Bio: Aurora Guerrero wrote and directed Mosquita y Mari, her debut narrative feature. Since premiering at the 2012 Sundance Film Festival, Mosquita y Mari has traveled to top-tier film festivals including San Francisco International, Melbourne and Sao Paulo, and has garnered multiple awards including Best First Narrative Feature and Best Leading Actress at Outfest. Mosquita y Mari was theatrically released in Europe and New York City where it received critical praise. Most recently, Guerrero was named a Time Warner/Sundance Storytelling Fellow. Prior to making her feature, Guerrero directed the award-winning short films Pura Lengua (2005 Sundance Festival) and Viernes Girl (winner HBO/NYLIFF competition).
What was your inspiration for this story?
As someone who identifies as queer and who comes from a family of mixed-immigration status, I have been incredibly drawn to the connections between the queer and undocumented communities. In this film I set out to explore the intersection of these identities within a small, rural town that, like Arizona, has gone ahead and proposed its own anti-immigrant laws.
What do you see as the greatest challenges for filmmakers today?
Filmmakers today are becoming more and more resourceful and creative at finding ways to make their films happen. But I think these avenues continue to propose compromises, like working within an ultra-low budget. So how do filmmakers stay true to their vision with the means they have available? Although this is a challenge, it's also an opportunity.
If you could change one thing about the film industry, what would it be?
Its competitiveness.