Back to selection
Second-Time Director: Craig Johnson and The Skeleton Twins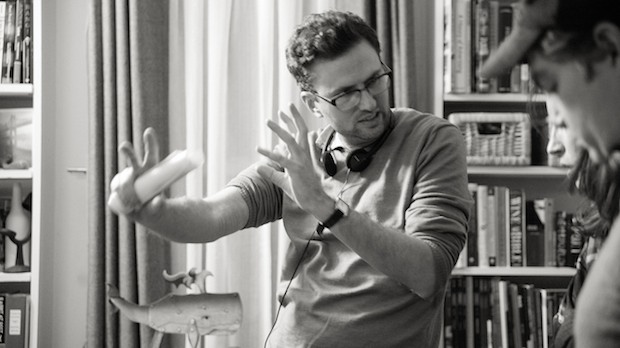 This is the second in a series of articles about the path towards a director's second film. Read part one, with Tze Chun, here.
It was in the middle of prepping for The Skeleton Twins that Craig Johnson realized something was missing. "That sickening feeling in my stomach that I had the first time around in prep," Johnson said with a laugh. "I'm so much more at peace this time.
Craig Johnson, 36, is currently in production on his second movie. It's a project that contains a dream comedic cast (Kristen Wiig, Bill Hader, Ty Burrell) It's a project that gives him more financial freedom than his first movie, True Adolescents. It's a project that, thematically and tonally, is exactly the kind of movie Johnson always imagined he'd make. And it's a project that took seven years to get off the ground.
True Adolescents was not only Johnson's first film but his thesis film for his MFA at the Tisch School of the Arts. He knew he wanted to make something on the cheap, and after pairing up with producer Thomas Woodrow, a fellow NYU classmate, they set out to make the script on a miniscule budget of $40,000. Johnson was heavily influenced by the tiny-budget movies like Puffy Chair that were coming out at the time, so much so that Mark Duplass (who stars in Puffy Chair) was his ideal and eventual leading man for the film.
Their executive producer Gil Holland (whom Johnson and Woodrow found after reading a Filmmaker article – "they said he was known for supporting no-name directors with potential") – gave them seed money but then urged them to make the film on a more reasonable budget. "He gave us $50K, and said, "Tell people you have $100K and go raise $500K," says Johnson.
True Adolescents premiered at SXSW in 2009. It was a "very positive experience", says Johnson, "but it wasn't a Little Miss Sunshine. It took us a long, long time to get distribution." But the feature did open doors that allowed Johnson to take formal next steps in his career. "I now had an agent; I had a manager. I started flying to LA to take meetings."
The road ahead held some uncertainties, but Johnson knew that he had a hard skill to put to use: the ability to write very commercial, studio-friendly scripts quickly. It was this "interesting combination" of having writing samples of bigger studio genre films in addition to a first feature that was "indie and character-driven" that helped move him forward. He was eventually hired for the newly implemented writer's studio from 20th Century Fox, which moved him from New York to Los Angeles, a move he had already been contemplating. The studio program was brand new and a year long. They hired 12 screenwriters and put them in two rooms: one room that was dedicated to comedy and drama, another room for sci-fi and action. "It feels like entirely different industries," Johnson says. "In L.A. you really do feel like, this is where the sausage is made." Referring to the 20th Century position, Johnson says it was a "dream job", noting especially how "exciting it was to get paid to be a writer, to be a paid screenwriter. There was something glamorous about driving onto that lot every day."
But the East Coast/West Coast dilemma exists for a reason. A lot of directors who birth their first feature independently must deliberately choose whether they should throw themselves into the L.A. scene or alternately, try to forge their careers in the city that they love and have roots in. The ownership a filmmaker feels over independently produced work is hard to replicate; Johnson and his fellow writers would pitch original ideas every day that ultimately would not be theirs. "In Hollywood you're a contracted employee – you're a player, working for a boss, so you don't own what you're doing," says Johnson. Being back in New York shooting his second movie was a welcome return home, a fact well-documented by Johnson's boyfriend Adam Roberts, better known as the man behind the extremely popular food blog, The Amateur Gourmet. Roberts, a loyal New Yorker who has documented the L.A./N.Y. divide well on his web pages wrote this past September, "Craig, who, from an early age, has always dreamed of working in Hollywood as a writer and director, is making his dreams come true here… I've never seen him happier. And because he's so happy, I'm happy too." But he added, "Do I hate L.A.? I do not. Do I love L.A.? I'm not sure yet… the feeling, just the feeling, of being here doesn't hold a candle to the feeling of being in New York." Roberts wrote he'd "still sell my LA soul for a good New York bagel and a City Bakery cookie." Johnson confirmed that ideally they would find a way to be bi-coastal if possible. The couple will return to Los Angeles once The Skeleton Twins has wrapped.
Because most of the True Adolescents crew was based out of Washington state, there isn't much overlap in crew and personnel between it and the New York-based Skeleton, except for his editor Jennifer Lee (who is also part of the producing team this time around). Mark Duplass is an executive producer, with the project under the umbrella of Duplass Brothers Productions. Stephanie Langhoff (who was connected to Johnson's project having worked with the Duplass brothers before) has somewhat of a history of working with new directors; she produced the well-received Aubrey Plaza and Mark Duplass indie, Safety Not Guaranteed from first-time director Colin Trevorrow. ICM and UTA are repping the sale of the film, and Johnson is repped by CAA and Mosaic.
"There's a lot at stake for newer filmmakers", Langhoff admits, but "if they are getting the opportunity to make the film, chances are the script is great and a great script is the foundation for a great movie and who doesn't want to be a part of that?" I asked Langhoff if Wiig and Hader had any hesitations working with a relatively untested director, and she said simply that Johnson "sold them both on his vision of the film and has their trust"; she believes this "very clear and beautiful vision" instilled confidence in investors and actors alike. But despite his strengths, Johnson admits freely that raising money the second time around was just plain difficult. "It was a very long journey – a roller coaster trip," he says, explaining that Skeleton was financed a number of times unsuccessfully; their last production company fell apart right before pre-production commenced. "It wasn't easier this time because we had already blown personal connections on the first film. We knew that if we raised money for the second one, it would have to come from a different source. True Adolescents' financing was cobbled together from everyone: production companies, friends and families, a few angel investors. This time we knew we had to get money from another source."
Johnson knew that bringing on a meaningful cast would help secure funds and make these initial efforts well worth it. Working with talent like Kristen Wiig felt comfortable for Johnson because he prefers actors with a strong improv background. "We're riffing," says Johnson, who at the time of this writing is in the middle of production. "I believe in starting with a really solid script and then hiring actors who riff on it a little bit. It adds a naturalism that makes the story believable." Despite the big names and big budget, this time felt "so much more comfortable, and so much more calm. There's still that anxiety underneath, but having gone through the experience once, I knew I could do it again." The stomachache, as Johnson puts it, was gone.
Part of the movie's long journey also lay in the fact that its genre was less than easy to define. "I know that I'm interested in movies that are character driven and that have humor in them," he continued, adding that The Skeleton Twins is very much born out of similar ideas that Adolescents explored. Skeleton Twins was co-written by his good friend Mark Heyman, who had big success after penning the screenplay for Black Swan. The writing duo wanted to write the kind of movie that they loved watching, namely something that was "funny and emotional and a little weird." I asked how he would compare it to True Adolescents, and Johnson says there are clear similarities. "Both movies have humor, something that's really important to me. Both main characters are in their mid-thirties and are adrift in some ways; both main characters use humor as a defense mechanism."
Indiewire interviewed Johnson in 2009 right before Adolescents premiered at SXSW. They asked him how he "defines success as a filmmaker," and Johnson responded by saying, "I think anyone who manages to make a feature film can consider themselves successful. It's just a really, really hard thing to do and you have to take a lot of risks and make a lot of sacrifices along the way." I asked him if he stands by that answer now, being on his second feature. "I absolutely think that still holds true," he said. "Getting a feature film made, on any level, is a Herculean accomplishment," and added that "the more expensive a film is, the harder it is to do something weird and interesting." But at the end of the day, making movies in any capacity is a privilege he doesn't take for granted. "I'm having so much fun on this set," says Johnson. "If I could do this for the rest of my life, I'd be a happy guy."
Kishori Rajan is a New York based producer and head of development at Durga Entertainment. Follow her on Twitter @Kishori.