Back to selection
Second-Time Director: Tze Chun and Cold Comes the Night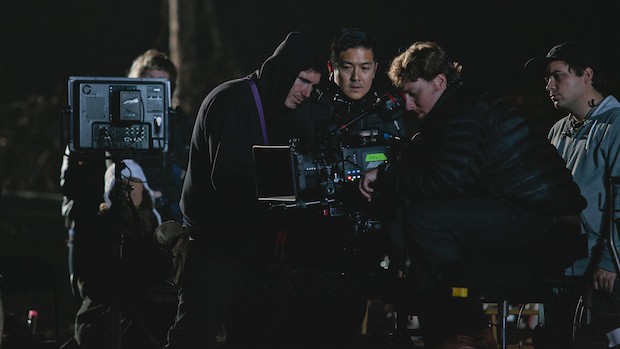 At Filmmaker we continuously cover the struggles of first-time directors to make their debut pictures. But the second film comes with its own set of unique challenges, issues that will be explored in this five-part series by Kishori Rajan. Below is the first installment, chronicling Filmmaker 25 New Face Tze Chun's move from the microbudget character drama Children of Invention to a thriller with stars like Bryan Cranston. Look for further articles in the weeks ahead. — SM
The late producer Laura Ziskin once remarked that movies "aren't made, but forced into existence," an expression never more apt than when talking about a director and his first feature film. Producing a movie on a micro budget – an arguably necessary move for the risky first feature – is an aggressively scrappy process, one that turns Kickstarter donations into funding, parents' living rooms into sets, and producers into impromptu PAs.
But perhaps the more significant mark of that first movie lies in the credits. The innumerable amount of people in the "Special Thanks" end scroll is a partial indication of why indie filmmaking can seem like an attainable but also unsustainable profession. Yes, small donations and major compromises can a first movie make, but how does a filmmaker move on and do it all over again when the wells tapped the first time around run dry?
In an ideal scenario, the first feature is a breakthrough for the director that allows him or her to tackle the second one in a more traditional way. But the second feature raises a specific set of questions that these filmmakers didn't have to previously address: do you build on what got you attention the first time around, or do you use the opportunity to make a film of an entirely different scope? Do you take on a significantly bigger budget, or remain financially cautious? Are the expectations placed on a sophomore debut a publicity asset or a nerve-wracking hindrance?
Thirty-two-year-old director Tze Chun, who's probably best known at the time of this writing for his debut film, Children of Invention, has just wrapped his second independent feature, Cold Comes the Night, a crime thriller starring Bryan Cranston, Alice Eve and Logan Marshall-Green. Winter, with its recognizable cast members and sizeable budget, marks a significant shift for the filmmaker, who made Children on a shoestring with a talented but mostly unknown group of actors.
Chun's career is instructive for those who remain cynical about building a directing career without established wealth and connections. Instead of racking up debt in an MFA program post-college, 21-year-old Chun gave himself a strict deadline of alternately producing a screenplay or a no-budget short film every few months while he worked other jobs to pay the bills. Over the course of three years he directed ten shorts until he had a breakthrough with a Sundance admittance for Windowbreaker, a compelling film featuring two child leads, his own mother, and neighborhood teens. Made for $600, the short is a dramatically satisfying story concerning a series of break-ins in a racially-mixed suburban town. When a more ambitious script was stalled in development, he decided to write a feature that could be produced quickly and on a manageable budget, and he drew upon Windowbreaker for inspiration. Children of Invention moved quickly into production, and enjoyed a Sundance premiere and a strong festival and critical run.
The industry can pigeonhole emerging filmmakers into genres and a budget once they've established themselves with a specific work, but for Chun, branching out was imperative. When Chun directed Children, it was the biggest project he had made at the time, and his slight but talented crew did impressive work within the constraints of the modest finances. But the absence of some key elements – a hair and makeup unit, for example – left Chun yearning for a set experience that allowed his department heads, as he puts it, "to put a real creative stamp on what the movie looked like." Children was, in his words, a "small, gentle movie"; if his next feature was going to have recognizable actors and a more expansive budget Chun knew he needed to look at a narrative framework that held appeal to a more mainstream audience. "I thought back to what I loved when I was younger – the Coen brothers, Scorsese, The Godfather. I knew crime drama was a genre that I could bring something to," says Chun. When his manager sent him as a writing sample a psychological thriller script by Osgood Perkins and Nick Simon, he knew that he had found writers with whom he could develop a commercially-minded genre piece that still had elements of a character-driven drama. (That script, Removal, was directed by Simon.) One element of Winter that is consistent with Children was his decision to make the central protagonist a female character. "I wanted the main character (played by Alice Eve) to be female – a lot of things I like have central female figures. It was important that my second feature didn't feel like a complete 180 degree change," he said.
Teaming up again with Mynette Louie, his producer of five years, was an important part of this transition. Those who are at all familiar with Chun most likely know his prolific producing partner. Louie, nominated for the prestigious Piaget Producers Award at the upcoming Independent Spirit Awards, acknowledges that her and Chun's familiarity with each other is an asset to their projects. "Sometimes, all we have to do is give each other a look to communicate what we're thinking," she wrote over email, something that's "very helpful on set when there's all this cast and crew around us." When asked if the producer-director relationship felt the same when working on a project with more money and a larger team, Louie said yes. "The way we work together has not fundamentally changed; it feels like that same close partnership and mutual trust," despite there being "definitely more parties to appease and answer to on Eye of Winter as opposed to Children of Invention."
But despite being released from the first-feature label, raising money the second time around wasn't necessarily easier. "The industry tries to pigeonhole people, and when you try to do something different than you have before, you need to work hard to convince people that you can pull it off," says Louie. "Tze had never done a thriller with stunts and special effects before, and the budget for Eye of Winter was a lot bigger than the budget for Children of Invention. So it was a long, hard road to pull all the pieces together to get that final green light." Confirmed Tze, "if you do anything a little bit different or a little bit bigger, people want you to prove yourself all over again."
Based on a script by Chun, Perkins and Simon, Cold Comes the Night was filmed in 22 days in upstate New York, a non-luxurious schedule slightly reminiscent of his first feature days. But having departments with real budgets, and being able to work with actors of Bryan Cranston's experience, provided innumerable new benefits. Chun worked extensively with him, Alice and the other key cast members before they began shooting, a process which helped shape the story. "The actors brought up a lot of good questions that changed the script for the better," says Chun. "A big benefit of being a writer/director is you have that intimate knowledge of the script, and can work with your cast in that way." Chun and his cast "talked about every scene" in advance, so when production began it was "more,'don't forget about what we talked about in pre-production' than, what should we do here?'", says Chun.
Chun has parlayed his indie success well. He, his wife (Emmy-winning title producer Cara McKenney) and their baby son now live in Los Angeles, and in between his first and second movie, he's sold a TV show to the CW network, picked up a Rockefeller fellowship, and remained diligent about his writing. I asked if being a father and a husband had at all shifted his priorities, or if it even made him averse to doing arthouse material. "My life is more settled, and whenever I can be with my family, it takes priority over industry events," he said. But he recognized early on in his career, regardless of his family responsibilities, that he "couldn't keep making $100K features" for the rest of his life.
Chun, who is repped by WME, has come a long way since Windowbreaker. But the question remains: does the process feel more manageable at this stage? If your ambition grows along with your career then, not really, according to Chun. "When you make a short film all you want is to have it in a top festival. Then you think, I need to think about the first feature; you focus everything on the first feature, and make it any way that you can. But once that's done, the target moves again. It never feels any easier because you're always aiming for bigger things."
(Photo: Chun on the set of Cold Comes the Night by Tanya Giang.)
Editor's Note: This piece has been modified since publication to reflect the film's current title. It was previously titled Edge of Night.