Back to selection
Behind The Scenes on BART: a Narrative Short Shot with the Canon C100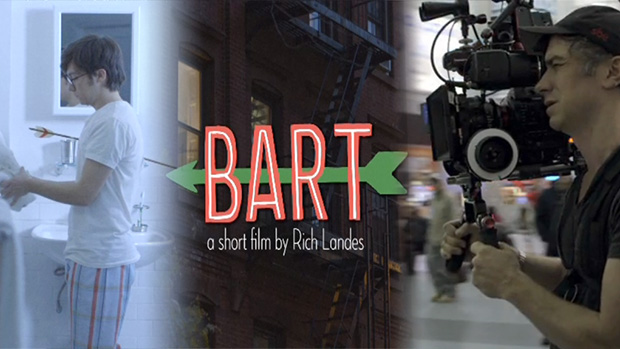 Recently we published an interview about the making of the short film Pulse, which was financed by Canon and shot on their new C100.
Canon subsequently contacted us about a second short, BART, which was also shot on the C100. While Pulse is a documentary piece, BART is a four-minute short that is entirely an exercise in narrative story telling. Canon was specifically looking for a film that had little language and had a lot of visuals to it.
BART will premiere next week at a special screening and workshop at the Sundance Film Festival, but today Canon is releasing the Behind The Scenes on the making of this short which can be viewed exclusively here:
http://vimeo.com/56991237
Directed by Rich Landes, who has an extensive background as a commercial director, with cinematography by Peter Simonite (The Tree of Life, To the Wonder, Arthur Newman, No Place on Earth), BART follows a young man with a broken heart who finds love on the Staten Island Ferry.
Both Landes and Simonite spoke highly of the quality of the image produced by the C100, as well as it's small size and flexibility. "I was scared to death because I've only used film," says Landes. "Everything I've done has been film because I just know it and I feel safe with it and when this came up I was really scared it was going to be a glossy video look…and when you see it you'll see that it really shocked me."
"It was a great tool for telling Rich's story," says Simonite. "It worked perfectly for what we were trying to do on this shoot. We were able to be very fleet, getting on and off the Staten Island Ferry every 20 minutes and trying to block and stage and shoot scenes that way. I thought we were able to produce really cinematic soft focus images and I'm really happy with it."
BART's premiere will take place at the workshop "Canon Spotlights Cinematography" to be held at the New Frontier Microcinema at The Yard (1251 Kearns Blvd) on Monday, January 21 from 3 p.m. – 4:30 p.m. The event is free and open to Sundance Festival Credential holders and the public as space allows, and will feature a screening of shorts created with Cinema EOS cameras. Both Landes and Simonite will be attending the screening to discuss the making of the film. Interestingly, Canon notes that Simonite is the first cinematographer to shoot on every camera in the Canon Cinema EOS line (C100, C300, C500).
We interviewed Landes and Simonite about the making of BART, and you can read that interview here tomorrow.