Back to selection
Five Questions with Some Girl(s) Director Daisy von Scherler Mayer and Producer Patty West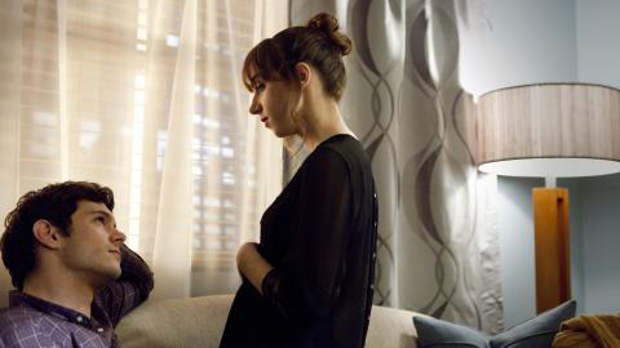 Some_Girl(s)
In the battle of the sexes, there has been perhaps no more controversial warrior than the playwright, screenwriter and director Neil LaBute (In the Company of Men). Since the mid-90s, LaBute has made a name for himself by writing movies that are truly, madly, deeply cynical. Adapted by LaBute from his own stage play and directed by Party Girl helmer Daisy von Scherler Mayer, Some Girl(s) stars Adam Brody as a soon-to-be-married writer who takes a cross-country trip to revisit ghosts of girlfriends past. With an all-star cast and a no-holds-barred script, it's sure to leave people arguing in the lobby after its SXSW premiere on March 9.
Filmmaker: How did you initially get involved in the project? Had you seen the play or were you approached?
Von Scherler Mayer: I was approached by Chris Schwartz, Patty West and Andrew Carlberg for the film and jumped at the chance because I'm a huge fan of Neil's work, although I had never seen Some Girl(s) on stage.
West: Co-producer Chris Schwartz and I knew Daisy's work — we are fans of Party Girl and her TV work. I had worked with her on developing an idea with Carol Baum a few years back. We'd also worked with Daisy on the AFI Directing Workshop for Women selection process and gotten to know her and her sensibility. Her theater, TV and film background made her such a great candidate to direct the film. She brought so much experience to the table working with actors, on plays, in film and on sets. She's a triple threat!
Filmmaker: What the casting process like?
Von Scherler Mayer:  The actors were already in play when I signed on but I loved the people who had been approached.  You realize that the kind of actor who is well known (as all our actors are) but still signs on to do a film of this budget is the kind who makes choices based on material.
West: The casting process was very collaborative. We had such a great time meeting with actors on the film because they all told us their relationship stories — it was like therapy!
Filmmaker: It can be difficult to adapt plays — by their nature, they have fewer scenes and less plot. Did you open the script out from the play?
Von Scherler Mayer: I would say that the shaping I did to adapt the play for the screen came in the shooting and editing process. I worked hard with the d.p., Rachel Morrison, to shoot each scene differently and to vary the room with staging and screen directions so that we don't get "cabin fever."  But honestly, I was so engaged with the characters and their shifting dynamics that I wasn't too worried about its history as a play. On film, an exchange in close-up can hit a lot harder than in a theater, so less is more.
West: We always knew that the writing was strong and that the actors would rise to the occasion and bring amazing performances, but we did want to make it different from the play so that it would be cinematic. First, we wanted it to be more intimate and grounded — there are such universal truths in the writing that we wanted to lean into the dramatic and not go for the broad comedy. We decided early on, with Neil, to include a scene with Zoe Kazan, which did not go up in the original stage production. Neil also did a fantastic job adapting it for the screen and he added a little scene at the end that is juicy…but we don't want to ruin it for your readers…
Filmmaker: You've directed a lot of television since your last feature. How has that shaped or changed your directing style?
Von Scherler Mayer: Directing is directing. TV happens to offer the most opportunities and the best material at the moment so I'm happy to be working in it. I prefer directing film because there is more time; time to prep, to shoot, to execute my vision overall.  But truthfully, my film schedules have never been luxurious. I would say that TV has made me faster and more decisive but I'll break with the crowd and say that isn't always better.  Starting off in film, I would sometimes toy with different versions during a shoot – knowing I'd have fun playing with them in the edit. In TV, you can't do that for financial reasons but that doesn't mean good work can't be made that way. As a film director, all I think about is the final product, period. I don't care what the cast and crew think of me or of my directing style. Working in TV means making the process a positive experience for everyone and that's part of the gig. But again, TV offers great scripts and more work.
Filmmaker: How do you direct comedy? How do you know when something is working comedically? Is it a gut instinct?
Von Scherler Mayer: If it's not funny on the day, it will never be funny. The idea that you can manufacture comedy in the edit is, in my experience, a fallacy. It's like music: you're in tune or you're not. So the hard work – and it is much harder than directing drama – comes in figuring out how to make a moment funny when it isn't. Finding the reality is always key. Play the scene not the joke, that sort of thing. Creating an atmosphere where everyone feels supported and ready to "play" is important. All the clichés are true. Faster is funnier. Reaction shots are critical. Still is funnier than moving – actors and camera – and yes, medium shots are funnier than close-ups. But with truly funny actors, no rules apply.