Back to selection
Meet the Latest SFFS/KRF Filmmaking Grant Finalists (Part 1)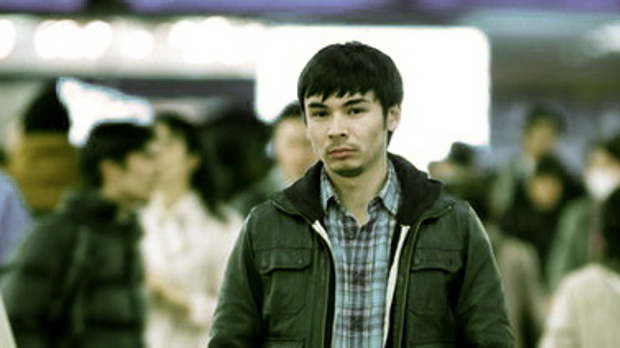 Josef Wladyka
Last year on the Filmmaker website, we ran a series of pieces in which we profiled a group of finalists for the San Francisco Film Society's Kenneth Rainin Foundation Filmmaking grant, run through the organization's Filmmaker360 program. Now there's a new set of finalists, and we are once again putting the spotlight on all those shortlisted for the grant. 
JOSEF WLADYKA, MANOS SUCIAS
Synopsis: A desperate fisherman and a naive young man embark on a dangerous journey trafficking drugs up the Pacific coast of Colombia. Hidden beneath the waves, they tow a narco-torpedo filled with millions of dollars worth of cocaine. Together they must brave the war-torn region while navigating the growing tension between them.
Bio: Josef Kubota Wladyka fell in love with filmmaking in high school. Even while pursing a B.S. in Finance he continued to make short films. When Wladyka returned to school for his MFA in Film at NYU's Tisch School of the Arts, the quality of his first year work earned him a prestigious Faculty Fellowship Award. His short films, commercials, and screenplays also garnered the attention of director Spike Lee who named him recipient of the 2010 Spike Lee Fellowship Award, providing research funds and mentorship for his first feature film. Wladyka's short works have screened at festivals around the world and on Jet Blue Airlines; granting him a nomination for a Young Director's award and the Porsche student advertising award. Manos Sucias is his feature film debut.
What was your inspiration for this story?
I was traveling on the Pacific coast of South America with a close friend. We hitched a ride with a bunch of fishermen to a hidden beach on the Ecuadorian/Colombian border called Mompiche. The locals told us stories of bodies and bales of cocaine washing upon their shores and how the drug trade affects the fishing communities in these areas. As we continued north into Colombia I gathered more stories about the problems that plague the people of this region; stories about drug traffickers, paramilitaries, and guerillas. Each story was a glimpse into a dense and complicated world. As a filmmaker, I want to open a window to a world unknown to audiences. After this initial trip, I spent five years traveling back to the coast with a close friend from the region. I returned to the homes of the people I met, and listened to their tales and deeply personal accounts of how their lives remain entrenched in the drug trade. It was these stories that became the basis for Manos Sucias.
What do you see as the greatest challenges for filmmakers today?
I think the greatest challenge for independent filmmakers today is maintaining the necessary focus to push your project forward. Rent, bills, and the distractions of everyday life all detract from the time and energy it takes to get your film made. I'm thankful there are organizations like San Francisco Film Society and Film Independent who support independent filmmakers, allowing us to focus and dedicate ourselves to our projects.
Another great challenge that goes hand and hand with that, is finding the right team to make your film under these circumstances. You need a team that is all on the same page about the type of film you're trying to make. I'm so blessed to have Alan Blanco as my co-writer, and Elena Greenlee and Márcia Nunes as my producers. The project would have never gotten off the ground without them. They've all sacrificed so much for this film, and I can't stress enough how important this is… it's all about your team, you gotta have the right team to make your film.
What new resources exist that you see providing the greatest advantage for filmmakers working today?
Hands down, it's social media. It allows filmmakers to get in contact and connect with people who can help them with their project. Crowdfunding is a great tool, and we used Kickstarter to raise a portion of our budget and launch us into production. This film could not have been made without the generosity of the people who contributed and believed in our project. Social media also helped put me in contact with a theater teacher from Buenaventura, Manuel Viveros, who eventually became our casting director.
Where would you like to be 10 years from now?
This question is always tough for me to answer because I'm so focused on finishing this film. We leave for Colombia in a few weeks to start pre-production and that's all I am thinking about. I guess in 10 years I hope I that can still play basketball, that I'm happy, and that I'm still making movies that inspire me. No matter what size, I just want to be making films ten years from now. My mother is Japanese and it has always been my dream to make a film in Japan. I would love to travel and explore Japan and find a story to tell there.
GRAINGER DAVID, NOCTURNE
Synopsis: Nocturne is the story of a white South Carolina cop on the verge of retirement who accidentally kills a young black teenager he suspects of a recent robbery and murder. In a moment of extreme weakness, he hides the boy's body in a woodshed—only to return a day later to discover it has disappeared.
Bio: Grainger David is a director from Wadmalaw Island, South Carolina. His NYU grad film thesis, The Chair, was the only American short film nominated for the Palme d'Or at the 2012 Cannes Film Festival. The Chair also won Jury Prizes at the SXSW, Los Angeles, and Hollyshorts Film Festivals, and has screened at major festivals around the world, including Telluride, Hamptons and the 63rd Berlinale. David has been awarded grants from the Tribeca Film Institute, the Sloan Foundation, the National Board of Review and the Hollywood Foreign Press Association. He is currently in post-production on a new short funded by the South Carolina Film Commission, starring Kiernan Shipka (Mad Men) and Maria Dizzia (Martha Marcy May Marlene).
What was your inspiration for this story?
I was out driving around one night on a dark, isolated road doing some location scouting for my short film The Chair. It can get very foggy at night in the winter in the part of South Carolina where I'm from. I was nervous already — worried I might hit a deer, which happens all the time there at night. All of a sudden these kids came out of nowhere and ran across the road and disappeared back into the fog. I was so close to hitting them that after I slammed on the brakes I just sat there for a minute with my hands shaking. What if I had hit one of those kids on that dark road in the middle of nowhere? What if you did? It seemed like a rich and classic set up, and also a bit like a ghost story or a bad dream.
What do you see as the greatest challenges for filmmakers today?
I think the big challenge is always the same: It's really hard to tell a good story and to turn that story into a great movie. And staying focused on your story in the middle of all the other practical and ever-shifting producing problems makes it all even harder. Also, it's so difficult to push yourself to take risks and do things that scare and challenge you in a business that has so little margin for error because of the financial requirements.
What new resources exist that you see providing the greatest advantage for filmmakers working today?
My feeling is that every advance in technology that lowers the barriers to entry and makes the tools and process of filmmaking cheaper and more widely accessible — closer to the simple, intuitive act of putting a pen to paper or a brush to canvas — will also help elevate it as an art form.
Where would you like to be 10 years from now?
I would be very happy if I'm actively directing. My plan is to do a series of three Nocturnes — thematically linked features loosely inspired by the JM Whistler series of night paintings. I love the foggy sense of mystery in those pictures.
ROD BLACKHURST (DIRECTOR) AND JOSH MURPHY (PRODUCER), NORTH
Synopsis: Rack is a 38-year-old recently released ex-convict, struggling with his return to a neglectful society. Emotionally discarded by his family and caught in a flawed parole system, he embarks on a bicycle journey to northern California to find Rebecca, the girl he left behind. With his criminal past threatening to resurface at every turn, Rack discovers what it means to be truly free and how fragile his newly gained freedom can be.
Bio: Rod Blackhurst has directed, produced and photographed documentaries, narrative shorts, music videos and commercials since 2003. His short film Would You, starring Dave Franco and Christopher Mintz-Plasse, premiered at SXSW in 2012 and subsequently screened at Palm Springs, St. Louis, and CFC. His other short films for Will Ferrell and Adam McKay's Funny or Die starring Maggie Grace, Dave Franco and Christopher Mintz-Plasse have collectively garnered over 10 million views. Sony Entertainment released Blackhurst's feature documentary Fair Fight, about Grammy-nominated recording artists The Fray, in 2009. Blackhurst's recent work includes music videos for The Fray, Lucinda Williams and the John Butler Trio, national commercial campaigns for Wilson Tennis, Trek, & Mrs. Meyer's Clean Day, and the 2013 dramatic short film Alone Time, which he co-wrote with David Ebeltoft.
Josh Murphy is a producer and director whose work spans television, commercial, documentary and feature films. He was coproducer and second unit director/d.p. of The River Why starring Zach Guilford, Amber Heard, Academy Award winner William Hurt and Academy Award nominee Kathleen Quinlan. The River Why premiered at Dallas AFI 2010, won Best Cinematography at 2010 Ashland Independent Film Festival and was distributed through Image Entertainment and Fox. He recently produced the narrative short Alone Time with director and longtime collaborator Rod Blackhurst. He is executive producer and creator of Mustang Ranch: Labor of Love for HDNet and his broadcast productions have been featured on PBS, CBS, ESPN, CMT, OLN, VH1, G4, VS, and FOX. His commercial clients include The North Face, Men's Wearhouse, Clif Bar, Volvo, Patagonia, and Outdoor Research.
What was your inspiration for this story? 
Blackhurst: North is based on a piece of short fiction written by my old friend Matthew Wade Jordan. Eleven years ago both Matthew and I ended up living in Northern California where we tried, unsuccessfully I might add, to adapt another story of his into a short film. In the years since then I've always been drawn to the boldness and economy of language in Matthew's writing. However, it wasn't until late last year, when after several months of reading his latest story, North, over and over again every night before bed, that my wife recognized the hold that Rack's journey had on me. Coincidentally right around that time, I happened to have lunch with another friend, Elgin James, who said that not only did I need to be the one to bring North to life, but that he would co-write the script along with David Ebeltoft and myself. Elgin knew the frustrations that David and I had been encountering over the past three years while putting David's screenplay You Were Once Called Queen City into production, and it was his enthusiasm and encouragement that finally put the project into motion.
Set in California, where, according to the California Department of Corrections & Rehabilitations, recidivism rates fluctuate between 60–70%, North is a poignant look at one man's quest for freedom as he tries to find his place in society after nine years behind bars. Tonally and stylistically, North is both a narrative tale of gritty and intimate humanity as well as a visual love letter to California, inspired and influenced by photographer Todd Hido, John Steinbeck, and films such as The Diving Bell and the Butterfly, Lore and Ballast.
Murphy: I have always been amazed at how space affects us. When I first read the short story North, I was immediately effected by the contradictions in space and how they molded the main characters' reality: the freedom offered by the dramatic, wide-open landscapes of coastal California dreamed from the confines of an 8×10 cell, the limitless choices of those with means and the horrible confines of those without, the emotional detention of lost love and the liberation offered by a better future. In North, we see a man confronted and confounded with space and forced to act. While the sensation may be more poignant to a newly freed man, this is a shared experience that affects us all.
What do you see as the greatest challenges for filmmakers today?
Blackhurst: As filmmakers we need to be working to find an audience for our film from the very moment an idea is conceived. Sometimes we forget that filmmaking at any level is a business and that even in indie/micro budget film, sustainability and visibility are important. While we so often become caught up in the craft and creative process of making the actual film (which is important above all, don't get me wrong), it is also our job as stewards of our stories to also find a way for our projects to distinguish themselves and engage.
Whether it's Rian Johnson making homemade behind-the-scenes/making-of podcasts for fans of The Brothers Bloom or Looper to take to the theater with them, to using Kickstarter to build and engage an audience well before your film is ever shot, it is a challenge to find new and unique ways to share our projects.  Even when we really just want to be off on set shooting somewhere, we would be doing a disservice to our films by not working overtime to engage potential new audiences. Finally, we need to find new and creative ways to humanize these processes, so that we can use technology and digital connectivity to make our projects human. This is the new face of filmmaking and it's our job to adapt and embrace it.
Murphy: The democratization of filmmaking has lead to a market flooded with media. With the growth and variety of digital distribution platforms there are more opportunities than ever to have your voice heard and your film seen. But "by who?" and "for how much?" are lingering questions. This blessing is also a curse. If we don't find more ways to monetize content — so successful creators can keep creating — it will continue to vex us.
Market pressures challenge filmmakers to do more and more for less and less. In addition to crafting an engaging narrative with vibrant characters, it is now imperative to run a well-honed marketing and PR machine as well. Creating an active network of trusted collaborators is more essential than ever, and nourishing this network with shared opportunity is required. Filmmaking is a collaborative and labor-intensive art even at the most basic level. In the words of Orson Welles, "a writer needs a pen, an artist needs a brush, but a filmmaker needs an army." A bank helps too.
What new resources exist that you see providing the greatest advantage for filmmakers working today?
Blackhurst: At the risk of sounding like an analog soul in a digital world, the Internet is the greatest new resource for filmmakers working today. When I first began working in film 11 years ago there was no easy way to track down your favorite director or cinematographer. There was no way to find and consume the work of your peers. There was no way to crowdsource an ultra low-budget film. The Internet changed all that, and continues to change all that. Whether it's Vimeo daily curating the best digital film content from around the world, Slated.com helping DIY filmmakers navigate the financial and equity side of filmmaking, to just being able to find a phone number or email address for that filmmaker you'd like some creative advice from, our connectivity has forever altered the way we work as filmmakers.
Murphy: I started filmmaking with a VHS camera and two decks hooked together so I could edit in the same way we used to make mix tapes: start, record, stop, fast-forward, record, rewind, record, and repeat. The technological advances in image capture and editing, and the ability to stream and download content are enough to make my head spin! The modern digital world we live in is outrageous and wonderful all at the same time. But simple strong stories still remain that: simple and strong.
Overwhelmingly, the ability to network, self produce, and create individual audiences is remarkable. YouTube, Vimeo, iTunes and other platforms all provide a chance to share your work and find others who believe in you. This is amazing. There are piles of innovative apps and programs that make the actual making more accessible, but the ability to create, share, and foster personal and professional relationships across the globe is truly phenomenal.
Where would you like to be 10 years from now?
Blackhurst: While working for the past 10 years as a director I've learned that it's best not to make plans and instead it's better to make goals. Over the next 10 years I'd like to keep making art with my friends. I'd like to become a better collaborator and director. I would like to make new friends that challenge me personally as well as my approach to storytelling. I would like to make at least a few films that can stand the test of time along side those films I admire so much. I'd like to collaborate with Philip Seymour Hoffman, Marion Cotillard, John Hawkes, Michelle Williams and Bill Murray. And I'd like to make people cry, question, escape, wonder, and laugh. If I can do all that while making a modest living and supporting my family then I would feel quite fortunate.
Murphy: I'm not sure if I'm brave enough to look 10 years ahead. Maybe it's my Irish outlook on life. There are so many wonderful challenges ahead, and so many terrible tragedies to endure, that I dare not stare into that abyss too long. I aspire to tell stories that have resonance and the ability to plant your feet in a dark room and hold your attention for 90 minutes. I would love the chance to work with filmmakers like Joel and Ethan Coen, Sam Mendes, and Darren Aronofsky (who wouldn't!), but I'm equally inspired by the subtlety of directors like Mike Mills and Thomas McCarthy. That said, and in all honesty, I very much like the team I'm working with now. And now is most important!
TOMMY OLIVER, 1982
Synopsis: Semi-autobiographical and inspired by true events, 1982 tells the story of a black father whose wife succumbs to a crack cocaine addiction and his efforts to shield his young daughter from the ill effects of having a drug-addicted mother. Set at the very onset of the crack epidemic, the film is about a father doing whatever he can to protect his family.
Bio: Tommy Oliver, producer of Kinyarwanda, a film Roger Ebert named to his top 10 films of 2011, is a strong believer in the transformative power of film. As a graduate of Carnegie Mellon University, where he double majored in Economics and Digital Media, he developed a keen understanding for business as a whole. In addition to the 2011 Sundance World Cinema Audience Award–winning Kinyarwanda, Oliver has produced three films, including his directorial debut 1982. Next is Qasim Basir's Destined, starring Omar Epps, Mekhi Phifer and Keith David, which he is producing through Confluential Films, a company he recently founded with actor/speaker/author Hill Harper.
What was your inspiration for this story? 
1982 is a semi-autobiographical story pulled from events and emotions I dealt with as a child growing up with a drug-addicted mother. We shot the film in the neighborhood, street and the very house in which I was raised (we actually moved my grandmother, played by Ruby Dee in the film, out of the house she lived in for the past 45 years).
What do you see as the greatest challenges for filmmakers today?
Funding. While I absolutely love independent film, it's incredibly hard to put a film together and if that film happens to be a low-budget urban drama, you can pretty much forget about it. Even with top-level talent attached, you might as well be Sisyphus.
That said, you have to keep pushing (see what I did there) because, if you won't, who will?
What new resources exist that you see providing the greatest advantage for filmmakers working today?
Significantly lower barriers to entry to making a professional quality film, crowdfunding (I'm looking at you, Veronica) and fantastic support organizations including SFFS, IFP, Sundance Institute, Film Independent, Cinereach and Tribeca Film Institute.
VOD and alternative distribution models are also changing the way films recoup costs and when properly leveraged, can result in quite a boon for filmmakers and investors alike.
Where would you like to be 10 years from now?
On my way to where J.J. Abrams is. There are so many stories I'd like to tell and so many actors and filmmakers I would love to work with. J.J.'s created TV shows, produced films and written blockbusters all while continuing to direct at the highest level. If I can manage to do a fraction of that, I'll be a happy camper.
I'd also like to be married with kids (2), who think I'm the best dad ever…in the history of dads. Ever.
Photo of Tommy Oliver by Hosea Johnson