Back to selection
Hands on a Hard Body Director S.R. Bindler On His Documentary's Unlikely Broadway Adaptation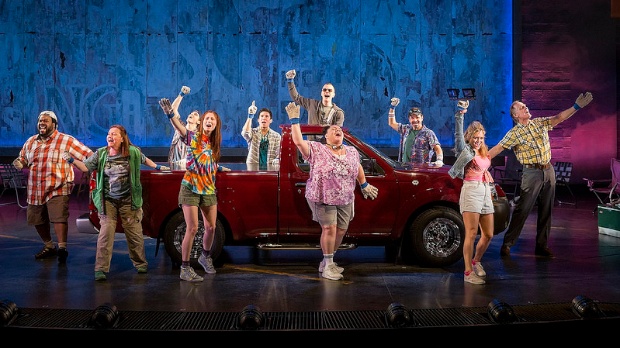 An odd, homemade blend of Garrison Keillor and Jackass, as filtered through an early Errol Morris-like lens, S.R. Bindler's 1997 documentary Hands on a Hard Body is now having one of the most unexpected independent film second lives ever. Hands on a Hard Body the film has led to Hands on a Hardbody the Broadway musical, starring Keith Carradine, directed by Neil Pepe, with a book by Pulitzer-Prize winner Doug Wright and a score by Phish's Trey Anastasio and Amanda Green. It opened at the Brooks Atkinson Theater last week, and Charles Isherwood wrote in the New York Times, "…this daring new musical…" has "a bravado to match the gumption of its characters… Although it's far from fully loaded in a conventional sense, this scrappy, sincere new musical brings a fresh, handmade feeling to Broadway, which mostly traffics in the machine tooled."
Bindler's film depicted a crazy Texas endurance stunt/marketing campaign in Longview, TX, where 24 contestants tried to win a Nissan Hardbody truck by holding their hand on the truck as long as they could. With both humor and genuine empathy, Bindler watched as his motley crew stood for almost four days, braving the sun, exhaustion, and sleep deprivation, all for that gleaming, rugged truck. With a strong, three-act structure, and characterizations that built throughout the film, Bindler's picture anticipated the trend towards narrative-style documentary production that would flourish in the following decade. And if the film isn't as well remembered now, that's due to distribution woes. Despite grossing an impressive $500,000 in theatrical release, the company that distributed it disappeared from the scene, and Bindler wasn't able to retrieve his original masters.
But, as you can tell, Bindler's story has a happy ending. And, not only is the work finding life in a new form on the stage, Bindler is using the Broadway run to launch a restored version of the film. Below I find out how all this came to be, what's up next for Bindler, and why you should always clone your masters.
Filmmaker: So, I was sitting at home, watching TV, and I saw a commercial for your Broadway show. I thought, "Wait a second, I know that title." And then I thought, it's probably just the same title, that it had nothing to do with your film. I don't mean this in a bad way, but it strikes me as the most unexpected Broadway transfer ever.
Bindler: Why unexpected?
Filmmaker: To me, the world of independent documentary production and Broadway seem so different. So let me just ask you, how did this come about?
Bindler: Well, probably three years after the movie came out, we were approached by a team of musical producers that wanted to adapt the movie. And they were followed by three other teams. The first time, it was sort of surprising but, I mean, the documentary originated as a feature film idea, so, from the very beginning, the idea of the documentary being adapted to a narrative made sense. So when the first group came, we discussed it and it started to open itself up as a possibility. I started to be able to see it as a potential theater piece.
Filmmaker: So that was many years ago. Why did it take so long?
Bindler: While the pedigree of the [initial] producing teams was good, something didn't click until I met Doug Wright and Amanda Green, who approached us probably three years ago to adapt it. And everything just sort of clicked. The conversation probably lasted a year before we formalized the partnership.
Filmmaker: And what role did you have in the development of the musical itself?
Bindler: Very little. Or, very little or a whole lot, depending how you look at it. My biggest contribution, first and foremost, was making the documentary. The second one was simply saying "yes" to the right people. That was it. We had some conversations about tone and temperament and themes and the big picture stuff before we formalized the agreement, just to make sure we were all on the same page. Doug and Amanda have a long track record. It's a great track record and I had no doubt they would make something compelling and entertaining. I just wanted to make sure that they stayed true to the documentary in terms of tone and substance. Once I was certain as you can be that we were on the same page, we shook hands and I encouraged them to go make it, and to go make it their own as well.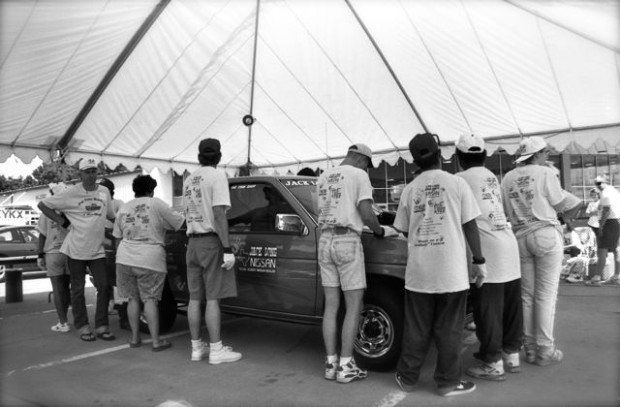 Filmmaker: What is it about the movie that prompted not just one team, but multiple teams, to go after it? I see how one producer might say, "Okay, I have this idea on how to make this work…" But it sounds like you had a succession of people who all seemed to feel that they knew how to make it work. Maybe I'm naïve, maybe this happens to every documentary, but I don't think it does. What was it about Hands on a Hard Body that captured interest? And were you stoking this interest? Did you have reps out there pushing it?
Bindler: I'll sort of fish around for the first question, but the last question, definitely not. I've never pushed the documentary into any sort of other commercial venues—other than the one that I had a part in. I'm sure you've read that Robert Altman [wanted to adapt it to a feature before he died]. And that certainly didn't come from me. People just came upon the film like coming across any film. Everybody had their own story about how they found it. I think Doug rented it, in VHS form, from a video store, if you can believe that. We caught the very tail end of the whole VHS experiment.
But, as for what everyone saw in it, I think there are a few things that come to mind. The first is the universality of the themes. It's a populist bit of filmmaking. It's not obscure and challenging material. It wears its heart on its sleeve and it's right up front about what the movie is about. And I think that that accessibility is part of what attracted interest as a piece of musical theater. You think of Broadway, as a place for popular entertainment that's got a broad appeal. And Hands on a Hard Body certainly has that.
I also think you've got the myriad characters. You've got ten to 15 interesting characters with an interesting idiom [to their speech]. How people express themselves in East Texas is so much a part of the movie. I think it lends itself to a certain lyricism. And there are also ten to 15 discreet storylines. Everybody is coming to the truck with different dreams and aspirations and goals. So, for a storyteller trying to reach a broad audience that's quite an opportunity: ten to 15 different ways to reach a broad audience. I think that was another enticing piece to it for a musical adaptation.
And then you have the challenge of staging it. You have a contest in a movie that's based around what? People standing around doing almost nothing for days on end. How do you make that dynamic and interesting? That's challenging and enticing.
Filmmaker: Does the play keep with the temporal integrity of the characters standing around the car? Or are there cutaways and flashbacks?
Bindler: No, they don't play with the linearity of time like we did in the movie. It's a very inventive staging but they don't play with time so much as they create a character out of the truck. I don't want to give too much away, but the truck moves. The truck is not static and there's a mechanism for the characters to leave the truck without leaving the contest. So it frees up the blocking of the stage to make it dynamic. It's a musical. There's singing, there's dancing. To do that, people for some degree have to be free to move around, so they came up with some clever ways to accomplish that.
And there's a character that really wasn't in the movie, a radio DJ. The radio DJ in the musical has a microphone and approaches the characters and asks them direct questions, like we did in the film. And that allows them to draw out the characters and their pasts and flesh out their needs and aspirations and dreams as to why they entered the truck.
It's a really good time, it's entertaining and very emotional. I don't know, it's interesting to me as a documentarian, you want to—when possible—take something that's seemingly mundane and open that up to transcend its mundane origins. You want to look for universal themes in the seemingly mundane without, at least for me, forcing that on the subject with a voiceover or a heavy hand. Yet, what they've done with the musical is really sort of open up the thematics into something that's there in the movie that I wasn't able to draw out as much as maybe I'd like to. They were able to do that. They have the license to, in that they're not dealing with reality as much as we did when making a documentary.
Filmmaker: Were life rights an issue? Had you acquired life rights that you then transferred over?
Bindler: Doug and Amanda went to Longview, which is where I shot the movie and where I'm from, and secured the life rights of, I think, eight of the folks from the movie so, they could use their names. So, yeah.
Filmmaker: What about you during the time period between Hands on a Hard Body the film and now? What have you been up to? How has this amplified what you're trying to do or was this an unexpected thing that has happened?…
Bindler: Well, I'm not inclined to start a musical theater career [laughs]. That's for sure. I don't see that in my future. But, I've continued to make documentaries. I started making documentary-based commercials ten years ago and have made a living as a commercial filmmaker since Hands on a Hard Body. And screenwriting. I write screenplays. And, you know, I'm always looking for the next documentary. I'm just sort of a filmmaker out in the world looking to make films.
Filmmaker: Has this Broadway success energized that process or not?
Bindler: Well, yeah the thing is, we made the movie on a shoestring budget. It's about as inexpensive as you can make a feature film as possible. And when we finished it, I didn't finish it properly. I didn't have the funds to online the movie the way it should've been onlined. The way I could sleep back then was by telling myself that someday when I had the means I could finish the movie. Really finish it well so it looks and sounds as good as it could, given the format. And the musical has done forced me to finally do that — go back to the original material and re-master and restore it. It really turned into a restoration job, restoring the film shot-by-shot over the last three years. It was always something I intended to do, but then when the musical started I was like, "Let's wait until the musical comes out because that would be a good time to put the movie back into the world." So that's been a good thing.
Filmmaker: The film is now available again right?
Bindler: Yeah, we're putting it out on its own website. You can stream it right now. You'll be able to buy a DVD of it in a few weeks. The DVD will be available in the theater in New York. We're going to start there and then roll out to other digital outlets.
Filmmaker: If the show is a hit, the film can really be newly lucrative.
Bindler: It could. Who knows? The film right now, the only way you can get it is by spending like $150 on eBay. You can't get the movie. It's been unavailable for seven or eight years, maybe longer than that. Probably ten years.
Filmmaker: Who distributed the movie?
Bindler: I'd have to dig it up. [laughs] I'm serious. It was a company called Idea, I believe. Idea Entertainment, and Legacy Releasing put it out. You know, then Idea was owned by a company that was owned by a company that was owned by a company. It was very difficult to figure out who owned the movie and who we partnered with. And they all disappeared. I couldn't figure out where all our masters were, where our film prints were, where our assets were. They just disappeared. So it was impossible for me to get a copy of my own film, if you can believe it. Years ago, when we partnered with the distributor, as part of the traditional distribution deal you hand over your assets, the deliverables. And it just felt so strange to me, so I cloned all my masters. So I cloned everything and then turned over the originals. Then they disappeared, so thank goodness I kept up with all the source material so we were able to go back and piece the movie together.