Back to selection
"PRESSURE COOKER"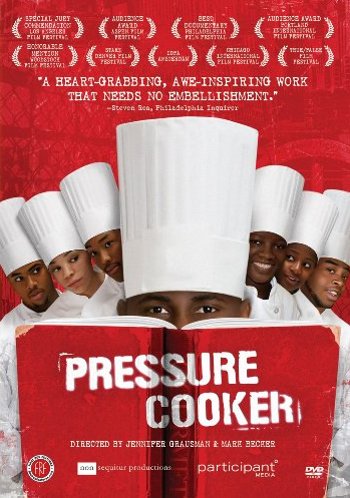 Gaining attention on the regional fest circuit after premiering at the Los Angeles Film Festival in 2008 (followed by a small theatrical release), Jennifer Grausman and Mark Becker's look at a strong-willed culinary arts teacher in Philadelphia as she molds her students through a school year is both uplifting and a love letter to elective classes in high school that are quickly disappearing.
Wilma Stephenson, teaching for close to 40 years by the time the filmmakers shoot her class at Frankford High School, is known through Philly as teaching with an iron fist. The first day of class, she announces to her kids that most of them won't be around by the end. She screams, she gets in your face, but aren't those the teachers we remember the most and made the biggest impression on us?
As the school year goes on, the students quickly realize that the skills they're learning in the kitchen can prove to be rewarding not only for their future but becoming better people. And that's where we see Mrs. Stephenson's true side — a loving, caring, enthusiastic teacher who wants nothing but the best for her students.
But Grausman and Becker also look at the stories of the students in the class. Living in impoverished Northeast Philly, over 40% of students don't make it to their senior year at Frankford. But for three students highlighted in the class, excelling in culinary arts could be their only chance to leave their hometown after high school. Grausman and Becker flash back and forth from the classroom to the houses of the students to find the struggles they go through back home — ranging from struggling with academics to being a surrogate parent, to holding a job after school — which builds the drama for the film's conclusion where the class takes part in a competition by the Careers Through Culinary Arts Program where the best are rewarded life-changing college scholarships.
Unfortunately, classes like Stephenson's are fading away, especially in public schools like Frankford. Where inner-city kids only see their way out through becoming sport phenoms, the loss of elective classes like culinary arts and music not only eliminate future talents but limit a kid's interest in the arts. We see this only in passing in the film as Grausman and Becker show the kids selling cookies and pies they've made to help funding for the class, but it's certainly an issue that makes this story, and what Stephenson does, even more remarkable.
First Run Features releases the DVD today.
[AMAZONPRODUCT=B0035QBRCQ]