Back to selection
Matt Porterfield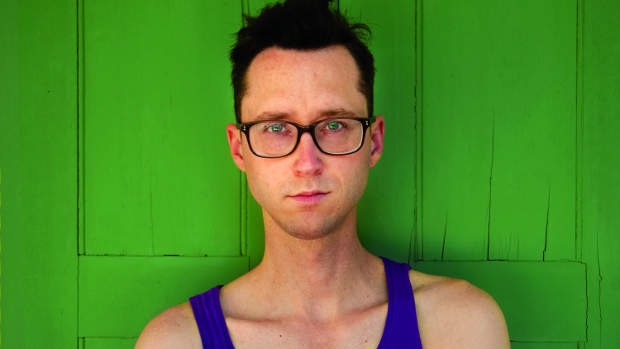 For decades John Waters has been the filmmaker who has sprung to mind when one thinks about Baltimore and the movies. But with the release of his exquisitely directed, formally rigorous second feature, Putty Hill, Matt Porterfield adds his name to the city's cinematic honor roll. "For me, Baltimore — the physical environment and its people — is a real source of inspiration," he says. "It's a diverse but stratified city, an amalgam of the North and South, divided along race, class, and socioeconomic lines. I hope my films can perform some kind of social function by bridging gaps and offering a shared vision of city life that is underrepresented in the mainstream media."
In Putty Hill, a circle of friends — some adults but mostly youth — gather to attend the funeral of a young man who has died of a drug overdose. Some return from out of town. Others are Baltimore lifers who journey just a few blocks. Porterfield's camera (beautifully d.p.ed by Jeremy Saulnier) cuts from neighborhood to neighborhood, clique to clique, and in doing so alternates between fiction and documentary styles. Some scenes unfold in dramatic fashion; other times, the action stops, and Porterfield's off-camera voice engages in a Q&A with the actors, as if they are being tailed by a documentary film crew. One person begins to stand out: Jenny, a taciturn teenager played by singer-songwriter Sky Ferreira. She's come back to Baltimore for her cousin's funeral, a trip that seems to be causing her stress and anxiety. In an astonishing scene late in the film, Ferreira comes across her estranged father, played by non-actor and tattoo artist Charles Sauers, and we sense why.
The story of how Putty Hill came to be has been told on the film's website (puttyhillmovie.com) and during the course of the successful Kickstarter campaign that raised more than $20,000 for its postproduction and travel to Berlin, where it world-premiered at the Berlin Film Festival. As this story goes, Putty Hill was a "Plan B" picture improvised around a five-page treatment. Briefly, Porterfield recounts: "We were hoping to shoot a larger-scaled feature script called Metal Gods, which was also focused on the daily lives of these characters. It was 120 pages, had a three-act structure, and we hoped to shoot it in July of '09. When [financing fell through], we had our cast, a number of our locations, 20 grand and a camera package from the IFP from being in the Emerging Narrative Lab. So we just moved forward. There was a lot of magic."
Recently Putty Hill was picked up for distribution by Cinema Guild, which will put it in theaters this fall. The company also acquired Porterfield's barely-seen first feature, Hamilton, for DVD. Plus, Porterfield has been exploring an intriguing new direction. "I recut Hamilton down to 45 minutes, and it's been playing on a loop as part of a show at the Baltimore Museum of Art. I took out a lot of the dialogue and the exposition. It's a really different approach to time and narrative where the image predominates." Going forward, Porterfield says he'll develop another larger script and continue to create work for museums and galleries, but also keep making small films like Putty Hill in Baltimore. "I just want to keep working," he says, "and I'll take a 'by any means necessary' approach." — S.M.
Contact: puttyhillmovie.com; matthew.porterfield@gmail.com