Back to selection
Mark Jackson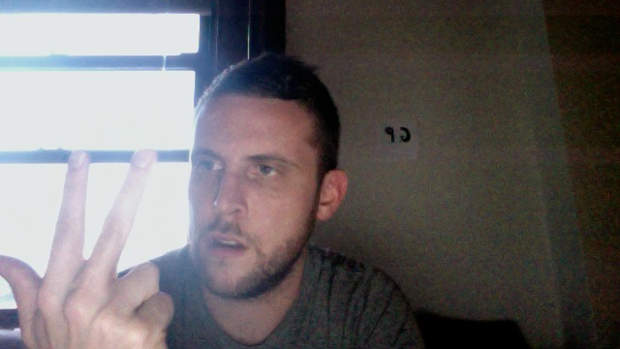 Trained as a cinematographer in Italy, Brooklyn-based Mark Jackson says he doesn't watch many movies. "My grandfather is the reason I make films. He introduced me to the magic of observation and that's where the vast majority of my inspiration comes from. People watching, followed by embellishment," says Jackson, whose feature debut Without is currently making the festival rounds. "The other bits come from reading the news."
Comprised of shots that make you feel as if you're glimpsing the most private of moments, a fly on the wall for one young woman's haunting meltdown, Without may suggest some of the greats of world cinema (he is willing to site the influence of Michelangelo Antonioni and Marco Ferrari, filmmakers he ironically missed out on while studying in Italy), but Jackson has little interest in quoting them. A keenly observed, deeply unsettling meditation about a young woman house-sitting an infirm old man for a young couple on holiday from their remote, Pacific Northwest island home, Without burrows deeper into how loss and emotional devastation can transform into sexual and psychological lunacy than any film in memory. It received a Special Jury Mention in the Slamdance Film Festival's Narrative Competition, which amounts to a second place prize of sorts at Park City's long-running alternative to Sundance.
Light on music or exposition and filmed almost entirely in one home, the film is powered by a brave and stunning performance from newcomer Joslyn Jensen, who bares the ugliest aspects of her psyche in a role that one might envision a young Isabelle Huppert in. The chamber drama slowly unpacks its protagonist's damaged psyche in longish, brooding and occasionally gorgeous takes thanks to Jackson's chief collaborator, co-d.p. and co-producer Jessica Dimmock. "She is a photojournalist and her brilliance lies in her ability to show you not what something looks like, but what it feels like," explains the twenty-something Jackson. "We have very similar tastes and sensibilities, and we wanted to translate her particular way of seeing to this story about grief and isolation."
Jackson, who thus far has self-financed his own micro-budget projects and claims to have little interest in giving up control in order to gain access to more resources, is currently at work on a pair of films involving the author Mary Gaitskill. She will play a war photographer who is stationed in southern Italy after covering the war in Libya in a film to be shot next year. She will also appear in a comedy that Jackson is shooting this summer in New York, starring former Chappelle Show robot dancer Karl Lake. "I wanted to make something lighter. The Sicily film is similar in tone to Without and will take a lot of preparation, so in the meantime I wanted to explore something with humor," explains Jackson, who hopes to begin shooting in August. — B.H.
Contact: rightonredfilms.com; mark@rightonredfilms.com