Back to selection
VOD Wars Heat Up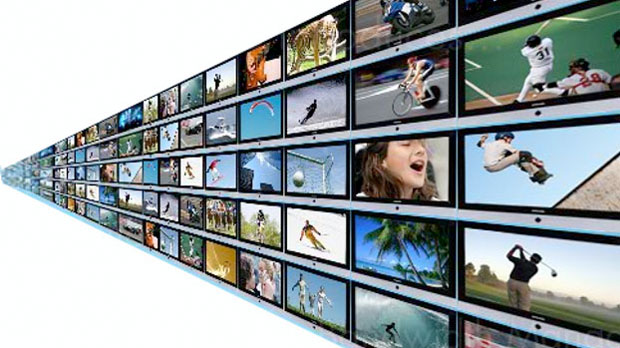 Intel, the giant computer chip manufacturer, is joining the growing roster of tech companies entering the web-delivered video jamboree. In addition to Google's YouTube and Netflix, Apple and Microsoft are carving out space on the web to offer live and video-on-demand (VOD) TV programming.
Web video distribution can be executed either as Internet Protocol Television (IPTV) or as Over-the-Top (OTT). With IPTV, the digital signal is streamed and/or offered as VOD programming over a closed or proprietary network through a cable or telephone company. OTT refers to streaming and/or VOD programming distributed over an open or unmanaged video data stream that rides on top of an ISP's network. OTT programming is accessed through a specialty set-top box like that offered by Roku Box, Google TV, Apple TV or videogame player. The differences are blurring as both cable and telco companies seek to capture more Internet traffic and cut deals with major OTT program suppliers.
A series of recent reports suggest that Intel's entry may be a game changer. It will likely introduce new features and functions to its proprietary set-top box that will push both the traditional cable-TV service providers and OTT programming services.
Intel's box, powered by its chips, is reported to be equipped with a high-definition video camera and microphone that will enable several novel applications. The new box may offer a TV-based form of videoconferencing. It also may include facial-recognition software that will create "smart" programming, enabling Intel to identify the viewer(s) and customize programming accordingly; it could block "adult" shows from children. CNET reported that Intel is testing the new service with employees in three locations.
However, the big challenge facing Intel, along with the other new OTT-video players, is content. Unless you are YouTube or Netflix and are willing to invest millions of dollars for original programming, you've got to cut deals with the major program suppliers for content. According to Variety, Intel has committed $2 billion to "pay a 50% to 75% premium over industry-average rates" for content and has struck deals with CBS, News Corp. and Viacom for web video rights.
However, Intel is facing considerable resistance from the cable services. Given the growing threat from deep-pocketed tech companies and cable subscribers to "cut the cord," the old-line cable giants, like Comcast and Time Warner, are under threat. To possibly block OTT competition, cable companies are taking advantage of restrictions in their licensing agreements with program suppliers to prohibit them from making content available to new distributors. The New York Times recently reported that "the antitrust division of the Justice Department is looking into the issue as part of a broad investigation into cable and satellite company practices…"
The cable industry has long been milking a cash cow. According to "Combating the Cable Cabal," a very insightful study from Free Press, "since the 2008 recession, the average annual rate of inflation has been 1.4 percent, but the price of expanded basic cable service has increased by an annual average of 5 percent." Adding insult to injury, "these figures don't include mandatory equipment-rental costs, which continue to skyrocket."
Stay tuned to see whether Intel follows YouTube and reaches out to independent makers for original programming.
* * *
David Rosen is a writer and business-development consultant. He is author of the indie classic Off-Hollywood: The Making & Marketing of Independent Films (Grove), originally commissioned by the Sundance Institute and the Independent Feature Project. He can be reached at drosennyc@verizon.net. For more information, check out www.DavidRosenWrites.com and www.DavidRosenConsultants.com.