Back to selection
Irregular Warfare: Marketing Snow On Tha Bluff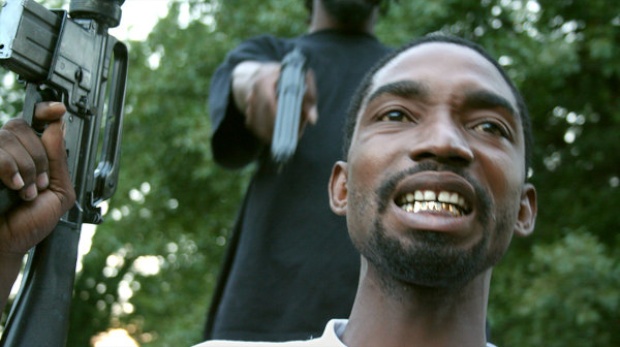 Curtis Snow in Snow on tha Bluff
Snow On Tha Bluff is a film that I produced that illuminates Atlanta's forgotten neighborhood, The Bluff, known for its violent crime, heroin market and extreme poverty. The film follows real-life criminal Curtis Snow as he robs drug dealers and attempts to provide for his child. The most controversial element of our film is that some of the footage is real while other scenes are staged.
After our films are in the can, we as filmmakers are met with the daunting task of marketing our work. Our eyes are met with a towering cascade of media everyday, and, for any filmmaker, the job of rising above this onslaught requires you to market your project with strategic deployment. Finding your niche and projecting your story to its fullest potential requires a fresh approach to guerrilla marketing. You must exhibit a strong capacity for creative resourcefulness.
After our film was complete, we burned 3,000 copies of the first 30 minutes to blank DVD's. No explanation was given. It was raw — a small segment of the film that followed Curtis as he ambushed rivals and, at the end, took a bullet. Most people who watched this sliver of the film thought it was a hood snuff tape. They didn't know that Curtis survived the gunshot and that this shocking video was actually part of a larger film. After dropping the DVDs off at a flea market in Atlanta, we let it simmer and marinate. Copies of the DVD were created, multiplied, sold as bootlegs and after a few months, we started hearing urban legends surrounding the footage. This was the start of our guerrilla marketing campaign.
Flyposting images of the film using wheatpaste on buildings, alleyways, overpasses and other high-traffic areas, we saturated Atlanta's cityscape. Spreading our message, it was a war in the form of guerrilla communication as we infiltrated deep within rival hoods. Our unconventional style was best described by journalist Warren Berger as "something that lurks all around, hits us where we live, and invariably takes us by surprise."
While our name bubbled locally, we began the film festival circuit. Slamdance in Park City, Utah was our first exposition, followed by others such as the HBO and the Atlanta Film Festivals. With each event, we made a concerted effort to promote the film through the local populace by pitching to radio stations, local news and other tastemakers in their respective areas. Each write-up, every review, every person made aware of the film was viewed as a mini-success. A few distributors took notice and began to initiate conversation.
Our freely distributed DVD eventually landed into the hands of the Atlanta Police Department. Investigating a string of home invasions, they were attempting to link them to our video footage. Carefully zooming in on a frame of the movie, they enhanced an image of a license plate which was then traced back to my director. He was questioned about the film. Our lawyer informed us to never tell anyone "what is real or what is fake." This incident was crafted into a press-point: "Our film is so real that the Atlanta Police investigated us after watching the footage." Keeping the viewer guessing is a vital theme that we continued to transmit throughout our campaign.
Who is our audience? This is a question that I analyzed carefully, and in doing so, marketed the film accordingly. Our goal was to hit the independent film scene, the people who know and love arthouse pictures. Rappers often paint a glamorous view of drug-dealing and violence; our film peels back that facade to reveal the true reality. I wanted to hit the music industry — more specifically, the hip-hop audience.
Keeping our message authentic, I felt that it was important to project from the perspective of those entrenched in this neglected community. This is their story and we must keep it hood at all costs. Ultimately, I wanted our film to hit the widest audience possible, but I understood that it was important to strategically align ourselves with targeted groups and within those, different subsets of those circles.
With a limited marketing budget, influencing key members of the media machine and entertainers in both the music and film industry was essential. If the movie sparked their interest, an online screener would be sent, a press package, and a hope that they would talk about the project. Seeds would be planted and relationships would be nurtured for future progress. From their awareness of the film, our buzz would grow organically through word-of-mouth.
As we trudged on through film festivals, guerrilla tactics continued. I would buy a couple hundred blank VHS tapes, copy a scene from the movie on it, throw the tape in the dirt, put some blood on it and seal it in a manilla envelope. From there, I would send out the tapes with no return address to politicians, conservative groups, police stations and various factions in the media. Operation "stir up shit," was now in progress.
Another aspect of this campaign focused on perpetuating our film beyond the actual movie's content. Matthew Connolly, a writer for SLANT, describes our film as "…the continuation of lived experience, just beyond the edge of the frame." Everyone in our movie is a non-actor, and it was important that we tell their story outside the context of the film. The Bluff is constantly evolving as different gangs fight for turf, groups move in to help revitalize the area and politicians lobby to bulldoze the hood for planned gentrification. Media stories covering the neighborhood, articles on the explosion of heroin overdoses and other current events related to the location were all gathered and projected.
This "living beyond the frame" marketing came to life when an attempt on our star's life occurred. After a drug deal gone bad, Curtis was sliced up with a box-cutter knife and nearly died from blood loss. Capturing his recount of the story, the video was sent to Worldstarhiphop where it instantly went viral. People who had never heard of the film were now exposed to a separate entity of the story, and when the film was later released, a connection was made. The urban legends surrounding Snow On Tha Bluff continued to grow.
Another instance developed during a packed midnight screening at the Atlanta Film Festival. The air was electrified with excitement. Halfway through the picture, a scene involving Curt's child in close proximity to crack cocaine materialized. It was at this point that a man in the rear of the theater lost his mind. The man was outraged at the scene unfolding before his eyes. He began to scream incoherently as my director asked him to calm down. The man screamed at my director, "Is this real!? How dare you!?" Suddenly, Curtis and his friends jumped up from the front rows of the theater and all hell broke loose! Audience members felt as if the movie had come alive as they ran for the exit doors. The melee spilled out into the lobby, and the rest was history. The next morning, the national media picked up the incident and the story was projected across the country. This negative occurrence was turned to a positive as our film received a surge of new awareness.
Using social media, analyzing data, and sending out unique epigrams proved to be extremely effective. We spread our message over a variety of social media platforms but the most valuable was Twitter. Instead of creating a brand account our Twitter was a voice spoken directly from the star of our film. As a controversial, enigmatic anti-hero type, people are often drawn to what he might say or do next. For the audience to listen, the voice must be thought-provoking and authentic.
Much like how a spider feels every minute vibration from its web, I monitored every conversation about our film from it being mentioned maybe once a week to now, every 30 seconds. Watching this evolution, I was able to pinpoint when the explosion of talk occurred, what people were talking about and adjust our strategies accordingly. Creating a loyal following is like having thousands of interns at your disposal; once they are dedicated to the cause, they will market the project for you.
Social media is fleeting, in the moment, so it was important that we seize opportunities to create waves. For example, if rapper Kid Cudi mentioned the film via Twitter, our film just hit over half a million followers. From there, we would initiate conversation, build a new alliance and create a firestorm of talk surrounding our interaction. This proved useful in making a personal connection, bypassing managers, agents and creating a new connection for future creative endeavors.
As our film-festival march continued we received a message via Twitter from HBO's Boardwalk Empire star, Michael K. Williams. Our film had caught his attention, and he wanted to talk business. In less than 24 hours, we were on the phone with Michael discussing the similarities of Snow On Tha Bluff and The Wire and the parallels between Curtis Snow and the character he played, Omar Little. Michael expressed the importance of helping our film go from underground to major media exposure. "Everything that is wrong with the hood, is in this movie," Michael observed.
Drawing up contracts, we signed Michael on as an Executive Producer, and we geared up for the final push. During the summer of 2012, our film festival run was coming to a close, and I was able to secure a North American distribution deal with an advance. The film would be available on digital platforms such as iTunes, Netflix and on DVD in stores such as Walmart and Best Buy. A month before the release, Michael hit the public with a press-run. Hitting media outlets such as CNN, VICE and BET, our buzz was lifted from guerrilla muck to corporate command.
Spreading like wildfire, rappers such as T.I. and B.O.B., introduced new projects inspired by the film. Directors such as Darren Aronofsky, Harmony Korine and John Singleton requested screeners for the movie. Athletes like Chad Ochocinco raved about the film on social media, causing an explosion in new interest. The chatter on social media surrounding our film reached new heights as the question, "Is it Real?" began to trend.
After the release of the picture, we stayed on the New York Times "Most Popular Movies" list for a couple months amongst big budget Hollywood films. We received exceptional reviews from influential critics. On Netflix, we obtained the title of "#1 Most Watched Movie" for two weeks straight. Hollywood came calling and we were able to secure new meetings to discuss future projects.
Every day, we receive letters from people who are inspired by the movie. They identify with the spirit of overcoming adversity, doing anything it takes to survive in this rough World. This film is not a celebration of hood life, but rather an expose on the current condition. Our goal was to illuminate a forgotten neighborhood, an underworld that lives next door. It starts with a movie, a conversation, an idea to help change these conditions.
Chris is a writer, filmmaker and explorer of digital media, crime and the future of mankind. You can follow him @ReelChrisK and the movie at @SnowOnThaBluff.