Back to selection
The POV Conversation: Stephen Maing and Lixin Fan on Discovering Documentary Filmmaking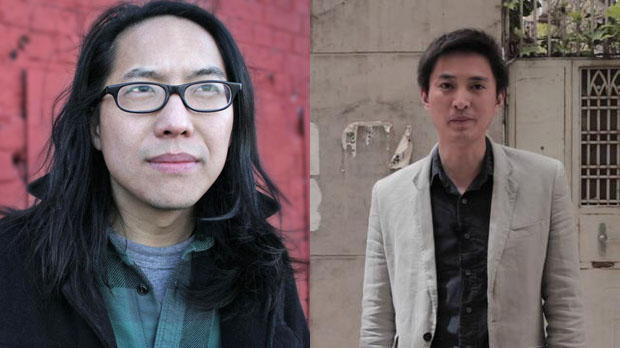 Stephen Maing and Lixin Fan
Last year, to celebrate POV's 25th anniversary, Filmmaker organized a series of conversations between documentary directors whose work had been featured on the PBS non-fiction showcase. This year, we continue this series with a fascinating discussion between Stephen Maing – whose debut feature on Chinese citizen bloggers, High Tech, Low Life, is streaming for free on the POV website from today – and Lixin Fan, the Chinese filmmaker whose Last Train Home, an intimate portrait of a fractured family of migrant workers in China, won him great acclaim in 2009. In the second of this five-part discussion, the two discuss what has given them a passion to make documentary films.
The POV website will be streaming High Tech, Low Life for free between July 23 and August 21.
Fan: My first encounter with documentary filmmaking was actually a very distinct moment that I remember till this day. After I graduated, I got a job as a cameraman at my city's local television station. That was in 1998. In the beginning I was an intern. I tried to practice my camera work a lot more than my peers in order to get a fixed position at the station. I stayed later every day to practice more. One day I saw a transcript from a Chinese documentary conference, which my colleague had brought back just a few days before. I casually picked it up and started reading some paragraphs. The transcription was of some Chinese documentary filmmakers recounting their work, how they made their films, how they learned the filmmaking process and how they felt their lives were enriched by the cinematic process. It just struck me so hard — I thought it was great to be able to quietly observe another person's life and go into their heart, to put on another person's shoes and really feel the pain, the happiness and all the emotions that another person would have in their life. I secretly took that transcript back home. I read it through the whole night. I didn't sleep and I didn't eat my dinner. In the morning I had read the entire transcript so that I could return it that morning so nobody would have discovered it missing and have me fired. At that moment, when the morning came, I decided that this was the job I would do for the rest of my life.
Maing: That reminds me of a similarly important moment where I started to understand what was really intriguing me about documentary filmmaking. In the beginning I had mostly been working in independent fiction filmmaking. I worked a lot as a cinematographer, and occasionally as an editor for up-and-coming low budget fiction directors. A mentor of mine asked me if I would teach a summer program in filmmaking for inner city "at risk youth," through the YWCA in Boston. And the idea of teaching a class in filmmaking, especially to kids I feared might not appreciate any of the things I would attempt to teach them, really scared me.
What really struck me was when I asked them to do an assignment called "video dairy," where they would take the camera home and twice a week they would document what was happening in their lives, how they felt about that, and try to capture it on camera in addition to sharing it in a first person perspective. One woman came back half way through the summer. She had been avoiding the assignment, and when she got around to doing one of them, it really blew me away because I had underestimated what she was going through and her capacity as a storyteller. Her diary was of footage in her house. She was crouching behind a window sill, and you can hear some shouting and screaming and some police sirens and some gunfire. She was narrating this thing, first person. It was basically a police chase in her neighborhood, which is in a very dangerous part of Boston, and they had cornered this criminal on the run. She was talking about how this was happening and it wasn't a rare occurrence. Her treatment of it was like her day in the life in the 'hood. I was stunned. I felt that I had gotten it all wrong. The fiction filmmaking that I was interested in doing was not nearly as truthful as this five-minute passage in her video. I was immediately inspired to think about a moment in my childhood and I applied what I had learned from watching her video and some of the other work that my students had done. I wound up making a hybrid fiction-documentary. The most interesting part of that short film that I made was the unexpected documentary film my fictional characters stumbled upon. There was a Mexican migrant worker that my three young actors stumbled upon by this weird sewage drain we had been filming. The actors understood that their motivation was that when they had run out of lines they would just hang out. They were really good at hanging out and playing but they were astoundingly truthful and compassionate when this Mexican guy just started ranting about his situation here in the states. That one scene actually made me realize that I needed to reassess this interest in storytelling. Part of me always sources that to that class and the unbelievable videos that those young people were making — so raw, there was nothing refined about it, and yet that was the most honest and direct narrative story telling that I had seen up to that point.
Fan: Yeah, sometimes that reality, that moment of humanity, is like a song. When you're pointing your camera in the right direction, at the right time and with the right intention, it flies out of your subject. It's a kind of meditation process for the director or the filmmaker. It's only you and your camera observing this life, and that beautiful essence of humanity just comes out as you are meditating with yourself and the world. That's how I feel about that story, with the Mexican kids becoming themselves.
Maing: I feel the same way — it's tough, but actually it helps you understand yourself so much, which helps you understand how to be a more open person, how to see the world more generously and to understand your responsibility as a filmmaker. We're not just grabbing these images. There's a real duty to represent things as accurately and as truthfully as possible. If you're not making a film in a way that captures a person's attention and moves them, you haven't conveyed that subject's life as faithfully as you can. I think this is about a very emotional style of filmmaking. When you're not making a Frontline / PBS documentary that's all about the information conveyed, I think it's so important to be a sensitive individual and speak on a really human level. That's a great responsibility, because you're getting to know someone on a very deep level.
To read Part 1 of this conversation, click here.