Back to selection
POV @ 25: Natalia Almada & Theo Rigby on Documentary Filmmaking and Photography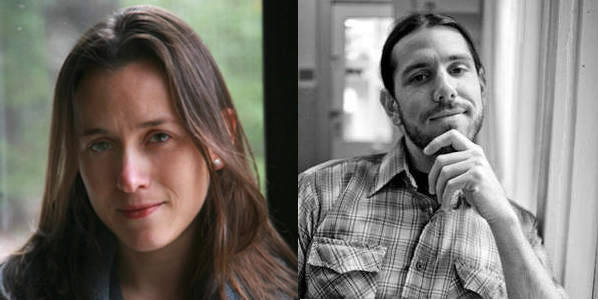 In celebration of the 25th season of PBS' groundbreaking documentary series POV, Filmmaker is this week running a four-part conversation series between two non-fiction directors with close ties to the show. A few weeks ago, award-winning documentarian Natalia Almada — whose new film, El Velador, is being aired as part of the 2012 POV season this Thursday — and Sin País  director Theo Rigby, a photographer-turned-filmmaker, sat down to talk about a variety of issues that arise from their work. Through the course of the discussion, Almada and Rigby share where they've been, where they are now, and where they're heading while dissecting different viewpoints of their craft.
In this first of four parts, the two directors talk about how and why they gravitated towards the realm of non-fiction filmmaking and the impact still photography has had on the artform.
Almada: I think I found my way into documentary by accident. I was doing my Masters at the Rhode Island School of Design and I took a video class by chance, and had a really great teacher. So I guess I just entered it experimentally with documentary, but never with the goal of becoming a filmmaker. I wasn't really thinking of what I was doing as making films.
I don't think I've ever felt like a documentarian exactly. But I was lucky, I made a short film in graduate school called All Water Has a Perfect Memory and went to Sundance and that sort of opened up a lot of possibilities work-wise. It threw me into a community; I was just coming out of school and it was a great opportunity. So then I thought, "Well, OK, I'll keep doing it." And then I made Al Otro Lado and now I feel pretty committed to making films, but that's what I mean by it being sort of by accident.
Rigby: I guess I can say that I came to documentary filmmaking in a more traditional way, but I also fell into it a bit as well. I was originally a photographer doing documentary still photography and telling social issues and political stories that way. And very early on, the still image was too quiet for me. We all know that the still image carries this power that film can never carry, but it was not enough for me. So I started filming interviews with the people that I was photographing and then eventually started shooting video and mixing the three together. And then I was in undergrad and took my first documentary film class.
It happened to be at the same point that we started bombing Iraq, in March 2003. I was going to school in San Francisco and the streets for a period of four or five days were just…crazy is the wrong word, but it was a very unique point in time that I had never experienced before. I had a video camera — a small cheap thing — and I happened to be in a documentary film class with an amazing documentary filmmaker, Sam Green, who I respect very much. So I kind of fell into the role of documentary filmmaker during that visceral, very new experience. The film ended up being called My First War.
I graduated school, but being a still photographer is very cutthroat. I had to put 150% of myself into being a still photographer, shooting for magazines and newspapers, to make it work, but that experience of telling stories through moving images and as a documentary filmmaker — whatever it meant to me at the time stuck with me. So years later I started drifting away from still photography. I wasn't quite fulfilled or empowered to tell the stories that I wanted to tell and in a way that I wanted to tell them. It felt like the world of still photography in magazines and journalism was…it was difficult to ride that line of documentary photographer and journalist and caring human being who wants to be involved in the stories that I'm telling more than perhaps a journalist should quote-unquote be involved. So I started leaning towards the film world and then went to graduate school for film. That's where I made Sin País and it's kind of been a full-fledged dive into documentary after that.
Almada: Did you do a documentary program?
Rigby: Yeah, I did. For undergrad I studied documentary photography and just kind of took some films classes and then for grad school I went to the MFA documentary film program at Stanford.
Almada: Interesting. I think there are a lot of documentary filmmakers that come out of a documentary photography background, so I think it's a super common trajectory to go from photography to film. I think often for what you're saying, it's important to be able to circulate in a different work environment and with a different relationship with your subject.
Rigby: Yeah and I think another reason that I attach to your films Natalia is the way you treat image. You can see that you come from a photography background and you can often see that in documentary films with directors that come from that world.
Almada: I think that people often think that it's because you make nice pictures, pretty pictures, that you come from the photography world. But often I think it's actually the discourse around photography and the way, in photography, the frame was questioned a long time ago — and its relation to truth was put into question a long time ago. And documentary feels like it's a few steps behind in terms of being questioned whether the documentary is how the way things were, or of a reality or an objective. And I think that people used to think photography was like that, but that was rejected a long time ago. That's what I really like and that I think that I bring from photography to documentary film much more so than just saying, "Oh, I pay attention to the image," you know?
Rigby: Yeah, absolutely. And I think there's definitely a difference between making pretty pictures — any of us could hire a d.p. who's an excellent cameraman to make pretty pictures—and paying attention to the frame and crawling out of the frame. And pushing the frame on the person watching the film, saying "you are watching the film, this is the film you are watching now." And I guess I'm in the formative stages of trying to figure that out and with every new project that's a series of short films, with every short film to push out of that and I need to make this as beautiful as possible and make this the best it can be and try to really push out of the frame in a different way.
Next: POV @ 25: NATALIA ALMADA & THEO RIGBY ON IMAGE AND THE ROLES OF A FILMMAKER