Back to selection
Short Takes: The Role of The Short in Modern Filmmaking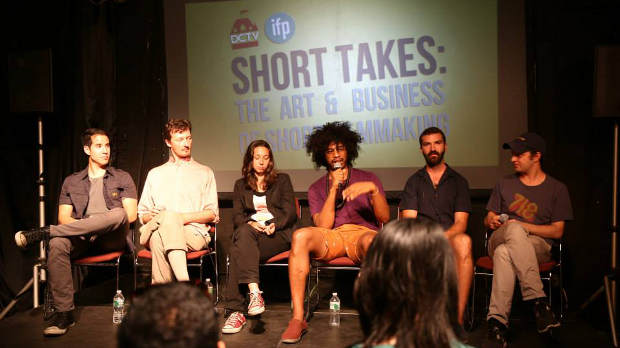 Why make a short film? At Short Takes, a recent panel discussion co-presented by IFP and DCTV, the answers varied with each pass of the microphone. The participating panelists — Terence Nance, Dustin Guy Defa, Lauren Wolkstein, Ryan Koo, and Jeremiah Zagar — reflected upon prior efforts to offer a unique, holistic picture into the business and practice of short filmmaking.
Koo, who recently revealed Amateur, a short prequel to his debut feature Manchild, said that he viewed the format as a calling card, a means to entice both the industry and a larger audience. Nance and Wolkstein, on the dissenting end, suggested that length ought to be a mere product of content. In the same way one wouldn't imbue a short story with the scope of a novel, a short film, Nance said, "Should be its own artistic pursuit." "It all depends on the story you tell, and you should tell it in the best possible form it can be told, " Wolkstein offered. For Defa, who has drawn from the no-budget annals of archival and personal footage, making a short is a liberating means of honing one's craft: "You can screw up and throw them away, unlike features."
Zagar steered the conversation towards the Internet's affects on the medium, where it subsequently hovered for the remainder of the evening. Chuckling as he noted that more people have seen his shorts than his feature, Zagar stated that the format is more relevant than ever due to technology and Internet platforms like Vimeo and YouTube. "You can just throw a short on the Internet, and all of a sudden a million people are watching it." As affirming and exciting as that may be, Zagar thanked his producers for always having the bigger picture in mind. "It is important when making a short to think about where it's going to end up, what is its goal, how is it going to get me work." "Get attention," Nance nodded.
Both Zagar and Koo have targeted websites whose coverage intersects with their shorts' subjects in a bid for exposure. "I made a sports film, so I went online, directly to the sports audience, who don't necessarily attend festivals," Koo said of his decision to premiere Amateur on Vimeo.
Wolkstein, however, wisely noted that the dual spheres of the Internet and film festivals are not as separate as one may think. Plenty of festivals are willing to accept films that are already online — as outlined in an informative list at Short of the Week — which means filmmakers are free to capitalize on both audiences. But don't feel obligated to play the circuit. While screening at Sundance may still be the Holy Grail, sometimes it's best to take matters in your own hands. Koo, for instance, drummed up the idea for Amateur, months after most festivals had closed their submissions. It seemed ridiculous to wait an entire year before letting it see the light of day, and so he took to the web. Amateur has since been accepted to two festivals. There is also something beautiful, Zagar thinks, about having your short stand entirely on its own online, as opposed to having it sandwiched between other selections in a festival program.
Wolkstein, for her part, would love to have her shorts available for the Internet's consumption, but is locked an exclusive contract with a French television program. Here she dispels yet another misconception: short sales agents exist! She found hers at Clermont-Ferrand, a festival which boasts the world's largest short film market. Nance also emphasizes the agents' role in generating licensing, especially in Europe, and pitching your content to TV platforms such as VBS, in order to turn that coveted profit.
Finally, of course, there are the economics of short filmmaking. Nance jokes that "any ill-advisable number," is the amount of money you should be spending on a short, while Defa concedes that for his archival work on Declaration of War and Family Nightmare, his budget covered lunch and not much else. "You can call in favors for a weekend shoot," says Koo, "but you can't do it for a 30-day shoot."
Demo reel, practice, particular pursuit, experimentation — whatever you so choose, one thing is clear: the short film, now more than ever, is an invaluable medium.