Back to selection
"It's a Nice Little Movie, But It Isn't Commercial:" The Theatrical Self-Distribution of Northern Lights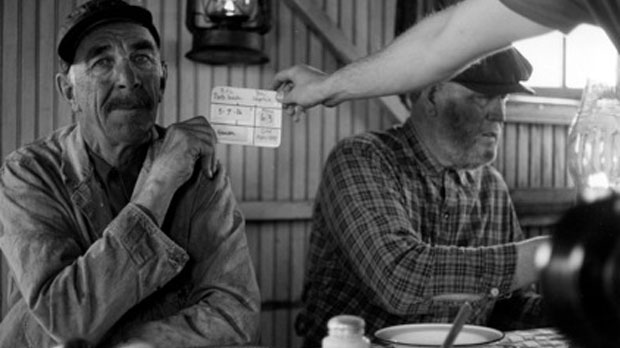 Shooting a scene in Northern Light
The following is an abridged version of a report on the self-distribution of the 1978 U.S. indie Northern Lights, directed by John Hanson and Rob Nilsson, written shortly after the film's release by Hanson himself. The winner of the Camera D'Or at the Cannes Film Festival in 1979, Hanson and Nilsson's film is being released by Artists Public Domain/Cinema Conservancy and opens at Film Forum on September 2o.

The distribution of Northern Lights was both unusual and unique. Instead of opening in New York, getting reviews, moving to the biggest cities in the country and gradually spreading out to the medium-sized and smaller cities, we did exactly the opposite. The World Premiere was on July 12, 1978 in Crosby, North Dakota, a town of 1800 people and the other major location for the filming of Northern Lights. We played in the Dakota Theatre on Main Street, the only theatre in town of course, and broke the house record, grossing $5500 in one week. We had made a 70/30 deal with the theatre (70% of the box office net gross to us) but gave 20% to the local Historical Society in return for all the help they had given us with producing the movie, so we ended up with a 50% share. With this start we moved on to other small towns in the Northwest corner of North Dakota.
Some of these towns still have theatres owned by people who in some cases book their own programs. (In most cases today, small town operators use regional bookers, based in Minneapolis for N.D. theatres.) We had gone into these little prairie towns, found out who owned the theatre, walked up to them, said, "Hello, how're you doin', we're from Northern Lights and we have a movie which we think you should play in your theatre. What do you think?" Just on meeting us for the first time and hearing the story of the film, seeing that it had potential for their audiences, they'd book the film on a handshake. In every case we managed to strike a 70/30 deal, with the theatre paying all advertising costs.
Gradually, the word started to spread across North Dakota that a new movie filmed in N.D., about N.D. people, made with N.D. people was "doing business." Our grosses in these little theatres were sometimes larger than Star Wars or some of the big studio films on the circuit during the summer of 1978.
Up until this point Rob Nilsson, Sandra Schulberg and I had spent the summer, June, July and August of 1978, working full time, traveling the back roads of North Dakota, promoting the film, getting promotion materials printed up, doing the bookings, giving interviews, radio, television, newspaper, criss-crossing the state.
We ran what amounted to a grassroots political campaign, probably very similar to ones run by Nonpartisan League organizers in 1916. Working with volunteers, including my mother, cousins, friends, staff of the North Dakota Committee for the Humanities and Public Issues.
The unanswered question, however, was could Northern Lights survive out there in the other parts of the country where no one had heard of the Nonpartisan League, the populist movement on which the film is based, where the personal identity with the small farmers' struggle couldn't be counted on, where the competition for a low budget, independent, black and white, unusual film was much tougher. Minneapolis was to be the first test of a wider market.
Minneapolis represented a quantum leap as far as the time and energy that it took to open the film. Once again we mounted our grassroots campaign. We contacted Scandinavians, political groups, cooperatives, farm organizations, labor unions, old people's organizations, colleges, schools, film societies, every conceivable interest group that might embrace the film. We had preview screenings in private screening rooms, we held a sneak preview at the Film Society at the University of Minnesota, we did mailings, tacked up posters all over the city, did as many radio and tv interviews as we could set up. In short, we tried to cover all the bases we could, appeal to every conceivable interest group.
The winter of late '78, early '79 was a very difficult and often bleak time for us. Because our Minneapolis box office was not, by Variety standards, "boffo" and we hadn't proved to other exhibitors that Northern Lights "had legs," we weren't able to get bookings in any other major cities.
So Rob and I found ourselves back home in San Francisco wondering what we could do next. We were broke, really didn't have any real prospects at that point but were trying to define some kind of strategy that would make a difference for future openings, trying to decide what our next move would be. Which city could we possibly open in? Would we continue to distribute and promote the film ourselves? Would we consider selling the film to a distributor for an advance, assuming we could find a distributor willing to take the film on? Would we just chalk up everything we'd done to experience and move on to the next film? Could we quit now, knowing that our investors wouldn't be paid back, being in debt $60-70,000 on the film in loans and outstanding bills? Were we fooling ourselves to think that we could distribute an independent feature, bucking common knowledge that it was impossible within the confines of the mass market? When we added up all we'd been through, that Northern Lights hadn't really had a chance to prove us wrong, we decided we couldn't quit, we had to move forward, we had to come up with something new.
As often happens, we were helped by outside forces. During February, 1979, Mother Jones published a 10 page article on Northern Lights and our Crosby Premiere and out of the sky dropped an invitation to the Belgrade Film Festival in Yugoslavia.
While I was in Belgrade, Rob had been talking with a Seattle exhibitor, Randy Finley, owner of a chain of respected theatres in the Seattle area and someone whom we had met during our Los Angeles expedition in December. One of the people who worked with him, promoting film openings, Jeff Dowd, had read about Northern Lights in Mother Jones, became interested in its possibilities and after he'd seen the film, had become one of our most enthusiastic supporters.
Meanwhile, back in the Midwest, we had tried other openings on a limited and different basis. Our Minneapolis run had inspired some people in Northern Minnesota and Madison, Wisconsin to contact us about promoting the film in their areas in exchange for an opening night benefit. We agreed to give it a try as long as our efforts were limited to providing them with promotional materials and arriving a few days before the openings for radio, television, and newspaper interviews. We knew we'd be entirely dependent on the energy and commitment of the local organizations, but it was another test. We bombed in Northern Minnesota, partly because the benefit groups really didn't know how to promote a film opening, partly because in two of the three towns, we opened again Superman, playing at the only other theatre in town. So we learned another lesson: Always find out what else is opening in competing theatres. But in Madison we did very well. The benefit groups were WORT-FM, a listener-supported radio station, and The Madison Press Connection, an alternative daily paper which had been started by striking employees of the mainline Madison newspaper.
We opened on April 20, 1979 in a beautiful old vaudeville house, now turned repertory house, the Majestic Theatre, part of the Parallax chain of rep houses.
Just before the Madison and Seattle opening we had received word that Northern Lights had been accepted by the Semaine de la Critique at Cannes. We were now in a position to increase our reputation – and our sales – in the international film community, so the three of us who had began the whole effort back in North Dakota reunited, excited, nervous and anxious about the possibilities.
We stayed the entire two weeks of the festival, tracked down buyers, critics, writers, festival programmers, getting everyone we could to attend the five screenings, this all in competition with thousands of other filmmakers, producers, agents and hundreds of other films being screened at dozens of theatres. Thanks to Sandra Schulberg's past experience with Cannes (she was there in 1978 with Robert Young's film, Alambrista!), her European contacts and her linguistic abilities in French, Spanish and German, and to our collective persistence, we got the film recognized, although we weren't at all prepared for what finally happened. Northern Lights became a kind of dark horse favorite, often compared favorably with Days of Heaven, and got taken under the wing of the foreign press with good reviews and serious recognition. This all culminated in a real victory: we won the prize for the Best First Feature Film, the Camera d'Or (Golden Camera) in competition with all the first features throughout the festival. The best part of the prize is that it is much more than a plaque; we won a new 16mm Éclair ACL camera worth $25,000.
Because some of the owners of art theatres across the country were at Cannes, we were able to finally get bookings in major American cities. We opened at Mel Novikoff's Surf Theatre in San Francisco on September 28, at Bill Holodnak's Central Square Cinema in Boston on October 24, at Ted Pedas' Inner Circle Theatre November 16 and at the Laemmle's Westland Twin in Los Angeles the last week of November.
Another test is before us.
One missing link in all of this has been a New York opening. I suppose this again is an example of our strategy of working from the bottom up rather than from the top down. So far a New York opening has been too expensive and too risky, and we've come a long way without it. Also, since we will be showcased at the Paramount Theatre during the Independent Festival, we should get New York Times and other reviews and this may pave the way for a New York run later this year or early next year. But for now we're holding tight on this possibility. What may be more important and more feasible economically will be subsidiary openings in other cities across the country and the expansion of the semi-theatrical (16mm film societies, community theatres, art museums) and the non-theatrical distribution possibilities.
All this has been very good for our egos. The question remaining, however, is whether our distribution path and future attempts modeled on ours are economically viable. The problem facing any Independent Producer/Distributor is that the existing system is set up primarily for multiple prints of common denominator films which reach a mass audience through mass marketing. Sometimes this marketing system produces or distributes unusual films – the occasional Harlan County U.S.A., Girlfriends, Norma Rae, The China Syndrome – but it is still very, very difficult to confront this system with a film like Northern Lights and make it pay off. We're right on the verge of finding out how far we can go. These major openings in the next months will determine whether or not we'll get further theatrical bookings and, if we do, whether or not the film will do well without our personal efforts.
Because of our experience in distributing Northern Lights, I've come to believe that one of other most important issues in the self-distribution of independent features is that those of us who are committed to making and distributing a different kind of film than the present studio or large independent producer makes, those of us who believe that an alternative cinema must be supported, must join together. We have to create an alternative network of existing exhibitors, filmmakers, people in cities and towns who are willing to promote an independent film when it comes to their theatres, a real network of people committed to getting these films to a wide audience. We need to set up a support system, national and regional clearing houses for the independent cinema, a research and development arm that really starts to identify in a very specific and analytical way, using computers, using market surveys, a lobbying arm to pry loose more production and distribution funds form both the public and private sectors, an association of independent producers to represent us on all fronts. What we need to do is give people an alternative to the limited choice they are offered now.
We're not trying to totally restructure or replace the existing system, we're trying to give people a choice about what kind of films they see. We're trying to make films that are entertaining, that are thought-provoking, that speak to some of the confusions that people feel in trying to survive on the planet right now. But nobody else is going to develop a mechanism to make this possible. It's too easy for the existing system to say no, you're too marginal and these films just don't fit into what people want to see. We were refused time and time again by people who said, "No, I'm sorry, it's a nice little film but it's not going to generate enough money to make it worthwhile;" or, "It's a nice, beautiful film, but it's just not commercial." So, since we believed in the film and were foolish enough to take some fairly major risks, we had to try to distribute Northern Lights ourselves.
But everybody can't do what we've done. We can't continue to reinvent the wheel again and again. We are all at a stage right now where if independent producers, exhibitors, distributors, financiers, foundations, government agencies, community organizations, alternative media resources, if we all work together we can have a significant impact on the direction of American filmmaking.
A lesson that our work on Northern Lights has shown us is that part of the task for filmmakers, for directors, writers, producers, even actors and technicians, those of us who are trying to make independent features, is to commit time to distribution once the film is finished. For key people that commitment for now must be six months to a year. If each film gets this personalized treatment and the film reaches the audience that the filmmaker had hoped to reach, if the film is handled with care, then there will be a possibility that the ripples will continue to move outward. As tired and overextended as Rob and I often feels, as anxious as we both are to get on to another film, and I think I can speak for him on this, we feel a commitment to doing whatever we can to nurture the growth of these new networks, to take an active part in any new organizations that get formed, to share as much of our experience as we can with other independents, to help create an American New Wave, a significant change in American cinema.