Back to selection
Curator Miriam Bale on New York's La Di Da Film Festival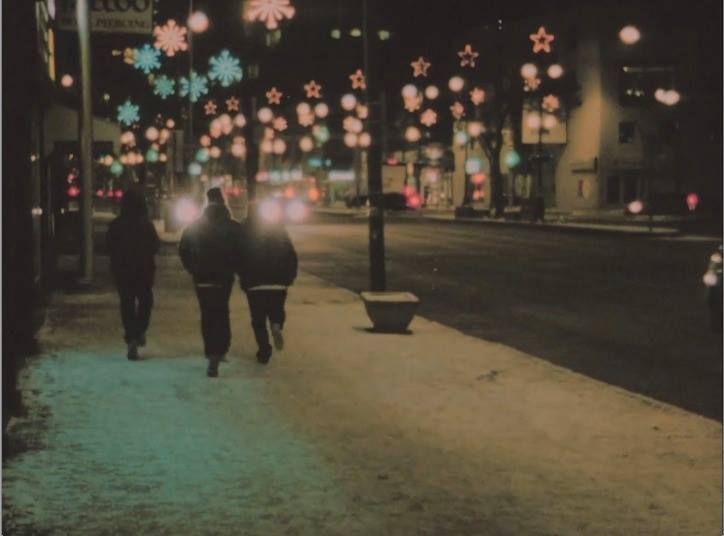 Semi Auto Colors, from the Shorts program
New York may have a film festival for every neighborhood, but La Di Da, the brainchild of programmer and critic Miriam Bale, has carved a niche for itself that feels more temporal than geographical. Now in its second year, the festival, whose title is a tip of the cap to Annie Hall's choice refrain, has expanded upon its foundations as a communal haven for filmmakers creating aesthetically timeless, genre-friendly, and narratively experimental work. In doubling the selection, Bale deepens her exploration of films that, despite being very much of the here and now, feel as though they've been unearthed from prior decades. From the self-assured comedies White Reindeer and Soft in the Head — whose frequent dining scenes call Cassavetes to mind — to the seemingly anachronistic enclaves depicted in Fuck for Forest and Butter on the Latch, La Di Da's programming manages to walk a near oxymoronic tightrope. Filmmaker spoke to Bale about her knack for spotting talent, the curatorial leaps undertaken between this year and last, and her selection process. La Di Da is happening from Friday, September 13 to Monday, September 16, at the Anthology Film Archives, and you can find the full slate below.
Filmmaker: Before film, you used to work in the music industry. How did you find your way into programming?
Miriam Bale: Well, I've done a lot in between, art education for years and now film criticism, which is how I earn my living. Maybe the real question is how I found my way into being a music talent scout as a teenager. It was weird fluke. I was in London when I was 18, during what was supposed to be a gap year before college but turned into a job. It turned out I had a good sense of predicting talent. But it's full circle, since that feels so similar to looking for artists for La Di Da. I don't know exactly what I was looking for then, or now. But it's people who know their history and want to do something new, not people who just want to be famous. It's people who are hard-working, a little crazy and, ideally, even a little intimidating.
Filmmaker: An impetus behind La Di Da was the need for a sort of community-based festival that showcased a particular set of filmmakers. You seem to be broadening the horizons this year. What's changed? What's stayed the same?
Bale: Well, we tried to bring back that same community, and enlarge it, too. Josephine Decker is returning with a feature, and Dustin Guy Defa has a short with last year's short filmmakers acting in it and shot by Sean Price Williams. (It might be the best-looking thing Sean has ever shot.) Amy Seimetz is involved by picking a classic film and the Safdies are screening an older film of theirs, a recent classic. It's called John's Gone. Josh shot it, Benny acts in it, and there's a monkey, too. It also fits really well in our shorts program this year, and I think it's worth looking at again. I think it's important to include classic films to put what's happening now in context of the the past, even the recent past.
We have a focus on American films, obviously, but a big goal this year was to include more of the equivalent from around the world, like Michal Marczak's beautiful and very interesting Fuck For Forest and Raya Martin's How to Disappear Completely. We would have liked to do more international films.
Filmmaker:  The festival's migrated to Anthology following 92YTribeca's unfortunate closure. Was that an obvious venue choice for you?
Bale: We were actually already going to do it at Anthology, but we had hoped to do both venues. But absolutely, Anthology seemed like the right choice. It has the best tradition of New York independent cinema, obviously, and this year, too, it feels like what we're doing is in some ways in a continuum with the kind of exploitation cinema that they've been screening all summer. For some reason, many of the films in the festival this year are nods to horror or softcore porn, but in unexpected ways. Exploitation has so much in common with experimental cinema, actually, and those weird overlaps of classical narrative and experimental is what I think is the festival's real niche.
Filmmaker: There is no call for submissions, so could you speak a little bit about your programming process? Are you working with a particular criterion? The common threads in the shorts programs are relatively delineated — the first, for instance, places modern technology in a lyrical context — but the features are fantastically eclectic.
Bale: Well, the short answer is I'm looking for the same qualities I mentioned above when I worked in music, I'm looking for a one bold choice in what seems like it will be an interesting career. But I also tend to be drawn to things that are classical in some ways, but weird. This year I also programmed a few things that kind of disturbed me, but I hope will lead to interesting discussions.
The festival was a little self-selecting; many of the filmmakers introduced themselves to me at last year's festival. But I would have liked to do submissions this year, instead of being limited to what I found at festivals like Sarasota and True/False. I started writing criticism for The New York Times this year, though, and it meant I had to step back from the festival programming. I can't program something or even watch something and then review it. And the truth is, I started the festival to give interesting filmmakers wider exposure, and I can do that more effectively now at The Times. So the festival will most likely continue next year, but with new people programming. I hope the same spirit continues. And I'd love to keep being involved in the classic films.
Filmmaker: I'm curious about the "Anti-Indies" double header. Perfect Thoughts is so strange and alluring for reasons I can't quite explain. What constitutes this classification?
Bale: These are films that are anti-festival films. They're odd lengths — over 30 minutes but under an hour. And they're also rough, kind of deliberately amateurish, but for a really particular aim. They mess with your head a little, and stand out when beautiful and slick is pretty easily attainable.
Filmmaker: Zach Clark and Amy Seimetz both wear guest curator hats in slating The Store and Fatal Attraction, respectively. Did you give them free reign? Your take on their choices?
Bale: I was really interested in what an authentic Christmas movie Zach's film, White Reindeer, is, so I thought it would be great for him to screen one of his favorite Christmas films and talk about what constitutes that underrated minor genre. I was surprised that he picked Wiseman's The Store, but I absolutely love that movie. I think it's one of his best and less-seen, so I jumped at an excuse to screen a 16mm print of it.
And when I interviewed Amy about her film Sun Don't Shine, she said that she and Kate Lyn Sheil — a huge cinephile who I probably first met at a rep screening at Anthology — had talked about the history of explosive female performances in film, and Fatal Attraction was the sort of end of that line. After that, working women in film in particular became much more milquetoast. And Amy said that the way she's supposed to feel about the Glenn Close character in Fatal Attraction is opposite of the way she does, and I think that's interesting. There's a lot of room for that in the films in festival this year, for feeling uncomfortable and weird. And that kind of experience is so much better with an open-minded crowd, and lots of drinks and talking afterwards.
LA DI DA SCHEDULE
All films screen at ANTHOLOGY FILM ARCHIVES.
32 Second Avenue New York, NY 10003
(No tickets available in advance. Please arrive early.)
Friday, Sept 13
7:00pm: How to Disappear Completely (2013, Raya Martin, 79 min.) *US Premiere
9:15pm: Butter on the Latch (2013, Josephine Decker, 66 min.)
Saturday, Sept 14
1pm: Anti-indies:
Shirt Terminators (2013, Steve Macfarlane, 37 min.) &
Perfect Thoughts (2012, Doron Max Hagay, 50 min.) *VHS
3pm: Fuck for Forest (2013, Michal Marczak, 86 min.)
5pm: White Reindeer (2013, Zach Clark, 82 min.)
7pm: The Store (1983, Frederick Wiseman, 118 min.) *16mm
9:30pm: +1 (2013, Dennis Iliadis, 95 min.) *NY premiere
Sunday, Sept 15
2:45pm: Shorts Program 1:
SOFT ROCKS 1 -3 by Actually Huizenga and Socrates Mitsios
Semi Auto Colours ( 2010, Isiah Medina, 6 min.)
Everything Is Embarrassing (2013, Kurt Walker, 7 min.)
In A Hopeless Place (2013, Douglas Dixon-Barker, 4 min.)
He Didn't Call His Painting Anything (2013, Alexandre Galmard, 8min.)
Time Is the Sun (2013, Isiah Medina, 29 min.)
4:30pm: Dirt Tastes Good When You're On The Run
Marianna Ellenberg and David Louis Zuckerman screen and discuss work-in-progress material from their forthcoming feature film.
6:30pm: Soft in the Head (2013, Nathan Silver, 72 min.)
8:45pm: Shorts Program 2: Escape From New York
Including:
How to Walk to Manhattan (2013, John Wilson, 10 min.)
Weasel (2013, Charles Birns, 17 min.) *World Premiere
John's Gone (2010, Josh and Benny Safdie, 22 min.) *35mm classic screening
Lydia Hoffman, Lydia Hoffman (2013, Dustin Guy Defa, 15 min.)
Arcadia (2013, Maximilla Lukacs and Sarah Sophie Flicker, 4 min.)
Monday, Sept 16
6:45pm: Fatal Attraction (1987, Adriane Lyne, 119 min.) *35mm
followed by Skype conversation with guest curator, Amy Seimetz
9:30pm: 24 Exposures (2013, Joe Swanberg, 77 min.) *US Premiere