Back to selection
Indie Distributors Respond to Netflix on Issue of Day-and-Date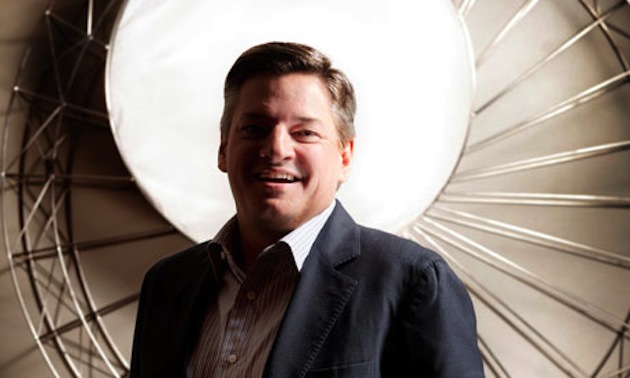 Netflix's Ted Sarandos
At the Film Independent Forum a couple weeks back, Netflix Chief Content Officer Ted Sarandos gave something of a provocative keynote in which he declared that theaters would "kill movies" if they continued to resist multi-platform, day-and-date distribution. Though Sarandos later backtracked, Indiewire picked up the ball and ran with it, soliciting responses from several independent distributors on the matter. Among the executives weighing in were Kino Lorber's Richard Lorber, Emily Russo of Zeitgeist Films, and Matt Grady of Factory 25.
Dylan Marchetti, President of Variance Films, raised an interesting point, noting that "[Sarandos] knows that any resistance here isn't to day-and-date releasing, it's to 'day-and-date and also free for Netflix subscribers,'" thereby stripping the filmmakers and distributors of a rightful share to their earnings, not unlike Spotify does to musicians. Marchetti went one step further, suggesting that Netflix put their money where their mouth is, and do just what they did with television, by creating original content: "No strings attached and no interference…make your dream project and it'll debut on Netflix, with an appropriate marketing push. Give it to new school folks like Terence Nance, Eliza Hittman, Mike Ott, Ava DuVernay, Panos Cosmatos, Alex Ross Perry, Dee Rees. Give it to old pros like Lynn Ramsay, Sayles, Araki, Anders, Jarmusch, Linklater. And don't forget foreign filmmakers like Sono, Lanthimos, To, Breillat, Cristian Mungiu…Right there, for less than the price of half a season of House of Cards, they'll have instantly developed the most interesting slate a distributor could hope for, and the films are theirs to do with as they please. That's something I could do a roadshow or traveling festival with, going out the same day it was on Netflix (or even after), and people would show up for it in droves."
Drafthouse's Tim League, meanwhile, believes that Sarandos's comments are a bit unfair: "He's asking theater owners to open up non-exclusive windows while at the same time making massive investments on exclusive window content for Netflix." League also doesn't view the theater-VOD divide in such drastic terms, commenting that, "People have been forecasting the demise of cinema since the advent of television. It has been proven time and time again that cinema is not competing against home entertainment. To paraphrase Ira Deutchman from his 2013 Arthouse Convergence Keynote address, a person make[s] one critical decision on a Friday night: to stay in or to go out. Cinema doesn't compete with the 'stay in' options like Netflix, Redbox or even reading a good book. It competes with dinner, bowling, roll[er] skating, going to a bar, etc., the 'go out' options."
If you're in need of a succinct verdit, look no further than Magnolia's Eamonn Bowles, who says, "Theaters aren't going away and the economy for a large budget film premiering on Netflix isn't really practical, so it's kind of a non-issue."
In this writer's humble opinion, you don't get much more spot on than Marchetti, especially in light of Netflix's recent acquisition of The Square, which they've somehow labelled an original product. Instead of simply milking others' resources, it'd be great to see them finance a film or two and take it from there.
You can read the distributors' full statements here.