Back to selection
Hits & Misses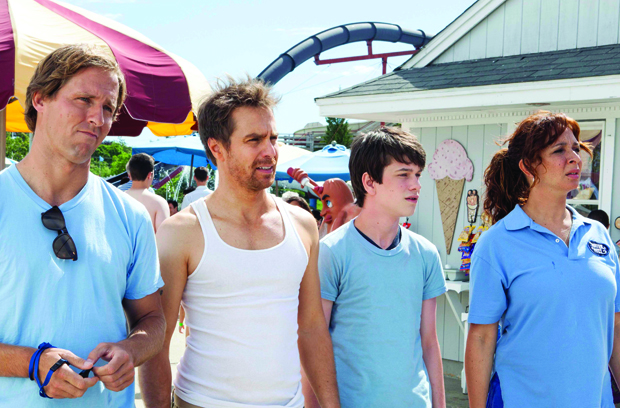 The Way Way Back
By the end of 2013, the most pressing question facing Hollywood was already old news for indies: multiplatform viewing is here, and particularly for independents, it's here to stay. A significant source of revenue, in most cases, and a crucial method of finding an audience, the iTunes-Cable VOD and direct-to-consumer release has increasingly become an integral, if not principal, part of filmmakers' distribution strategies.
And yet, the irony of the past year in indie film is that much of the business was reliant on that hoary, old-fashioned, windowed release. For every VOD breakout surprise such as Drinking Buddies or Only God Forgives, there was far more attention bestowed on theatrical successes such as Spring Breakers or The Spectacular Now (both impressively handled by fledgling, nondigitally focused distrib A24.) And one of the most notable triumphs of The Weinstein Company's "multi-platform distribution arm" RADiUS-TWC was the traditional platform release of 20 Feet From Stardom, the best-selling doc of the year (with nearly $5 million in box-office receipts.)
Even the year's most significant adjustment in the specialized film world — Universal's decision to effectively shutdown Focus Features by removing founder James Schamus and merging the company with the more commercially focused FilmDistrict — seems more like a move backward than forward, motivated by theatrically driven, first-weekend grosses than long-tail digital returns.
In many ways, 2013 was a year in which old and new models collided more than ever before. Every weekend, theaters were packed with more and more films — many of which were essentially VOD titles looking to boost their profiles. "There's this sense that a lot of those releases are just window dressing," Roadside Attractions' Eric d'Arbeloff says somewhat dismissively. "I still think a movie is a movie because people see it in a movie theater. That's what makes it a movie."
With increased competition from within their own ranks and without (the rise of cable television as the culture's preferred mainstream art-form), indie film producers found themselves forced to think more commercial in scope. As producer Andrew Lauren says, "I try to avoid films that are just going to play at the Angelikas and the Laemmles." For Lauren, backing The Spectacular Now would not have been worth it, he says, "[if] it hadn't had a shot with a wider audience."
Prolific indie producer Jay Van Hoy sees an even greater shift toward "financing more genre-thriller, star-driven, A-quality arthouse films" — produced by the likes of Voltage and The Weinstein Company — leaving smaller films undervalued. And on the distribution front, "it's more rigid and contracted than I've seen," Van Hoy says. "It puts more onus on first-time filmmakers to be resourceful and think: This is the first of three movies that I'm going to make."
Unless you're Joseph Gordon-Levitt. The actor's directorial debut, originally titled Don Jon's Addiction, became the latest movie to confirm the dream of the big Sundance-acquisition-turned-crossover hit: Relativity transformed the film into the Hollywood-style midrange sex comedy Don Jon. Backed to the hilt with a wide-release P&A budget, the film earned nearly $24 million in box-office sales, followed by untold digital riches — perhaps enough to justify Relativity's expense.
But, of course, that's more the exception than the rule. The majority of films to come out of Sundance 2013 did not make seven-figures at the box office. Of the 16 narrative features in the Dramatic Competition, only a quarter (Fruitvale Station, The Spectacular Now, In a World…, Austenland) saw sizable releases. That percentage drops significantly if you consider the entire 119-film Sundance slate. And what about the 3,925 submitted movies that didn't even get into the festival? How many of them earned enough revenue to justify their existence?
As the ways that films find their audiences grows more diverse with every year, the case studies below suggest a wide variety of options — and results — for independent filmmakers. What will 2014 bring? As Van Hoy says, "Maybe we're going to see more changes happen, but maybe it's going to be more of the same."
The Way Way Back
THE FILM: This year's Little Miss Sunshine, the coming-of-age film's backstory is similar to that of the 2006 breakout. Originally called The Way Back, The Black List-ed script by Nat Faxon and Jim Rash (The Descendants) was set up at Fox Searchlight in 2007 with Shawn Levy attached to direct. But the film stalled in the wake of the WGA strike and went through several other backers until Faxon and Rash stepped in as co-directors, and a raft of high-profile talents, including Steve Carell, Toni Collette, Sam Rockwell and Amanda Peet, joined the cast.
FINANCING: When Mandate Pictures let go of the project, Tom Rice's Sycamore Pictures (Can a Song Save Your Life?) and OddLot entertainment stepped up to fund the reportedly $5-million comedy.
DEALS: After the film's rapturous Monday afternoon premiere, complete with a standing ovation, the film sparks the kind of Sundance bidding war not seen since the go-go '90s, with several distributors — reportedly Lionsgate, FilmDistrict, Paramount Pictures and Warner Bros. — chasing the film. By the following morning, Fox Searchlight emerges as the victor, with one of the biggest deals at the festival in its history: paying less than $10 million for U.S. distribution rights, along with several other key territories and a hefty P&A commitment.
RELEASES: In the heat of Fourth of July weekend, Fox Searchlight follows its Little Miss Sunshine plan, with a summertime release and an aggressive platform distribution strategy, opening in 19 theaters and ramping up dramatically in subsequent weekends. By early August, it's playing in 1,001 theaters and has earned more than $13.5 million. The film also plays in several world markets.
GROSSES: U.S. theatrical grosses total $21,502,690, while overseas the film plays well in English-speaking territories such as Australia ($1.2 million) and the U.K. ($2.4 million). The film's sizable theatrical footprint sets the stage for a robust ancillary release: Into the fall, the film ranked among iTunes' Top 10 movie rentals.
NET RESULTS: No one can say the days of the $10-million Sundance overnight sale are over. Or that Fox Searchlight isn't in the business of forging summer indie hits. Or that Faxon and Rash couldn't make the transition from acting to writing to directing: The duo are at work on a new dysfunctional family dramedy, set up at, where else, Searchlight.
Fruitvale Station
THE FILM: Directed by recent USC film school alumnus Ryan Coogler, the film follows the last day in the life of Oscar Grant, an African-American man who was shot to death by a police officer in Oakland's Fruitvale BART station in the early hours of New Year's Day 2009. Though coming into Sundance's competition with little advance buzz, the movie emerges as the fest's biggest triumph, winning both the Grand Jury Prize and the Audience Award.
FINANCING: Produced by Forest Whitaker's production company Significant Productions, the film proved too risky for U.S. industry financiers, based on the fact that Coogler was a first-time director and the story's tough subject matter. "People ran away in America," says Significant's Nina Yang Bongiovi, who ended up tapping a number of high net-worth individuals in Asia who "believed in me," she says. Fruitvale Station also scored a number of grants from nonprofit funders. With its locations, local director and socially relevant subject matter, the film was a match for the San Francisco Film Society's KRF grant, which supports Bay Area filmmaking. It received two separate KRF awards totaling $200,000. Developed at the Sundance Screenwriter's Lab, the film received $35,000 in additional Sundance Institute Feature Film Program support through the Institute's collaborations with the Time Warner Foundation, Indian Paintbrush and Cinereach. And when the film's less than $1-million budget couldn't cover a location fee, actress Octavia Spencer rounded up some money from herself and some close friends, giving her an executive producer credit.
DEALS: After a rousing Sundance premiere with a teary-eyed packed house, the film receives an initial round of 12 distribution offers. William Morris Endeavor whittles the bids down to a top five. On the day after the premiere, the producers conduct back-to-back meetings. Harvey Weinstein, having seen the movie in New York the previous night, flies into Sundance personally to make his pitch. "He told us he was colorblind after watching the film," says Yang Bongiovi, "and that everyone should see this movie, no matter their race. And that was important to us." TWC pays a reported $2 million and change for distribution rights in the U.S., Canada, U.K., Australia and South Africa, along with international sales rights.
RELEASES: In a typical summer counter-programming move, The Weinstein Company opens the film on July 12 in seven theaters. Boosting the film's profile, the release coincides with the verdict in the much-publicized George Zimmerman/Trayvon Martin trial. Mainstream press and online buzz links the movie's subject with the controversial, racially charged shooting case, propelling the film to a strong $53,898 per-screen average. "It became part of the national dialogue," Yang Bongiovi says. TWC's theatrical president Erik Lomis tells Deadline that the audience demographic is racially mixed, with 43 percent white and 29 percent African American. Outside of the U.S., the film gets a boost with a slot in Cannes' Un Certain Regard section (it wins there the Prix de l'avenir Prize) and other overseas fests, helping pave the way for brisk sales across international territories.
GROSSES: After 16 weeks in release, the movie earns more than $16 million at the U.S. box office. Based on box-office bonuses and foreign sales, Yang Bongiovi says they've already seen overages, paying back their investors and offering additional money to their actors and their vendors.
NET RESULTS: Ryan Coogler and star Michael B. Jordan become the talk of the town, and award season buzz builds. Significant Productions also gets a major lift, embarking on a film fund with their Fruitvale investors and moving forward on a number of projects, including Whitaker's long-in-the-works Louis Armstong biopic. Speaking of the industry's response to their slate, Yang Bongiovi says, "They don't give us as much hell anymore."
The Spectacular Now
THE FILM: Another script from The Black List, (500) Days of Summer screenwriters Scott Neustadter and Mike Weber's drama follows a hard-partying high school senior's life-changing relationship with an insecure student. Directed by James Ponsoldt (Off the Black, Smashed) and starring rising thespians Miles Teller and Shailene Woodley, the film is refreshingly darker and more naturalistic than most teen dramas, making it possibly a harder sell in the marketplace, but a critics' darling.
FINANCING: Originally set up at Fox Searchlight, with producer Shawn Levy and director Marc Webb, the project goes into turnaround. Producer Andrew Lauren (The Squid and the Whale) puts up the entire $3-million budget, with Brian O'Shea's The Exchange taking on international sales.
DEALS: A few days after Now's premiere, UTA finalizes a seven-figure deal for North American rights with up-and-coming distributor A24. Disney International takes world rights, with the exception of Germany, France and the Middle East.
RELEASES: Before its August launch, A24 preps audiences with the release of a trailer in mid-June, and in a partnership with Landmark Theaters, a "Spectacular Classics" weekly series of four classic coming-of-age movies every Tuesday night in 12 markets. A24 also holds more than 100 word-of-mouth screenings and submits to dozens of film festivals across the country. "We felt that the movie was our biggest asset," says Nicolette Aizenberg, A24's publicity chief. "When people got to see it, they really liked it." The film opens strong on Aug. 2 in limited release, grossing nearly $200,000 in four theaters. The film's Sept. 13 expansion to 770 theaters is less robust, with a $916 per-theater average. In December, the film goes to iTunes, followed by a January DVD release.
GROSSES: After nearly 14 weeks in release, The Spectacular Now earns a respectable $6.9 million, making it the fifth highest theatrical earner out of Sundance. Considering "it could have gotten lost," admits Aizenberg, "We're incredibly happy with the results."
NET RESULTS: With plenty of positive reviews and a solid profile, the film's backers expect the title to have a long ancillary life. "There are a lot of people who still want to see the film," says Lauren, who adds that he's already seeing overages. (The film became available for purchase on VOD platforms on Dec. 17, with DVD and VOD rental beginning Jan. 14.) Meanwhile, Ponsoldt, Woodley and Teller's profiles all continue to soar.
In A World…
THE FILM: That rare commodity, a well-written, female-centered comedy, Lake Bell's directorial debut In a World…, in which the director-actress also stars, follows the exploits of a voice-over talent and her struggles with her father and her career. Exuberantly embraced at Sundance, where it played in Competition, the film garners Bell the Waldo Salt Screenwriting Award.
FINANCING: New producing/financing entity 3311 Productions (backers of Big Sur) comes on board to make the film.
DEALS: After a well-received premiere and positive trade reviews ("rollicking laffer," "lively"), distributors start circling the picture. A few weeks after the festival, Lionsgate and Roadside Attractions acquire U.S. rights for a high six figures, while Sony Pictures Worldwide Acquisitions (SPWA) takes international rights.
RELEASES: In early August, Roadside opens the film in three theaters. Pre-publicity includes a naked Bell — covered in body paint — on the cover of New York magazine. Boosted by good reviews — the New York Times' A.O. Scott made it a Critic's Pick — and strong word of mouth, the film earns a strong $70,541. Bell also promotes the heck out of it. She did 184 interviews, 18 Q&As, traveled 23,000 miles, and took 18 flights, 72 car rides and three train rides. Bell also created online viral videos in partnership with Adult Swim, which helped bring her TV audience into the fold, according to Roadside's Eric d'Arbeloff. The film continues to show theatrically into November, playing more than 300 engagements in 157 markets. "The phenomenon of the film was amazing word of mouth," d'Arbeloff says. "It doesn't always translate, but in this case, it really came true."
GROSSES: The film earns close to $3 million in the U.S. A home entertainment release from Sony is set for January. According to d'Arbeloff, with placement at major stores such as WalMart and BestBuy, "initial orders are strong."
NET RESULTS: Bell's star continues to rise. While a next directorial project has yet to be announced, the actress-turned-director remains busy with plenty of thesping gigs (Million Dollar Arm with Jon Hamm, The Coup with Owen Wilson and Man Up opposite Simon Pegg).
Sound City
THE FILM: A passion project made by Foo Fighters frontman Dave Grohl, the film chronicles L.A.'s fabled Sound City Studios, where artists such as Fleetwood Mac, Neil Young, Rick Springfield, Tom Petty and Nirvana recorded.
FINANCING: Privately financed, the film comes about after Grohl approaches producers James Rota and John Ramsay about documenting the dismantling of the studio. Initially conceived as a Web series, it blossoms into a full-fledged documentary after Grohl enlists the participation of several high-profile artists, from Young to Petty.
DEALS: From the beginning, Grohl plans to avoid traditional distribution, and agrees with Gravitas Ventures to make the movie available on multiple digital platforms shortly after the film's Sundance premiere. Grohl's management company handles foreign sales, while Viacom takes U.S. TV rights.
RELEASES: Working with Variance Films, the film plays a one-night-only event across some 50 theaters in the U.S., Australia and New Zealand on Jan. 31. Appealing directly to his fanbase, Grohl makes the film available for purchase DRM-free directly at http://soundcitymovie.com before it launches on iTunes on Feb. 1. Within hours, it becomes the top title on iTunes' documentary charts. "Dave treated it like the release of a record," producer Rota says. To promote it, they had "Sound City variety shows," with star-acts playing key cities (L.A., Park City, Austin, London and New York). Meanwhile, Variance takes the film on a more traditional small theatrical roll-out, starting in 16 theaters on Feb. 13 and working closely with record stores, colleges, radio stations and recording engineering schools to get the word out, according to the company's Dylan Marchetti. In March, Sony releases the DVD.
GROSSES: According to the online site Digital Cinema Reports, the film grosses $1.5 million from direct-to-consumer and VOD sales in its first days of release. With theatrical ticket sales, the film earns another $421,187. "Everyone is very satisfied with the film's success," Rota says. "Did it help to have legendary rock stars in it? Of course it did."
NET RESULTS: The rock-doc lives on! And Grohl is already at work on another documentary project for television with Rota and Ramsay. "I'll keep making content for Dave as long as he wants," Rota says.
Upstream Color
THE FILM: Shane Carruth's ambitious and long-awaited follow-up to his Sundance winner Primer is a visionary and magisterial biological-sci-fi odyssey about innocent people caught up in a strange experiment involving mind control, pigs and superpowers. At its premiere, the head-scratcher of a film divides audiences, with many calling it a masterpiece, drawing comparisons to the work of Terrence Malick, while others suggest it's "deliberately obscure" and "befuddling."
FINANCING: After failing to get other projects going with traditional financiers, Carruth decided to self-finance Upstream, putting up much of the budget himself, reportedly with money he had left over from Primer, along with backing, he told Grantland, from "some very supportive friends outside of film finance." Actual figures have been kept under wraps, but the budget is rumored to be in the low six-figures.
DEALS: Long before its Sundance premiere, Carruth opts to self-distribute. Visit Films comes on for international sales.
RELEASES: Well before its planned April release, Carruth partners with Sundance Artist Services' Joseph Beyer and distribution consultant Michael Tuckman, who had worked on ThinkFilm's release of Primer, to get the film to audiences. Carruth raises P&A funds himself, and begins promotion in December 2012, timing the first teaser trailer to be released shortly after the Sundance lineup is announced. Twitter explodes. "Shane recognized early on that he had this base out there who could mobilize and help others come on board as well," Tuckman says. Just prior to Sundance, Carruth scored a special screening slot at Art House Convergence to unveil the film to the many attending arthouse programmers who would eventually decide whether to book the film or not. After Sundance, the film plays at Berlin and SXSW to further spread the word.
On April 5, the film opens at the IFC Center, setting a single-screening record of $28,649. Within two weeks, the film goes out to 10 additional markets, using word-of-mouth and press coverage to drive awareness. According to Tuckman, the marketing spent on Upstream Color was less than a 10th of what was spent on Primer. "We always like to point out that the film rental for the first week at the IFC Center was enough to cover the entire North American advertising campaign," Tuckman says. One month after its exclusive theatrical run, the film becomes available on iTunes and VOD platforms.
GROSSES: Domestic ticket sales reach close to $460,000. Tuckman says they would have hoped for more, but the collapsed VOD window "took a number of theaters off the table," including Philadelphia. Digital earnings are not reported, but Sundance Artist Services' Beyer says the film was one of its top titles in 2013. Internationally, the film sells around the world, from Europe to Australia and to HBO Latin America, driven by strong reviews and the perception that it's less of a "cinephile arthouse title than a U.S. indie," notes Visit Films' Ryan Kampe.
NET RESULTS: Carruth reaffirms his status as one of indie film's foremost DIY visionaries, receiving shout-outs from Steven Soderbergh and cultivating awareness for a possible next project called The Modern Ocean. Not likely to be forgotten, Upstream Color receives a Gotham nomination for Best Feature.
Ain't Them Bodies Saints
THE FILM: Texas-based writer/director David Lowery crafts a movie that seems unearthed from the heart of his homeland. Starring Casey Affleck as a captured outlaw who vows one day to reunite with the love of his life (Rooney Mara), the movie wows Sundance critics ("slow as molasses, but every bit as rich," writes Variety) with its strong performances and lyrical, bourbon-hued cinematography. It ranks second in Indiewire's Sundance Critics Poll of the best narrative film at the festival.
FINANCING: With a budget just over $4 million, the film comes together via Louisiana's healthy state tax credits and a three-way equity split between Evolution Independents' Mark Burg and Mike Menchel, Paradox Entertainment's Daniel Wagner and Fredrik Malmberg and Lagniappe's Logan Levy and Jesse Kennedy. Before production, The Weinstein Company pays for foreign rights.
DEALS: A few days after the movie's Sundance premiere, IFC Films pays a reported $1 million for U.S. rights. "It was clear they were passionate about it and understood the film," producer Jay Van Hoy says.
RELEASES: On Aug. 16, IFC releases the film in three theaters. Banking on reviews, IFC forgoes a day-and-date release, opening theatrically and then releasing on VOD a week later. But reviews are mixed out of New York. Salon's Andrew O'Hehir dubbed it "the arrival of an immense talent," while The New York Times' A.O. Scott panned it, calling the picture "humorless" and "unconvincing." First weekend grosses are modest: $26,419 on three screens. Soon after, theatrical sales begin to falter. By week four, the film maxes out at only 44 venues with dismal per-screen averages of $889. Whether it was the commercial curse of the Western or the movie's downbeat story, Saints ultimately doesn't connect with audiences.
GROSSES: U.S. ticket sales reach $391,611. Global grosses aren't better, totaling $484,322. Despite a healthy advertising spend in the U.K. from indie distributor The Works, the movie earns less than $200,000.
NET RESULTS: The movie's commercial failure leaves both the film's producers and most movie critics scratching their heads, but according to Van Hoy, the investors broke even and continue to collaborate with all involved. And even if the film didn't perform, it effectively launched the career of Lowery, at work on a new film with Robert Redford, and confirmed the rise of cinematographer Bradford Young, who recently wrapped Ed Zwick's Pawn Sacrifice for Lionsgate.
Computer Chess
THE FILM: Andrew Bujalski's most avant-garde film is a bizarre retrograde portrait of a computer chess tournament circa 1980. Long awaited and defiantly noncommercial, the movie is shot with old-fashioned analog video cameras from the era, further adding to its eccentric status. After its Sundance premiere, discerning critics herald the film as "extraordinarily inventive and richly textured" (The New Yorker) and "bracingly idiosyncratic — and close to perfect" (Film Comment).
FINANCING: The film comes together through equal parts crowd-sourcing, private equity and awards/grants. Through Hatchfund.org (formerly USA Artists), the filmmakers crowd-sourced approximately $50,000, which was also tax deductible and partially matched by organizations provided by Hatchfund. They received grants and awards from the Tribeca Film Institute, the Sloan Foundation and Texas Filmmakers' Production Fund. On the equity side, they raised about that same amount from fans of Bujalski's previous works, according to producer Houston King.
DEALS: Two weeks after the movie's fest launch, Kino Lorber acquires all U.S. rights. The Film Sales Company's Andrew Herwitz handles international sales, making all-rights deals in Australia, the U.K., Germany, Canada, Scandinavia, Latin America, the Benelux territories, as well as TV rights in France, Spain, Portugal, Asia and Eastern Europe. "The unique quirkiness of the film and the fun of it really drew people in," Herwitz says. "But it took months to close the deals. It was a lot of work, but I am really pleased at how widely it's going to be seen."
RELEASES: In mid-July, Kino Lorber launches the film in two theaters, including New York's prestigious Film Forum, reaping $4,842 per screen. While Bujalski profiles appear in The New York Times, The Boston Globe, Slate, Vulture and a host of other distinguished outlets, the film slowly rolls out to other markets. But after a few weeks in release, ticket sales are miniscule, reaching as low as $295 on one screen.
GROSSES: After playing for more than 15 weeks, the movie ekes out just over $100,000 at the box office. But on the digital side of distribution, Kino Lorber digital exec Reid Rossman says "it's doing nicely so far." In addition to iTunes/Vudu/Amazon/Play, a downloadable version is also available directly via VHX at www.computerchessmovie.com. Meanwhile, Kino's home entertainment division has shipped more than 2,200 units.
NET RESULTS: As strange and idiosyncratic as the film is, Computer Chess becomes "the most profitable" of Bujalski's films, King says. (Its profitability was undoubtedly helped by its high percentage of grant and crowd-funded financing.) "Bear in mind, that's a pretty low bar," he continues. "But my gut is that Computer Chess's profile has helped us keep Andrew's name and projects noteworthy." Though Bujalski and his team have yet to announce a new project, King is confident moving forward. "Even with a small film, I'll have better luck speaking with investors right now after having made a profitable film than not."