Back to selection
Pickups for Gondry's Mood Indigo, Berninger's Mistaken for Strangers and Carbone's Hide Your Smiling Faces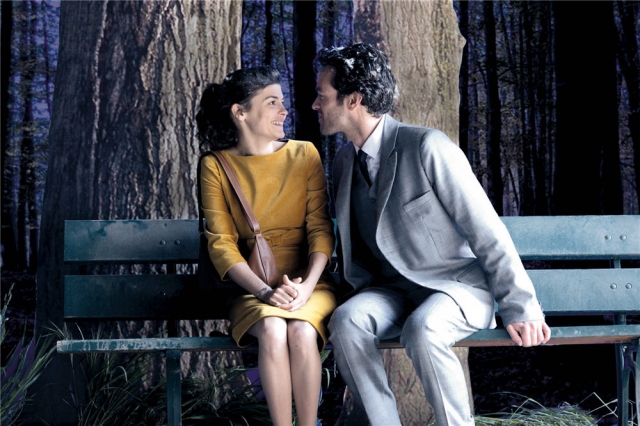 Mood Indigo
In a busy Monday for acquisitions, Michel Gondry's romance Mood Indigo, Tom Berninger's doc on The National, Mistaken for Strangers, and Daniel Patrick Carbone's indie favorite Hide Your Smiling Faces all found homes with theatrical distributors.
Drafthouse Films snapped up Indigo, which stars Audrey Tatou and Romain Duris and has a certain Amelie vibe to it. The film premiered at Karlovy Vary last year rather than one of the big fall fests, so it's maybe not surprising that an emerging distributor like Drafthouse has picked up the film rather than a bigger and more established outfits. Drafthouse boss Tim League said of the purchase, "Not since Amelie have we seen Audrey Tautou so undeniably whimsical and charming, and her storybook romance with co-star Romain Duris is set perfectly within a quirky, visually-stunning fantasyland that only Michel Gondry could imagine." The film will have a platform release later in 2014.
Mistaken for Strangers, about indie heroes The National and directed by the brother of the band's frontman Matt Berninger, was bought in a joint deal between Starz Digital Media and Abramorama. The film, which opened the 2013 Tribeca Film Festival, will have a join theatrical and digital release on March 28. Richard Abramowitz, President of Abramorama said, "We're looking forward to bringing Tom's terrific film to music and movie lovers across the country." Starz and Abramorama will be looking to energize the band's base and have a success on the scale of Oscilloscope's LCD Soundsystem doc Shut Up and Play the Hits. 
Finally, Tribeca Film announced that it will be putting out in March Hide Your Smiling Faces, one of the notable U.S. indies of last year that ostensibly did not yet have a home. It will be released digitally on March 25, with theatrical following three days later. The deal for the film was actually done some months ago, but the timing of the news allowed for such happy occurrences as Faces being given, just a few days ago, the award for the "Best Film Still Awaiting U.S. Distribution" from the National Society of Film Critics Awards. Geoff Gilmore, CCO of of Tribeca Enterprises, said of the movie, "Rarely do we see as assured a debut as director Daniel Carbone makes in Hide Your Smiling Faces. This marvelous tapestry of adolescent angst, sibling rivalry, and the effects of the mysterious demise of their friend has on two brothers is only part of what makes this solemn but riveting work carry such an emotional impact."
© 2023 Filmmaker Magazine. All Rights Reserved. A Publication of The Gotham