Back to selection
The Shape of Something Squashed Director Tom Noonan on How Jennifer Lawrence Inspired His New Play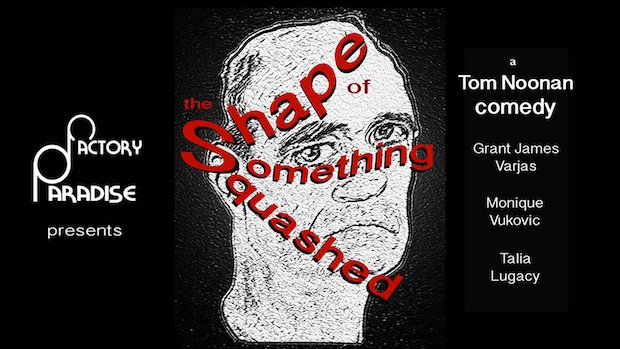 Playwright, actor, director and screenwriter Tom Noonan is currently debuting his latest play, The Shape of Something Squashed, at New York's Paradise Factory, but it might never have been written if it weren't for an invitation to meet with Jennifer Lawrence one day. I'll let Noonan tell the story below, but suffice to say that the bent emotions and darkly comic introspection that near-encounter produced are the stuff Noonan has memorably mined in his writing and directing work for years. Noonan's film roles include singular turns in Heat, Mystery Train, Manhunter, Synecdoche, New York, and House of the Devil, to name a few. As a writer/director, he's made the feature films What Happened Was…, The Wife and Wang Dang, and his stage productions include theater productions of those three films as well as plays such as What the Hell's Your Problem? (I suppose this would be a good moment to make the full disclosure that Robin O'Hara and I produced the first two features, but I am only this new play's eager spectator.)
Below, I talk with Noonan about The Shape of Something Squashed and that invitation to work with Lawrence but also many other things, including his approach to teaching acting, the reasons one should make films and the advice he received about distribution from John Cassavetes.
A new play by Tom Noonan is a not-to-be-missed event. The Shape of Something Squashed runs to March 16 and tickets can be purchased through Ovation.
Filmmaker: So, how did Jennifer Lawrence wind up inspiring your new play, The Shape of Something Squashed?
Noonan: I start a play probably every ten days, and the only ones I ever end up doing are the ones I finish really quickly. Two or three months ago, my agent called and said, "Jennifer Lawrence is in town, and they're working on Hunger Games 3. They want you to come in and work with her on some scenes." So I was real excited. I like her, and I saw the first movie and thought it was okay. And then they sent me the material and I realized the part I was going in to read with her was Donald Sutherland's part. And so I called my agent and said, "What's going on? Why am I reading Donald Sutherland's part?" And they said, "Well, that's what the gig is. You're going to go in and read his part because he's not available. You're just going to work with her, and then he'll make the movie." And I said, "Are you fucking kidding me?" I got pretty pissed off and was depressed and upset for a day or so. And then Talia [Lugacy] said, "You know, that's an idea for a play." A day or two later I sat down, it was on a Friday, and I wrote it by Monday morning. Not exactly that story, but that basic idea.
Filmmaker: And where does the title come from?
Noonan: One morning, Talia and I got up and we looked in the bed and there was there was this sort of weird thing lying there. I said, "What the hell is that?" And she went and looked at it and said, "I don't know. It's weird, it's like the shape of something squashed." We laughed, and she was in the middle of writing something so I said, "You should use that as your title." And then, a day or two later is when I started writing, and I asked her if I could have it back. It's funny, and it sort of describes what I think happens to people in any walk of life in the process of being alive: you get sort of squashed into this misshapen sort of entity. You try to act like you're okay and everything's fine, but you've been so damaged by life that you're really just sort of hanging on by your fingernails all the time. (laughs) Which is what the play is about.
Filmmaker: Where does the play take place?
Noonan: It all takes place in this Off-Off Broadway theater.
Filmmaker: With a character who has come in to read with a famous actress?
Noonan: Well, what's happened is that these two long-time luminaries of the Off-Off Broadway stage live and work in their own theater. They've been doing well for years but they're on hard times now, and they're trying to get this well-known actor who only usually does TV or Broadway to do a new show with them. That would give them enough money to get out of a hole they're in and not lose their theater. The day of the backers' audition, he starts acting like a prima donna and may not show up, so they scramble to try to find anybody to read his part. They call in this guy who has never really worked much, who's not even a has-been, and he comes into this situation thinking it's the break of his life. But it takes a while [for the audience] to sort of understand what is happening. The play starts after a night of debauchery on the set of a play they're rehearsing, a Restoration comedy.
Filmmaker: Does doing a play set in a theater change your approach, which has always been to do kind of film acting and blocking in a theater space?
Noonan: I mean, I guess the gag has always been that I've written these things with the intention of making a movie in the end. They are always movie scripts I'm writing, and I want the plays to feel as much like movies as possible. So we don't do a lot of theatrical blocking. The audience is sort of in environmental seating; there's really no better way to stand or look. Everybody can hear every word no matter where you are. And that way you can translate the play into a film much more easily. You don't have to interpolate it. It's already sort of like a movie to begin with.
Filmmaker: But did you have to struggle this time to impose that style on something set in a theater?
Noonan: No, when I first wrote this, I was just sort of so desperate to get something going that I had some feeling for that I didn't really think, "Oh, how am I going to make this into a movie later?" I more just wanted to get it on, to put it on as a play. But I do like that sort of intimate, non-theatrical blocking sort of style and to have the audience really close. Actually, my character is in the audience for the first third to half of the play. I come in and sit down and [the actors] say, "Who the fuck are you?" There's sort of confusion about who I am, so I end up backing up and sitting in a seat that's sort of in the audience. So, for the first third of the play, I'm not even really in it. Once in a while I stand up and say things, and they say, "Shut up and sit down!" It's over time I migrate into their world.
Filmmaker: Tell me about your company. Who does it consist of now?
Noonan: Over the years, against my own better judgment, I began teaching. I worked with a lot of different actors, writers and directors, sort of showing them how I do what I do. From 2005 – 2010, I've probably worked with 200 or 300 people. A lot of those people ended up coming back to me with scripts they had written based on the work that we had done. A lot of those plays I ended up producing, and a lot of those plays, from having been produced as plays, became movies. So, we never really had a specific company, but we had a core group of people I worked with a lot over 15 years. Grant Barches is one of the actors in Squashed. He was in another play, What the Hell's your Problem? He then wrote a play and produced it here. So, it's sort of a group of people I've kind of trained or who have worked with me and who have gone on to make movies.
Filmmaker: Do you still teach?
Noonan: Once in a while do these workshops. They are about ten days long and are pretty intensive. I do one or two a year. I don't do any more week-to-week teaching at all. But, you know, I love what I do, and I try to help them love what they do.
Filmmaker: If you could crystallize what you are trying to convey with your teaching, what would it be?
Noonan: I guess what I teach people when they come to study with me is that the reason people go to plays and movies is to be reminded of what it is to be who they are. That's why people do it. That's my experience. When I went to East of Eden when I was seventeen, it made me cry and get pissed off and realize what a fucking mess my life was and what I wanted to do with my life. It reminded me of who I am. So you always want to start from that point of view, always from that position. And you want to be able to bring the audience into your heart in some way. But let me go back a step — how you end up reminding someone who they are through the process of a play or a film is by putting in front of them a human being who is incredibly, compellingly present to their own experience. If you're looking at somebody who's really being who they are, it moves you to feel who you are. So everything I do is to support that experience as an actor. The script is only there to support the actor being present. The set is only there to make the actor feel present — the costumes, everything. And so, when you are creating a film, everybody has to keep that in mind, always. It's all about the actors. Everything else is silly because if you don't have that core thing, everything else is of no value at all. And the way you shoot is to capture that experience in the actor, that compellingly present feeling. That's the whole purpose of cinematography, of the shot list, compositions and everything.
Filmmaker: So how do you guide the actor to achieve that state of being present?
Noonan: Well, the first thing I have you do when you come to work with me, whether you're an actor, writer, director, is get up and act. I hand you a script, and I have a script, and I say, "These are the pages we're going to use. But you have no obligation to ever say these words, as long you live. You have no obligation to anything outside your own commitment to being present to your own experience. If you need to speak, you have to use the words on this page because that's sort of the convention of making a movie or a play. But, again, you have no obligation to say these words. If you can communicate what you're feeling or what you need with one syllable, one letter, one word, that's all you need to say."
The second thing I tell them is they have no obligation, if they're acting with me, to make something happen. "You don't have to react to what I do. I'm only here if you need me, and if you don't need me, ignore me." I try to instill in people the feeling that what makes somebody compelling is that they have no obligation to anything outside their own experience. You may want to interact with somebody else, but that has to come from you and not from some outside obligation.
We work like that for ten or 20 minutes, and then we stop, and I talk about my experience with what just happened, my experience with them, and then we do it again. And we do it again and again, until people start to experience what it's like to really be present without any obligation — to start to understand what that feels like in themselves, what it looks like when you see it in another person, and what it feels like even when you meet a DP or a designer. Is this person somebody who's in touch with themselves? Is this somebody I can connect to? Am I going to be able to work with them as human beings? Are they going to help me stay with myself?
Filmmaker: Tell me about the state of the theater itself, the building, today.
Noonan: I've been here 30 or 31 years, and it just went through a $4 million renovation. I started renting it from the city in 1983. I was always trying to buy the building because without owning it, it was very hard to finance [renovations]. The building was sort of falling down — it had been an old, decrepit hat factory. So in 2005 or '06, the city finally decided to sell the property, and two other parties and I bought it and began fundraising. We raised $5 million dollars to completely gut renovate the place. We raised the money between 2007 and 10, and then they began the renovation in '11. So now we are able to have three companies actually work without interfering with each other sound-wise. It looks similar to the way it used to look but there's not a single thing in here that's not brand new. It's just a completely brand new building. And that was through the Department of Cultural Affairs, the City of New York and the Mayor's Office. A lot of wonderful people were kind enough to help us do this.
Filmmaker: Give me your thoughts on filmmaking today. It's been a while since we made What Happened Was… and The Wife, and independent film has changed so much, both in the ways films are being made and the ways people are watching them.
Noonan: I love movies, and I watch millions of them. I understand there are trends and things that people do differently, and that technology has changed a lot, but it hasn't for me. The way I make films hasn't changed at all. I sort of start again with that whole idea of making the movie as personal to my own experience as possible, and I involve myself with people who are committed to being personal with their own work, who will go where that takes us and not try to impose anything on it. I'm technically good, and I'm pretty talented — I know how to use the camera, how to block scenes and write scripts — but I don't really have some sort of aesthetic that I employ. It's the whole process. The thing about making a movie is that it's an experience; you make the movie because you want to have the experience of making it. You don't make the movie because you want to make a movie that people are going to want to see or pay for or you're going to be able to get distribution for. That's not an issue that I think about. You make the movie because of the experience of doing it, to have a group of people work in a personal way to express something that they feel connected to.
Filmmaker: That's such a provocative thing to say these days. So many filmmakers feel they are irresponsible if they're not thinking about the business side of things.
Noonan: I did a panel once and someone said, "I have this part-time job and I'm trying to figure out how to make the movie cheap because I don't want to mortgage my house." And I said, "The whole reason to make a movie is to lose everything you have. The whole point is to go broke. The whole point is lose your friends, to lose yourself. The point is to become who you were meant to become and forget all the other shit." I worked with Cassavetes, and I said to him once, "John, when you were making Faces or Shadows, did you have any idea where you were going to distribute them?" And he said, "Fuck that. You don't worry about that. You make the movie, and if people like it, they'll watch it. If they don't like it and it stinks, nobody watches it and it all takes care of itself. Don't worry about that. Just make the fucking movie."