Back to selection
The Women of SXSW: Evaporating Borders Director Iva Radivojevic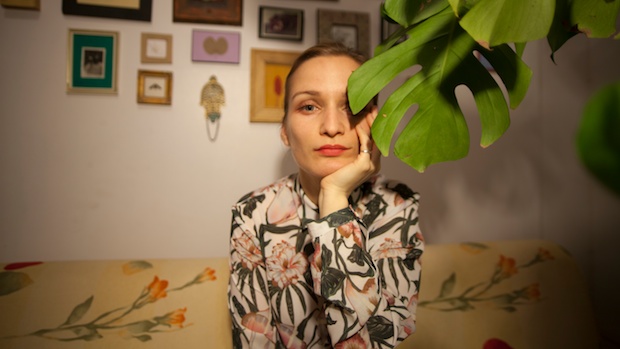 Iva Radivojevic
Following "The Women of Sundance" article in our print and online additions, Danielle Lurie continues her coverage of female filmmakers with a series of interviews highlighting women directors at SXSW. In this interview, she talks with the director of the hybrid documentary, Evaporating Borders, Iva Radivojevic.
Filmmaker: Why this movie?  Why did you decide to do it?  
Radivojevic: It was one of those ideas that keeps churning in your stomach for years and years and finally finds a way to come out. The film is also personal and has to do with who I am and my experience (although in an indirect way). My stomach feels much better now.
Filmmaker: How did you go about raising funding for it? 
Radivojevic: The budget for this film was super low. The initial funding came from The Princess Grace Foundation as a Special Project Award. This was enough to cover the costs of production, mainly because I wrote, directed, shot and edited the film. Had I needed to pay people to do this, it would have been trickier. We then launched a Kickstarter campaign to fund the finishing costs, sound, color, DCPs and such. It raised much more than we asked for and it turned out we needed much more too, so it worked out great!
Filmmaker: What is an anecdote from the making of this film that should be legendary?
Radivojevic: Harbor Sound (headed by Robert Hein) did our sound mix. They reached out after seeing our Kickstarter video and were extremely generous and supportive. They worked on Woody Allen's film during the day and Evaporating Borders at night… The Woody Allen people sent lavish food platters for the crew… we piggy backed, never a hungry night. (Not necessarily a legendary anecdote but a brilliant opportunity to send a shout out to Harbor Sound!)
Filmmaker: How much of your crew was female? Was hiring women a consideration for you?  
Radivojevic: The executive producer of the film is Laura Poitras, and I couldn't be more grateful for her guidance and mentorship. There are a lot of women who worked behind the scenes and helped make this film, they are not necessarily in the film industry but acted as fixers, line producers etc. These are also women who been my friends and supporters throughout my life. Of course I had dreams and discussions about hiring my talented female collaborators from New York to do sound and even co-direct. Financially and logistically it didn't pan out. In the end, I got help from anyone who was available and passionate about the project. 
Filmmaker: Do you think a male director might have handled the making of this film differently? In your opinion, how did being a female filmmaker affect how this film got made?
Radivojevic: I think every individual person would have handled the film differently. While shooting the film I worked closely with one of my producers, Leandros Savvides. It was brilliant to have him around because our thinking and approach is completely different. I was approaching people from a feeling place, and he was more practical about information. I was interested in cinematic expression with emotional potential, and Leandros was passionate about details and subject matter, which is equally important. I'm not assigning these traits to be either male or female, just different aspects of our individual personalities. The final film stays true to my vision and at the same time benefited greatly from Leandros' input.
Filmmaker: In what ways do you think being a female filmmaker has helped or impeded your trajectory in the film industry?
Radivojevic: Of course there have been times when a person is more interested in chatting you up than hearing about your project or anything else that comes out of your mouth for that matter, which is annoying as hell. And other times where you feel completely dismissed. However, I must say that I've have been very fortunate. There have been a lot of people along the way (women and men) who have supported and championed my work, and I'm very grateful for that. It's made a world of difference.
Filmmaker: How can we get more women making movies?
Radivojevic: I can only relay my own experience here. Mentorship is incredibly valuable. I met Laura a few years back through my MFA program. She critiqued my work and was intrigued by it. She's been incredibly supportive ever since. Just knowing there is a person that values your vision and expression is already magic. And then the small gestures push you forward: "Here's a great opportunity, you should apply for it"; "check this program out; etc., etc. It probably takes little effort but goes a long way.
Filmmaker: Of the big blockbuster movies out there, which do you wish you had directed?
Radivojevic: Mauvais Sang! or Down By Law! Are those considered Blockbusters?
Filmmaker: What's next?
Radivojevic: Serbia! I'm planning a month0long trip in the fall to start preparing my next film. Exciting times.
Filmmaker: What do you hope to gain from being at SXSW? Who would be your dream person to meet while there?
 
Radivojevic: You know I'm just excited about life in general. And of course super excited to share the film, watch other films, get inspired, meet filmmakers, and definitely the Austin sunshine! (I'm not a rib person, sorry – that's the famous Texas thing right? Ribs? BBQ?) This is not really SXSW0related (it could be if he were invited)m but I'm a little bit obsessed with Pharrell Williams these days. I want to dance with him in his black/white/yellow polka dot shirt…There!
    
Filmmaker: What is a question I should have asked but didn't that you think is relevant to your film?
Radivojevic: What did you take away and what does the audience take away from the film? The importance of self-refection. Internal investigation and examination as a staring point.