Back to selection
The Women of SXSW: Vessel Director Diana Whitten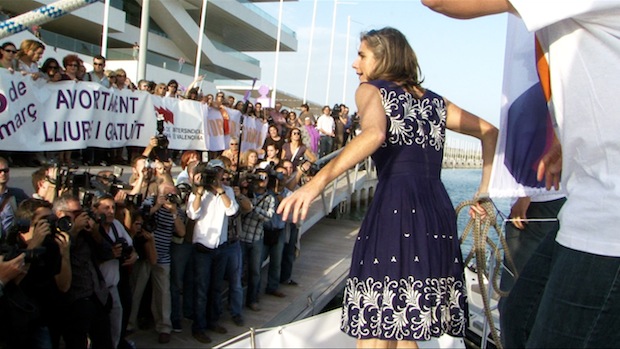 Vessel
Following "The Women of Sundance" article in our print and online additions, Danielle Lurie continues her coverage of female filmmakers with a series of pieces highlighting women directors at SXSW. In this email interview, she talks with the director of the Documentary Competition film, Vessel, Diana Whitten.
Filmmaker: Why this movie?  Why did you decide to do it?  
 
Whitten: At first I was compelled by the metaphor of a woman having to leave one realm of sovereignty to reclaim her own. I thought it was a rare and interesting example of the offshore being used not for crime or personal gain, but for social justice. And I thought [Dr.] Rebecca [Gomperts] was badass and knew she'd be great on film. Over the seven years of production, my inspiration has evolved, however. It was impossible to witness these activists working with women and not internalize how desperately alone women and providers feel in settings where abortion is inaccessible. The Women on Waves campaigns make them feel connected, and less scared. One of Vessel's goals is to offer that same solidarity.
 
Filmmaker: How did you go about raising funding for it? 
 
Whitten: We initially wrote letters to everyone we knew – this was pre-Kickstarter – collecting individual donations via email and small house parties. Then I started obsessively talking about it wherever I went (I was fun at parties). I wrote lots of grant applications – 27 in one year, in one of the early years. Once the initial grants came in, we could start production, and fundraising continued alongside production throughout the process. It still does, as we are now raising funds for outreach and engagement!
Filmmaker: What is an anecdote from the making of this film that should be legendary?
 
Whitten: Many to choose from: warships, riots, shipwreck… Here's one from the editing phase. Last January, on the coldest day of the year, a passerby flicked a cigarette that landed perfectly in between two buildings, which ignited the insulation, and set fire to three apartment buildings on my Brooklyn block, including mine – where I lived, worked with my editor and housed all the footage that would become Vessel. We stood outside for hours, in shock and watched it burn, wondering if we would lose everything. Toward evening, they succeeded in putting out the flames, and we were allowed in to look for the animals and survey the damage. Our little production office was in frozen, shattered shambles, but somehow, in the middle of the room, miraculously shielded by a couch the firemen had upended to sledgehammer through the opposite wall, were three dusty but unharmed hard drives, and my shelf of tape. All people, pets, and footage were untouched, the film now has multiple backups, and my new apartment is most certainly an upgrade.
Filmmaker: How much of your crew was female? Was hiring women a consideration for you?  
 
Whitten: I do like working with women, I grew up with sisters – it tends to be a familiar energy for me – and our topic certainly attracted a predominantly female crew. That said, because the subject matter was so predominantly assumed to be about and for women, I actually found myself making space for male contribution. It's great when pro-choice men can join the conversation about abortion rights, as it helps to position the issue as one central to health and human rights, and not marginalized in any way. There are several male contributors to our crew, and my closest creative collaborator on the project, editor Simeon Hutner, brought his feminist perspective to the mix.
 
Filmmaker: Do you think a male director might have handled the making of this film differently?  In your opinion, how did being a female filmmaker affect how this film got made?
 
Whitten: One character at the center of this story – the ship – is a symbol traditionally occupied by men. As Rebecca says, "The ship is a symbol of freedom, has always been, but it's been a male domain." This ship is 100% captained by women, and in my experience with these women, any challenge to that is laughed off – so a male director would have had to work within that! 
 
I can really only speak to my experience and the sisterhood I developed with the activists I came to know. The most important thing I needed to do was to earn the trust of their group, and of the women they help – that was the only way onto the boat with my camera. That took a lot of reading the room, and knowing when to back off. As a woman, I may have had easier access to the empathy required when the most important thing happening was the woman's experience, and not my filming. But one certainly doesn't have to be female to have this sensitivity, and I'd love to visit the parallel universe where a male director found his way through this story, for comparison's sake!
 
Filmmaker: In what ways do you think being a female filmmaker has helped or impeded your trajectory in the film industry?
 
Whitten: Although I know there is still a great imbalance in the industry, I have felt very supported by the growing number of organizations and foundations that have been founded to support women in film, like Chicken and Egg.
 
Filmmaker: How can we get more women making movies?
 
Whitten: I wanted to make movies because we had a Betamax camera in the house growing up, and my sisters and friends and I would stage elaborate productions with hilarious sets, costumes, music, special effects – all shot chronologically by my father, no editing. For me, it wasn't necessarily about watching movies, it was the process of creating them, for fun, as a child. Then eventually I got a camera of my own, and documenting became a way to process my experiences, alter my perspective and offer something fun and sometimes lovely to the people around me. So I think a good start is giving cameras to girls, and letting them play.
 
Filmmaker: What's next?
 
Whitten: Promoting the film!  Engaging with audiences, securing distribution, community screenings – we have a solid outreach and distribution strategy in the works, great partners lining up, and a global infrastructure of people and organizations interested in working with the film. So we're excited!
Filmmaker: What do you hope to gain from being at SXSW? Who would be your dream person to meet while there?
 
Whitten: I am looking forward to seeing how audiences engage with the film!  Our premiere is Day One of outreach and engagement, and Texas is an absolutely ideal place for this given the groundswell of reproductive rights activism over the past year. We are collaborating with a consortium of Austin-based activists, who are mobilizing around the premiere and will be staging events that align the film with their efforts to combat repressive Texas legislation. The Wendy Davis filibuster that fired everyone up was simply spectacular; I imagine running for governor keeps a girl busy, but I'd love if she could join us and see the film!