Back to selection
Wish Granter Tamika Lamison on the Make A Film Foundation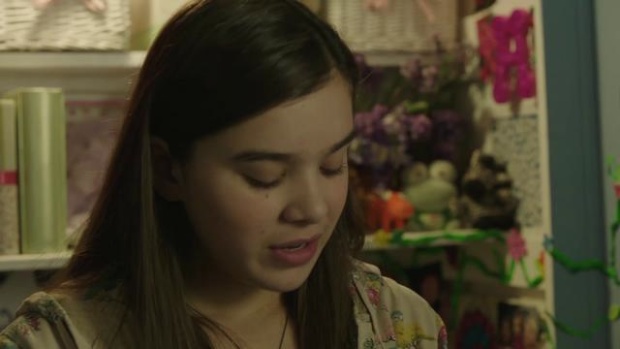 The Magic Bracelet
In late February I attended the Richmond International Film Festival, where I met Tamika Lamison, the extraordinary founder and executive director of the L.A.-based Make A Film Foundation, which lets children with serious or life-threatening medical conditions live out their filmmaking dreams. She was there with the MAFF film The Magic Bracelet, a Diablo Cody-adapted short originally penned by 15-year-old Rina Goldberg, who died of mitochondrial disease in 2010. I decided to find out more post-fest about the idea to pair veteran altruistic filmmakers with young aspiring filmmakers in need. I spoke with Lamison right before the short's next stop at the Gasparilla International Film Festival in Tampa, which was attended by both myself—doing doc grand jury duty—and Rina's dedicated mom Stacy, who's present at every screening of her daughter's fest-trotting film.
Filmmaker: So how did the Make A Film Foundation come about? It seems to me one of those no-brainer concepts—apply the Make-A-Wish Foundation's mission to kids with both life-threatening medical conditions and the filmmaking bug—so brilliant in its simplicity I'm surprised it hasn't been tried before.
Lamison: Essentially, I created it from a deep disappointment. I sold a script for six figures, the check was bad, I was devastated. I started reflecting on what was really important in life. You know, regrouping a bit. I still loved filmmaking—writing, directing, producing—but I realized I wanted to share these gifts and make a difference. So I started doing a lot more mentoring and teaching, and was so incredibly passionate about it and committed to it. A friend then asked me, if you could do anything what would it be? I said, "Aside from filmmaking, I'd probably grant wishes to those kids in the Make-A-Wish Foundation." And that was that. I combined my two passions of filmmaking and granting wishes to that unique population of children and came up with the Make A Film Foundation.
Filmmaker: How can interested indie filmmakers become involved? Is there some sort of application process in order to be paired with these kids?
Lamison: Just reach out to us at www.makeafilmfoundation.org and info@makeafilmfoundation.org. Check out our website. Send us an email. We have an application on the site for volunteers to fill out if they are interested, but basically if you send us an email with your bio/resume we'll keep it on file and reach out to you when we are in production on various projects. We always need filmmakers, especially editors. Editors are the most challenging to come by, they sometimes work on the little documentary projects we do for two or three weeks. And of course, if anyone wants to donate you can donate via PayPal on our website as well.
Filmmaker: Can you discuss the short The Magic Bracelet? How did Diablo Cody get linked with Rina's project?
Lamison: The initial story was written by Rina Goldberg, whose dream was to see the story she wrote turned into a film. Rina lost her valiant battle with mitochondrial disease in December of 2010. Some of her final words to her mom were, "Promise you'll take care of my film." Make A Film Foundation took it on and Diablo Cody adapted it into a short film. Diablo said yes pretty quickly after hearing about Rina's story and her life. We just reached out to her through her people. We actually have a lot of success just going directly to the source. Well, the source of the source. [laughs] Meaning the managers, publicists, etc.
The Magic Bracelet Trailer from Make A Film Foundation on Vimeo.
Filmmaker: You've recently expanded with the Vidz For Kidz Program. Do you want to talk a bit about that and your reasons for deciding to embark on this documentary shorts offshoot?
Lamison: The Vidz 4 Kidz Program is a short documentary program that we created because we wanted to impact more children. When we do the short narratives, our budget only allows maybe one a year because they are so intense and require more money, time and Hollywood star power on all levels. These short docs allow us to impact many more children a year. We really wanted to reach more children and give them the opportunity to share their stories and express themselves on film. So we go into various hospitals and/or team up with other organizations (like Starlight Children's Foundation, the Muscular Dystrophy Association, etc.), bring in 10-20 kids at a time, assign them cameras and filmmaker mentors, and have them create short docs about their lives in a day. Then we edit the films, add a little movie magic, and present a red carpet screening with all of the films. It's pretty extraordinary watching these youth embrace the filmmaking process to tell their stories, and how excited they are to see their films and to be treated like stars on the red carpet. It has become a really important part of what we do. We've created over 100 of these films. This is our most requested program.
Filmmaker: Where do you go from here? Do you plan on growing the foundation, or is just keeping a nonprofit afloat hard enough as it is?
Lamison: We are definitely growing and expanding. We're trying to manage the intense growth that has been unfolding. It's amazing and great but very challenging. We're currently looking for the right board members to help this growth and restructuring by necessity. We are also exploring various avenues of financial sustainability. Currently we're about 100% volunteer. It's unsustainable. We have previously been fundraising on a project by project basis, but the organization has grown to the point that we actually need a paid staff, administrative budget and resources, and our own office location to generate new activities and programs, store equipment, etc. We're at that point—the tipping point. The organization has also been wanting to go international on many levels. We've had so many people reach out to us internationally who are interested, from places including Norway, Dubai, Africa, etc. It looks like this is finally going to happen sometime this year when we bring the program to some children in Oaxaca, Mexico. Expanding internationally is a super-exciting prospect. Becoming a financially sustainable organization so that we can continue to offer programs to these incredible youth all over the country and the world, that's the most exciting prospect for our future.
View the Make A Film Foundation TEDx Talk below.