Back to selection
A 558-Day Timeline? Maxing out the New Mac Pro and Final Cut Pro X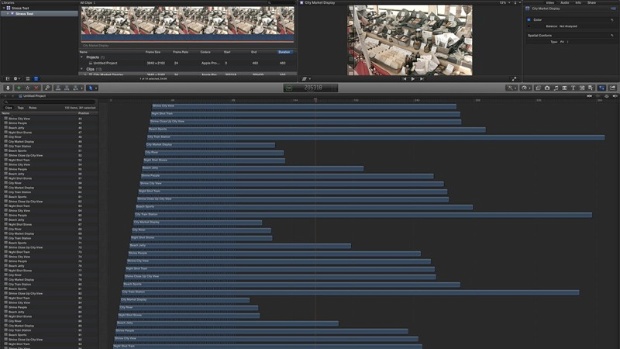 The folks at FCP.co have detailed a series of tests designed to push their new Mac Pro hardware and Final Cut Pro X software to their breaking point. In one, they layer over 1,000 tracks in 4K. In another, they create a 500,000-pixel wide timeline. And in the final, they create and scroll through a 558-day timeline.
Here, from FCP.co, are their conclusions:
We pushed FCPX and the Mac Pro to silly limits, of course nobody will make a year long or a 500,000 pixel wide timeline, but it's good to know the combination will go that far.

It seems that the real limitation is a hardware one, yes FCPX will do 16K, but you have to have the storage bandwidth to supply the huge number of pixels per second. When creating that huge timeline, we used the same clip over and over. Making the same timeline from different shorter clips wouldn't be as easy as we think very large numbers of clips within FCPX will slow the machine down.

Apple have however, built a combination that will be good for nearly all different media sized projects within the foreseeable future. The Mac Pro and FCPX handle 4K like SD, so 8K should be fine.

We will leave the last words to Alex, who we owe a big thank you for making the trip and spending the time with us.

Stressing Final Cut on the new Mac Pro tells us that Apple's programmers haven't set most of the application's limits based on the needs of editors. Instead of writing code that assumes editors would never need to (or want to) work with 16k footage, connect hundreds of layers or create year long timelines, developers have in effect said "Hey, as long as you can find hardware fast enough… Go for it!"
The three accompanying videos are posted below. Visit FCP.co for a detailed story on the tests themselves.