Back to selection
FCC Closed Captioning Rules Threaten to Remove Movie Titles from Digital Storefronts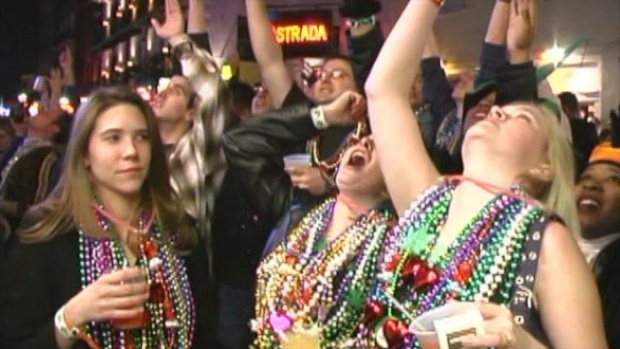 Mardi Gras: Made in China
Beginning today, scores of movies are threatened with removal from digital download and streaming sites, including iTunes, due to new FCC closed captioning regulations. The rules, mandated in a January, 2012 revision of 2010's Twenty-First Century Communications and Video Accessibility Act, require newly acquired movie and other content shown on the internet to be closed captioned if this content was shown on television with closed captioning after September 30, 2012. The rule also affects library titles that are currently or will be shown on television with captions as well as new acquisitions that will be captioned on television in the future.
Closed captioning offers viewers an on-screen transcription of a film or television program's audio track.
Although the rules do not apply to films that have never been shown on television, or to library titles that will not be shown on television in the future, some online merchants are requiring filmmakers to cover closed captioning costs on all their films or see these pictures disappear entirely from menu screens. iTunes, for example, has notified digital aggregators that all content sold within the U.S. and Canada must be closed captioned after March 30, 2014.
"The new closed captioning rules address the needs of the hearing impaired in a comprehensive fashion," explains Susan Margolin, President, Docurama and Special Acquisitions at Cinedigm. "The rules are federally mandated, which means compliance will happen. The challenge for the independent film community is that captions will have to be created for both current films and for catalogue titles. This creates an added delivery expense that hasn't always been contemplated, and in some cases filmmakers won't be able to afford to create these elements."
Closed captioning costs run from $200 to $800 per title, a potentially onerous expense for those filmmakers whose titles only generate tiny revenue from internet distribution. Carnivalesque Film's Ashley Sabin, director with David Redmon of the documentary Kamp Katrina, says filmmakers will likely consider the expense on a film-by-film basis. "I started doing the math," she says about the cost of closed captioning her company's titles. "A film like [Redmon's] Mardi Gras: Made in China does well online, but Kamp Katrina just ekes out. It's not worth it. These are small films. How are they expecting filmmakers to pay this money?"
San Francisco-based documentary filmmaker Jenni Olson is also feeling the pinch. She received a $350 closed captioning quote for her experimental doc, The Joy of Life, which she says "is reasonable for the work involved." However, she continues, "It will never earn that much in royalties. I think it will be tough for a lot of filmmakers to come up with this money or justify its expense."
Like Margolin, other digital distribution executives applaud the intentions of the law while registering concern over its impact on both filmmakers and viewers. "For the hard of hearing or anyone who does their cinema watching from a bar stool, this is as great thing," says Ted Hope, the new CEO at film subscription service Fandor. "Yet, as many other digital platforms are removing films that don't have closed captions, many movies may vanish for a while. For fans, filmmakers, and distributors, this great disappearance of titles will come as a bit of a shock because there's been very little discussion of it."
The 2012 rules followed an agreement by Netflix to caption their streaming titles after being sued by the National Association for the Deaf. Earlier that year, a federal judge ruled that Netflix and other online services are subject to the Americans with Disabilities Act.
"We have been anticipating policy changes of this nature for quite some time," says Scott Kaplan, Head of Distribution at FilmBuff. "Online video storefronts and portals are reacting in different ways, but the end result is that there are a lot of movies that need closed captioning to remain available for online rental and download. We have already been closed captioning all of our new releases well in advance and are currently working through our library titles with our filmmakers to address the new change in policy."
As iTunes is the dominant player in the transactional video space, aggregators have no choice but to work with filmmakers to bring their titles in compliance with the new rules. (Reads FilmBuff's letter to filmmakers, "After [March 30, 2014], any content that does not meet this requirement will be suspended from the U.S. iTunes Store. Due to marketplace demands and recent legal precedent, other platforms may soon follow suit.") But many platforms are automatically reaching the conclusion that the law mandates all online films be closed captioned after this month. In fact, according to the FCC's site, video programming that's already being distributed must only be closed captioned if it's later shown on television. (Over the course of two years, the window for post-screening compliance drops from 45 to 15 days.)
Fandor's Hope has picked up on this detail. "The reality is most indies, foreign films, classic and cult films — the lion share of the Fandor library — have never screened on television, with or without captions, and as a result need to do nothing, not even worry. The law is that once a film shows on television with captions you have 45 days to put captions on it and then you can keep screening it on the internet."
"As a community that wants to make our great cinema available for all where when and how they will most enjoy it, Fandor and all Fandorians look forward to the day when everything we have is captioned too," Hope adds, echoing the sentiment that all the distributors here made sure to emphasize. Says Kaplan, "While the transition to these new regulations will be difficult for some filmmakers and distributors, at the end of the day this change needs to be viewed as another major step down the path of what makes digital distribution so exciting in the first place: making films available to as wide an audience as possible."
Still, as independent filmmakers selling through aggregators struggle to re-deliver their films in compliance with the new rules, it may be library titles controlled by distributors that are impacted the most. Explains Olson, "It's a bit sad — there will be a lot of smaller indie films that distributors will end up dropping because they won't be considered commercially significant enough to warrant the extra capital investment. Especially not all at once." Margolin says it's the independent film community itself who must assume responsibility for preserving the breadth of our culture. "Collectively, as a community, we need to figure out how not to lose access to some wonderful, if commercially challenging, works due to these mandated changes."