Back to selection
5 Questions for Time Is Illmatic Director One9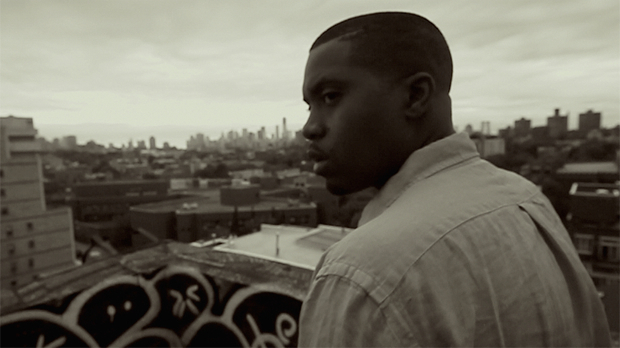 Time Is Illmatic
Last year the Tribeca Film Festival opened with Mistaken For Strangers, a sideways documentary view of The National followed by a performance from the band. Attendees moved from screening venue to a separate show space, but this year both opening night parts were combined at Madison Square Garden's Beacon Theater. First came One9's Time Is Illmatic, a history of Nas' seminal 1994 album, then the 20th anniversary performance. You can go here to read Brandon Harris' take on the movie (which plays once more on Friday). Ten years in the making, One9's debut documentary tracks the making of the instant classic album, giving Nas himself, family, friends and associates the lion's share of the voices in reconstructing Illmatic's history. The day after his big premiere, Filmmaker spoke with One9 about the film's lengthy gestation process, tracking down Nas' brother Jungle and the importance of seeing Run-D.M.C. at an early age.
Filmmaker: I understand you worked pretty closely with the festival in the final stages of editing. Was there a collaborative back-and-forth with them as you got closer to the premiere?
One9: They gave some great insight into some things, just looking at some rough cuts. It was a great experience, being brought up through the Tribeca All Access program. We're first-time filmmakers. I come from an art background: street art, graffiti art, abstract art, and I had a complete visual story based on my experience with that. Creating a film is sort of similar in that you're able to use a lot of different layers and techniques, but to create emotion is a totally different thing. We had that emotion in the film, and finding little technical ways of bringing that out was very helpful. They offered some insights into how to bring out extra emotion, maybe a close-up here or more of a face shot there, just ways that they saw things from a totally outside perspective.
Filmmaker: When you first got involved with producer Erik Parker, he was writing about the tenth anniversary of the album. How did your thinking about the project change as the album moved from its tenth to 20th anniversary?
One9: Ten years ago, Erik Parker was a music journalist at Vibe and he was doing an anniversary story on Illmatic. He knew me from the art world. He also knew me as someone who was doing experimental video at the time, and he asked me, "Would you be interested in going over to Nas' father's house?" I already knew Illmatic in and out. It was one of my favorite, if not the favorite, hip-hop albums. So of course I went over there and we left with one of the most compelling interviews in the film. It give a history not just of Nas' life, but of the Jones family, the culture, the background, the blues, the jazz. Relating it to Nas' life growing up made for an amazing backstory.
We didn't work on it ten years straight. Working out of pocket, we interviewed a lot of the producers: Pete Rock, DJ Premier, AZ and some other folks as well. We cut that into a trailer and showed that to Nas, who was really blown away by someone even doing this. We took time out from filming, put it down, picked it up. Eventually a few years later we thought, "Let's do something with it," so we sent the trailer out to some friends. It got to the Ford Foundation. JustFilms was an initiative for social justice films that they had created. The director, Orlando Bagwell, gave us a shot. He believed in our vision and gave us a research grant. We shot more footage with Nas and then showed it to the Ford Foundation. They gave us a production grant, and then in 2009 or 2010 we sat down with Nas again. He looked at a couple of rough scenes and he was blown away. It was at that point that we realized we had a full movie. We really finished the movie over the last two and a half, three years.
Filmmaker: Were interview subjects like Nas' second grade teacher especially hard to find?
One9: The hardest person to find was [brother Jamari] "Jungle." He's elusive, he's in his own world. One of the times that we sat down with Nas, he came to the editing room. We showed him a couple of cuts. 20 minutes went by, then a half hour, then an hour. Two hours go by, he sees more footage, and he's like "OK, hold on, let me call Jungle." Jungle came up and they stayed about four hours. It was just an amazing time for them, reflecting on footage from their history, their father's history, footage of their friends who were dead or missing or locked up, and they really felt a connection to what we were doing as a story. At that point, we were finally able to get the most elusive person we were trying to reach.
Filmmaker: With a few exceptions like Cornel West and Henry Louis Gates Jr., you mostly avoid the usual outside voices speaking about an album or musician's influence. Did you shoot that footage and discard it?
One9: We made a conscious decision to not make it analytical from the outside looking in. We felt it was more of a compelling story to tell it from the inside out, from people who lived it, expressed it, felt it. Nas and Jungle and his father, we felt like those were the most important voices, as well as people who grew up in the community. People can analyze it after the fact, but to go into what it really was you have to go deep into the neighborhood and the family and true stories of how people survived this crazy time period.
I grew up in hip-hop, listening to hip-hop, doing graffiti, doing all this stuff that really connected me to a spirit, a rawness, a trueness of the culture of hip-hop. I was in New York a lot, all my friends were engulfed in the culture, and I knew the stories. I wasn't in Queensbridge at all really, but D.C. had its own crazy time period, growing up in the crack era. I was living and breathing and doing things with people in cities all up and down the east coast, so I felt a connection to the true hardcore culture of hip-hop from the graffiti world to going to shows underground, everything that went with growing up in the late '80s, early '90s in hip-hop.
Filmmaker: What were some of the best shows you went to at that time?
One9: I've seen Run-D.M.C., I've seen Public Enemy, Eric B. & Rakim, you name it, crazy Wu-Tang shows. I can't even remember them all but I think the most memorable probably was Run-D.M.C. As a little kid, really experiencing blew me away.