Back to selection
A Round-Up of the Last Non-Linear Editor Updates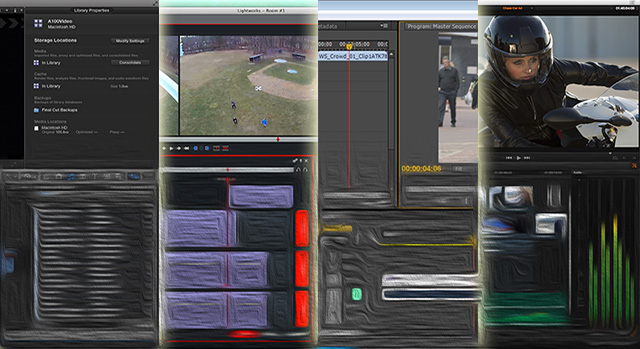 June proved to be a rich month for non-linear editor users. Adobe released their latest Creative Cloud update, Apple updated Final Cut Pro X, Motion, and Compressor, the public beta of DaVinci Resolve 11 was released, and the Mac beta of Lightworks finally appeared.
Adobe Creative Cloud
On June 17 Adobe released the second major update to Creative Cloud. For Premiere Pro this release adds a new masking feature for effects. You can now easily add an effect mask either using an Oval or a four-point polygon tool. A built-in tracking tool makes it possible to track a shape in the video with the mask.
Other improvements include the ability to apply color correction to a master clip, and support for ARRI AMIRA, Sony STtP, and Canon RAW files, and improved support for CinemaDNG formats.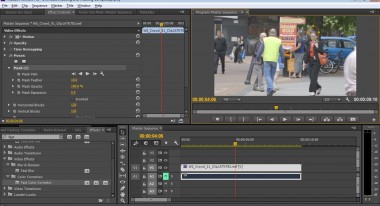 Interaction between After Effects and Premiere has been improved; you can now create a template in After Effects with a text field declared as a variable. When you import the template into Premiere you can set the value of the variable, so you can create custom lower-thirds and enter the text in Premiere rather than having to go back to After Effects.
Green Screening has been further improved in After Effects and it's now possible to export a 2K Digital Cinema Package (DCP) from both Premiere Pro and After Effects.
There's a lot of other improvements to the tools in the Adobe suite. Audition includes a 5.1 surround sound track panner and Prelude, the ingest management tool, has been expanded with the ability to create simple rough cuts that can be sent to Premiere.
Adobe: Creative Cloud
Final Cut Pro 10.1.2
The same day Apple announced the discontinuation of their pro photo manipulation tool Aperture, they released updates to Final Cut Pro X, Motion and Compressor. Was this a coincidence, or did Apple time these two announcements so that pro video users – who have been skittish ever since the release of Final Cut Pro X – wouldn't further panic? Apple isn't going to tell us, but it's fun to speculate.
Release 10.1.2 of Final Cut Pro X improves the handling of media files. Optimized, proxy and rendered media can now be stored in locations outside the library, and you have the ability to delete these files from within Final Cut. These changes, along with changes made in the previous release, make it much easier to manage project media in Final Cut.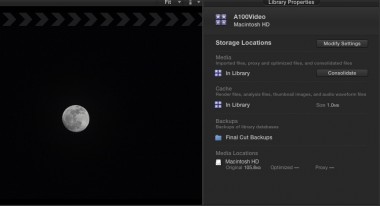 If you're editing Log footage from ARRI, Blackmagic Design, Canon or Sony cameras, you can now apply a standard Rec. 709 LUT to the footage to get a better idea of how the final footage might look. There's also a 3D LUT for the ARRI AMIRA.
Other improvements in media handling include a "used media" indicator for Compound, Multicam, and Synced clips, and the option to show only unused media in the Browser.
Apple has also added ProRes 4444 XQ codec support to this release. ProRes XQ is described as the highest-quality version of ProRes for rendering the detail in high-dynamic range imagery. It supports 12 bits per image channel and 16 bits per alpha channel, and has a target data rate of 500 Mbps for 4:4:4 1920 x 1080p at 29.97fps.
New audio commands let you set the volume of clips by typing a number into the timeline, and you can adjust the audio of multiple clips at the same time.
Finally, Final Cut already supports 4K video, but now includes a 4K export to Vimeo option (though Vimeo at the moment only supports 720 and 1080p playback.)
Apple: Final Cut Pro X
Lightworks
The NLE Lightworks first appeared in the early 1990s, and though it was never as popular or as well known as Avid, it has been used to edit several Oscar-winning movies, including Pulp Fiction, and most recently, The King's Speech.
Lightworks went through multiple owners in the 2000s, ultimately being purchased by EditShare in 2009. EditShare announced that they were going to make it an open-source project and would release versions for Linux and OS X in addition to the Windows version. But first they were going to rewrite the software. This took a little longer than expected, and they released the new Windows version in 2012, but the first OS X version has only just now been released as a public beta.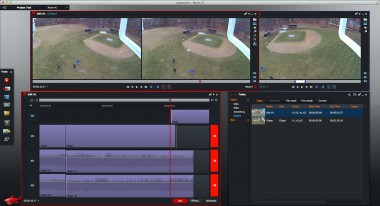 The interface of Lightworks is different but similar to NLEs like Premiere Pro and Avid with multiple tracks and preview and monitor windows. But Lightworks has a workstation feel to it; it lacks the traditional menus found at the top of the application window. It does have a main menu of command icons on the left-hand side of the application, but you'll probably want to watch some training videos before you'll be able to get anything done in Lightworks.
Lightworks is available in a free version and a pro version. The latter costs $79.99 a year, or $279.99 to buy outright, and adds project sharing, stereoscopic output, AJA, Blackmagic and Matrox I/O Support and output to 1080p, DVD and Blu-ray, AAF, EDL and OMF and AVCHD and XDCAM formats. The free version will output only to H.264/MPEG-4 up to 720p.
You can download the public beta here: Lightworks
Davinci Resolve
Back in April Blackmagic announced DaVinci Resolve 11, and now they have made available a public beta of the new release.
Resolve is a highly regarded color grading tool, but with release 10 Blackmagic started adding more editing functionality. Some basic editing functionality makes sense in a color grading tool as it can save time to have the colorist make a minor change rather than send the edit back to the original editor. But with the improved editing capabilities in Resolve colorists may find themselves being called upon to do a lot more editing!
Resolve 11's timeline supports media with different frame rates and resolutions and includes a host of trimming tools as well as standard transitions, audio mixing and basic titling. With all these features, Resolve starts to look like an interesting editing tool for those on a budget, not forgetting that it remains one of the best color grading tools available, and also has some useful media management capabilities.
The full version of Resolve is $995, but the Lite version includes most of the features in the full release, and is free. For those looking for an inexpensive editor, Resolve might turn out to be the best choice.
Blackmagic: DaVinci Resolve