Back to selection
A Life in the Theater: Philippe Garrel on Jealousy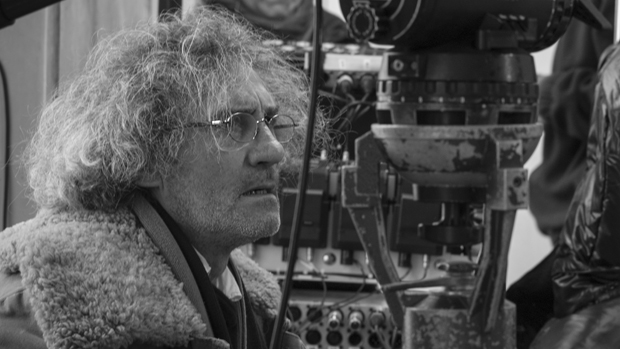 Philippe Garrel
"We are all very much making Garrel's film. He would have been happy to film at my place, or right nearby, using my clothes. Not to be realistic but for simplicity's sake, because none of that counts for much. No colors. Nothing shiny. Elizabeth, the costume designer, and I are sometimes disconcerted by his flat rejections, right down to the stitching (too shiny)."
— The Private Diaries of Catherine Deneuve,
Catherine Deneuve, 1998
Though arguably less known than his model and actor son, Louis, Philippe Garrel is one of the great French filmmakers. He was considered a prodigy when he made his first films as a teenager in the 1960s. His film about the protests of May 1968 (unfortunately now lost [Editor's note, September 2015: since rediscovered]) was considered the best film about the events by Garrel's own hero, Jean-Luc Godard.
In the 1970s, Garrel made beautiful experimental films, sometimes silent or with music only, that are very difficult to see now. He also famously dated and worked with Nico. That decade-long relationship later inspired many of his narrative features — films about intimacy, relationships beginning and ending, and mattress-on-the-floor bohemian existences. These include 1991's gorgeous I Don't Hear the Guitar Anymore, 2008's Frontier of Dawn, and perhaps his best-known film, Regular Lovers, from 2005. The latter two starred his son, Louis.
There is something very similar to today's American independent films in these intimate bedroom-set situations, yet Garrel films with an unparalleled attention to texture and to bodies within the frame. In Jealousy, his latest and one of his best, he uses black and white CinemaScope to shoot inside tiny apartments. He accomplishes complicated tracking shots for small conversations. (Willy Kurant, who also shot Godard's Masculine/Feminine, was Garrel's d.p. on this film and his last.)
Garrel has always worked with his family: his father Maurice, a renowned actor, his son, and his ex-wife, the actress Brigitte Sy. His daughter Esther also appears in Jealousy,a story based on his memories of his father. The story of Jealousy begins as a child watches her actor father leave his wife for an actress.The child, without limitations for her love, is able to admire this new woman as well as her mother, which causes her mother pain. This inadvertent hurting from openness, without malice, is the complicated jealousy of the title. I met with Garrel at a cafe in Paris to ask him more about the film.
You worked with four writers. What was the process like? We chose a little story in a few sentences, and then afterward each co-writer said, "I can do this or that scene." Each one chose scenes until we'd taken care of all the parts of the story. It's anarchic, everyone works at the same time and in disorder. There's no plan. As soon as we have the little story, we begin writing scenes. Each person writes scenes, and then I edit them together. I do the editing, I make the choices.
When I take someone's scene because I like it, I don't touch it. I leave it as it is. It doesn't get re-written by everyone. It's like editing. Meaning, all the work we do in the editing, I also do beforehand with the script for economic reasons because if everything you don't use is on paper, it doesn't cost you anything. Whereas with film… Still, I shoot very little. I'll shoot maybe six hours of film and with six hours I'll make a 75-minute film. I shoot very little in comparison to other people. So I have to do my editing of what I'm keeping beforehand. I shoot in order, and I keep everything. I just ask my editor to give it a rhythm.
You don't do a lot of takes then? Just one.
Always? Always. And when I do two it's because there was an accident. But maybe four out of five shots are shot just once.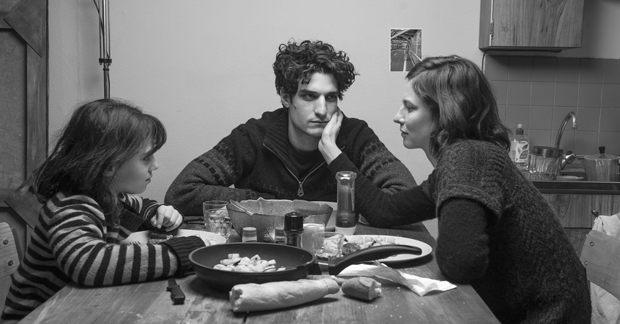 With one take only, do you allow spontaneity? Yes, because beforehand I rehearse the film with the actors every Saturday for nine months or a year. I rehearse with the actors in a rehearsal space. It's for this reason that I prefer one take because we've worked a lot on each scene. And it's for this reason that they can improvise — they know the scenes really well.
So if there's improvisation it's only in the rehearsals? No, it's also on set. For Jealousy, it was especially on set.
For example, the character of Louis — who is played by Louis, your son — is modeled after your father, and yet it seems that there's much of your son in the character. It's about your father but it's also him. Is that coming from his own improvisation, or did you write it this way as well? Both.
So much of it feels so spontaneous. There are improvised parts but because [the actors] perform them only once, you can't know which ones. This [process] sensitizes them enormously. So even if we've rehearsed a lot, they are very spontaneous because they know they're only doing one take. They do things that aren't studied because the studying was done before, in fact. At the beginning of the rehearsals, we studied what it was, and then they were free inside because we'd rehearsed so much. They're free when they're acting. There's fear, too! They're afraid. The fact that the actors do this with so much attention because it's the first take and they're afraid — that's what I'm looking for and that's what I get by shooting only one take. I love the first take that isn't, in some way, completely controlled.
Even when I did a film with Catherine Deneuve, and I was only doing one take, she came through on each take. I don't know if she knew how to do better than other actors because she's acted an incredible amount, but that has to be the only film in her life that she did in one take. Doing one take isn't the same as when other directors use the first take after they've done three, because if you've only done one take, the following shot becomes different, too. The actors have only performed once. And so it's not just about liking the style of the first take; it changes the way the actor incarnates the role because he's only doing things one time.
Because it's more real, without the repetitions? No. It's because of fear. Fear creates an alertness during the first take, and that goes away during a second take. As [the actors] perform it a lot of times, you have put them in danger again. They know the scene so well. It's fear that clears away what's become repetitive during the rehearsals. While the camera's rolling, they're afraid, and it's somehow the same thing as in the rehearsals but with something small that they haven't made up on their own, which is the fact that they've become very alert. That's what I love most.
Is the character of your father about him as a father or as an actor? Both. We see the small theater actors, actors who aren't well known, in a suburban theater. And we see, on the other hand, his private life, how he picks up his child, how he accompanies her to her mother's. So it's both his private and professional life. My father was above all a theater actor. In fact, when I see Louis in the theater – for example in Paris he acted in a play by Marivaux – it feels like when I was little, and I would see my father acting in a play.
In many of your films, you are successful at capturing the moment a relationship begins, and with this film, the entire film feels like capturing the moment a relationship ends. And yet, the romantic relationships that do end are shown in comparison to a relationship with children, a relationship that never ends. Yes, that's in the script. It's the script's little story. How the children are all that's left at the end. That's how it's constructed.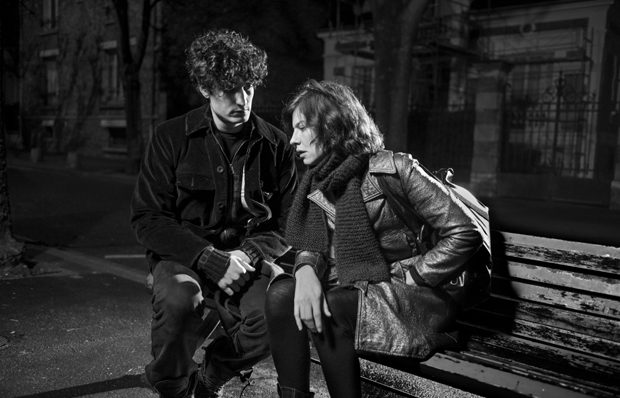 You worked here with Willy Kurant instead of William Lubtchansky [Garrel's longtime cinematographer who passed away in 2010]. Was the process different or similar? It's like with different actors. At times, it's the same, and other times it's not the same. They don't have the same style, but I leave them free to have a different style. With Willy, I tell him what I want, and it's same thing with Lubtchansky. It's complicated. The direction of actors, depending on the actor, is different because you understand what [the d.p.'s] method is. Likewise, the work with the cameraman is a little different because you understand what they know how to do well. They all know how to do different things well. Same with actors, you have to let them be, observe how they work and not get in the way of their personal style.
I find that you have to not ask people to serve your own talents. Instead you have to try to see what talents they have in their roles — be it the cameraman, the editor or the sound mixer. You have to see what their talent is and allow them to use that talent. You can't be really rigid. I don't make films where I'm the boss and all that. I'm the boss in the sense that I assure the film will be made. But I'm not the boss on set. I try to make it so each member of the crew does what they love most, what they know how to do the most.
What are Willy Kurant's talents? He is very, very strong in black and white. I did one color film with him and one in black and white. And in fact, when I did the film in color [A Burning Hot Summer], I remembered a bit how I'd worked with Raoul Coutard. I was a little inspired by how Coutard told me how you have to work with color — through the colors of the sets and the colors of the costumes. I'd worked with Coutard on three films, and I'd asked him things about color. He had explained to me what he'd done when he was making films in color with Godard, and I later applied those methods with Kurant.
But when [Kurant] did black and white [with Jealousy], it's a black and white that is different than Coutard's. Whereas the film before, A Burning Hot Summer, was a collaboration with Willy Kurant but using the methods Raoul Coutard had given me. So it's not the same with regards to black and white or color. They each have very particular talents. They are cinematographers who are very good in black and white in comparison to other people. Willy Lubtchansky, too. When we did Regular Lovers with Lubtchansky, we said we were going to imitate the photography of 1960s black-and-white 35mm blowups from 16mm. We were imitating, while shooting directly on 35mm, the photography of 35mm blowups, which was the style of the period.
And in Frontier of Dawn? That was Lubtchansky doing what he wanted.
It was gorgeous and perfect. And the scene in the cafe that transitions from the first part of the film to the second… Amazing. The photography?
The photography and the scene, the way it works within the film. Frontier of Dawn didn't work here [in France].
I think it's a masterpiece. Did it screen in New York?
Yes, but it did small business, too. Regular Lovers did much better. It's the same here. Regular Lovers worked, but not Frontier of Dawn. I can tell [who] the really big fans of my films [are] because the films they talk about are the ones that didn't work at all.
It's often like that. The best films aren't noticed immediately. It's true. I see this with others. Like when I saw Aki Kaurismäki's Juha or La vie de bohème. No one saw Juha or La vie de bohème, and those are his most beautiful films.
I'm wondering if paintings or drawings are important for you in conceiving the films. Painting, yes. It's a bit like how with the New Wave they all said that they'd learned about cinema at the Cinemathèque. But I learned about cinema at the Louvre. Because when I was a kid, I hadn't gone to the Cinemathèque yet, but I went to the Louvre once a week because I lived next door to it. So I've gone many more times in my life to the Louvre than to the Cinemathèque.
And what about for this film? For example, in Jealousy there's the old man, the old writer, whose feet [Anna Mougalis] washes. In my head, I didn't have a specific painting, but I thought it was like a drawing in the Louvre. It works like that. So it's not a specific painting, but more like the sketches the masters used for their paintings.
So that's how these paintings at the Louvre have influenced you? The composition and the subject, the bodies within the frame? I realized later that the scene is a little bit Christian. You could say that's a secondary effect because what I was trying to capture was a classical pictorial effect in reference to paintings in the Louvre, which are Christian paintings. In the Louvre, there are so many Christian painters. These were painters who painted for the church. They lived by illustrating the Bible. And I'm an atheist, in fact. So sometimes people tell me I'm Christian, and I say, no, it's the paintings that are Christian! Classical painting is Christian in the West. Almost all of them.
In this film, besides your son, you also have Esther, your daughter. Was that very important to the way you made the film — to include your family? In my way of raising my kids, I film them when they have already found other roles first. Esther had some small parts in several French films. She acted in 17 Girls, a French film. She acted in Jeunesse, another French film. When she'd had several roles, I said, "Now I'm going to film you." But I purposefully didn't film her first in order to not stifle her. It's a principle: to not do them a favor. Afterward, it's not a favor. If people identify them with my films, they can't work afterward. Likewise, I shot with Louis after he'd already worked with Bertolucci and with Christophe Honoré. And after, I said, since he was playing lead roles, "I can give you a lead role." And I did so in Regular Lovers. But I purposefully wait until they've acted in other films.
But for this movie, is there an emotional or documentary purpose in having the brother and sister play brother and sister? In the beginning, I started by working with my father. After, I worked with my father and Louis. And now that my father is dead, I work with Louis and Esther. It's so I can do scenes performed by people in my family. That interests me a lot. It's like in painting, painting one's children. Like a painter doing paintings of his children. I make films very much for myself. They're not really directed toward an audience. [A film] has to please me, and it has to please my children, too. It's really to resolve something about my real private life and not just to try to have success. In relation to others, I mean.
A sort of family portrait? Yes, exactly.