Back to selection
Five Questions with Before We Go Director Chris Evans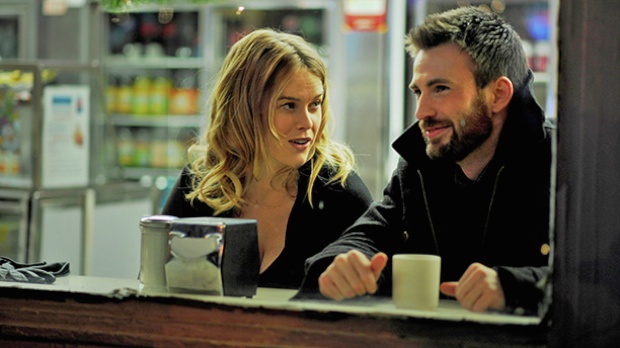 Before We Go
Making his directorial debut with a nighttime two-hander, Before We Go, actor Chris Evans has gravitated to dramatic material far removed from the effects-driven world saving of his Captain America movies. Starring alongside Alice Eve, Evans puts his own spin on the "one night" film, a sub-genre that has been explored over the years in pictures ranging from Before Sunrise to Into the Night to In Search of a Midnight Kiss. Here, Evans tells us what he tried to do differently and what's unique about Gotham at night. Before We Go premieres this week at the Toronto International Film Festival.
Filmmaker: There have been several great "one night in New York City movies," but not a really good one for some time. How is the nocturnal New York you encountered in Before We Go different from the nighttime New York seen in movies going back to the '90s, '80s and '70s? And how did today's nocturnal New York character affect the story of your movie?
Evans: Most "all night New York" movies show the city as an animal that never sleeps and that can always provide a cast of unpredictable situations and characters. Instead of making the city loud, I tried to make it quiet. I tried to show the city as an intimate world for two people to explore each other. The city has such a natural romance to it, which in my opinion was a perfect place to stage a love story.
Filmmaker: How did you come across the script, and what made you decide you wanted to direct the movie?
Evans: My agent sent me the script back in 2007 when I was considering it as an actor. I always felt it had potential. I love movies that take place in a finite amount of time with limited characters. It almost feels like a play in that regard.
Filmmaker: Visually, what was important for you to capture about New York at night, and what sorts of camera equipment and lighting — or lack of lighting — did you use to make it happen?
Evans: I chose to use mostly available light and long lenses. New York has such wonderful colors in their street lights and shops so I didn't want to over light anything. I wanted it to feel voyeuristic. Every shot is handheld. And long lenses make background lights out of focus so everything slightly dances.
Filmmaker: Even before it's screened, your film has drawn comparisons to Rick Linklater's Before series. Were those films influences on you and, regardless, how does your approach to two people, one night differ?
Evans: We certainly have a similar plot, in that two strangers meet and spend the night learning about one another. I think we're different in that the characters in Before We Go are slightly more damaged in the beginning. We're each running from something. Plus in Linklater's film there's an instant chemistry and attraction. In Before We Go it takes longer for the characters to trust each other. Aside from the plot, there's an obvious difference in shooting style as well.
Filmmaker: What was the biggest collision of filmmaking and real New York night life that occurred during the shooting of your film?
Evans: We were very fortunate for the most part. Aside from the occasional grumpy New Yorker who walked through a shot, the city was wonderful to us. Although, it was FREEZING! Night shoots in December can get chilly.