Back to selection
43 Takeaways from Sundance Artist Services Day at the IFP Filmmaker Conference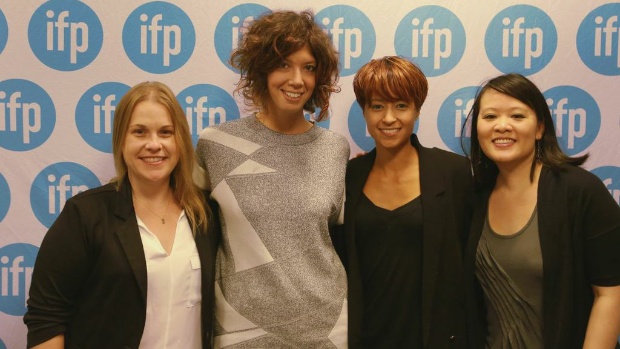 Left to right: Rebecca Green, Elisabeth Holm, Lisa Biagiotti and Mynette Louie at the IFP Filmmaker Conference.
"The most important task is to make great movies," said Sundance Institute Executive Director Keri Putnam at the start of Thursday's Artist Services Workshop at IFP's Filmmaker Conference. "All this talk about audiences is meaningless unless you have something in your heart you want to get out there."
However, Putnam's comments were not to construe that filmmakers shouldn't think about the rapidly changing world of distribution, marketing and audience building. As Putnam went on to say, it is "easier, less expensive to make a movie, but no easier to find an audience. There is a volume of movies and a flat revenue pie; it is a lot harder. 4,000 films were submitted to Sundance in 2014 alone. There were 740 films released in theaters this year. Studio movies take 84% of box office. There were 140 studio films, and 600 indie films vie for the remaining chunk. Out of those films, there were very few hits, and a few more that made money, broke even. That leaves 500 to share one percent of revenue. The same percentages hold for digital."
Thus, Putnam said, "It is time to focus on sustainability for many rather than big careers for the few."
The day's workshop included speakers covering crowdfunding, new forms of distribution, DIY theatrical and more. Here are the highlights from a day skillfully moderated by Sundance Artist Services' Joe Beyer and Chris Horton.
Crowdfunding
Kickstarter's Dan Schoenbrun and Blood Brothers producer Danny Yourd offered crowdfunding wisdom from both sides of the table. Among their advice:
Inspire local pride. Schoenbrun mentioned the film Rich Hill, which used as its Kickstarter tagline, "People still live here." By marrying the themes of the film to the pride of their local community, the filmmakers not only succeeded at their campaign but built an audience that supported the film in later stages.
You can use both Kickstarter and Indiegogo. For Blood Brother, Yourd said he campaigned on both platforms, using the latter, which allows you to keep money raised even if a goal is not hit, to fundraise for a festival publicist, knowing that the filmmakers would cover any shortfall.
Do email blasts. The importance of email lists was stressed throughout the day. For Gennadiy, a film set in the Ukraine, the filmmakers targeted Ukrainian organizations, social clubs and other organizations. Beware of assuming that you can reach your audience just via social media. "Tweets are not always seen," reminded Schoenbrun.
Use friends to test market your campaign. Don't just launch a campaign cold. Make sure your message is effective by test-screening. "Send your [campaign] link to people before you go live to get feedback on it," said Yourd. "And ask for feedback about the rewards."
Be smart about those rewards. For Yourd's film Gennadiy, the one thing he said he'd change if he had to do it again is to give "fewer rewards." Think about shipping and fulfillment, both cautioned. Said Yourd, "A DVD that would cost $25 [in a store] — you don't have to make it a $25 reward tier. It's not unreasonable to [give away] a DVD for $50.00."
Keep a campaign short. 25 to 30 days seems to be the sweet spot. "Longer can drag," said Schoenbrun.
Divide and conquer your audiences. Your film has multiple audiences. Successful campaigns know how to focus and deliver each one. Schoenbrun spoke of the James Randi documentary, An Honest Liar, for which social media strategists Film Presence divided the campaign into weekly segments. One week they'd target the magician community, the next LGBT.
Build your campaign around a transition point. "Very rarely are projects focused on all aspects of a project," said Schoenbrun. "It's not better or worse to do a campaign for production, post, distribution or festivals. But think about doing a campaign when you are transitioning from one stage to the next, when you need to the film out to theaters, or to post, or to complete financing."
Communicate well. During the campaign, said Schoenbrun, "Don't make people feel begged. And thank people personally." And after, if your project is flailing, or delayed, let people know. "Don't be silent," he said. "People get upset."
BitTorrent Bundles

The next panel contained a glimmer of controversy as filmmaker David Charles and BitTorrent's Director of Brand Marketing, Straith Schreder, fended off comments from an audience for whom the company's name suggests nothing more than theft. "My notion of BitTorrent is piracy, and that's it," said one woman in the audience. "So I don't understand [BitTorrent bundles]. Is this just a PR platform?"
"No, it is a publishing platform based on the open-source protocol of BitTorrent," responded Schreder. "It is a separate website and has nothing to do with the pirate ecosystem. As for monetization, one way people monetize their work is to drive traffic to iTunes, another way is email gates, which are part of the file. Coming soon is opportunity to make that a pay gate."
In short, filmmakers can package portions of their films — deleted scenes, marketing materials, or other content — and distribute them to the predominantly young, tech-savvy audience that uses BitTorrent. Charles, for example, was able to use the service to drive traffic to the crowdfunding campaign for his film Mythical Creatures: "They were able to tap into independent film world, and we didn't have to pay $10,000 to a PR person or take out ads. [BitTorrent] drove 61% of our Kickstarter traffic.


The takeway here: for the right project, consider BitTorrent bundles.
Working with Brands.
Both branded content and brand-support films were discussed at the next panel, which featured Interbrand's Dominik Prinz, Bond Strategy's Marc Schiller, consultant Brian Newman, filmmaker Jon Reiss and Vimeo's Jeremy Boxer. For some, brands are a limitless source of funds, if only they could be tapped. For others, working with brands is nothing more than capitalistic sell-out. The reality, these panelists argued, is somewhere in the middle. Said Boxer, "[We are moving to] brand-enabled creativity, not branded content. Brands are funding filmmakers who have much more latitude in their creative expression. And we are shifting from content going to the brand's page to now thinking about different brands who want to amplify what the filmmakers have done — brands amplifying the filmmaker's page."
Credibility, authenticity and relevance. Those are the three things filmmakers need to make sure are enhanced, not diminished, in a brand partnership. Said Prinz, "Brands have the power to change the world because they can latch on to causes and have access to millions of people. But [your film] has to be relevant to the people you are talking to. It has to be authentic. And if you are a brand, [a film project] has to reflect who you are as a brand. It has to be credible. If you don't hit on these three things — credibility, authenticity and relevance — you are set off for failure."
When targeting a brand, consider its history. "Every brand that has a bit of heritage wants a doc," said Schiller. "That's a hot thing right now."
Beware of greenwashing. Don't get used to provide a PR spin to a brand in crisis. Here's Schiller: "We get calls from pharmaceutical companies all the time who are looking to clean up a problem. So learn about the real ethics of a brand. Google is a powerful tool. Was there an incident that created a challenge for this brand?"
Agree on your definition of success. Said Schiller, "Always ask the leadership team, what does success look like for you? It's not obvious. Sometimes brands don't know what success looks like. Success is defined by a unique situation. If you can align on the interpretation of success, you guys will be partners for life. If not, you will find yourself hating every moment of it. When you get in bed with brands, everything has a price."
Make dinner plans. If you are working with a company, make sure it's a serious relationship. In other words, you should be having a dinner or two with senior executives, not just afternoon meetings with junior marketing folks, said Reiss. "If you are not having dinner with execs of a brand and you are doing a movie with them, there is a problem."
It's not just about money. Working with a brand is not just about production funds, Reiss and Newman reminded. Outreach and awareness building are even more valuable. Newman spoke of the huge effort Patagonia put into publicizing and even distributing in its stores the doc Dam Nation.
Deliverables.
Possibly the most fearsome word in the independent film lexicon got its own section of the workshop. There was a lot of solid advice and technical information here, but I'll just leave you with a few thoughts from Emily Eddey of Light Iron.
Budget for deliverables. Eddey broke it down on stage, but, in ballpark numbers, she said technical deliverables for a domestic digital release generally total around $25,000. For a festival release, budget $8,000.
Plan on a DCP. "A DCP is now the standard deliverable," she said. That will run you anywhere from $500 to $4,500 — and beware of vendors competing on the lower end of that scale. A Pro Res master will cost between $500 and $1,000, and that old (but still used) format of HDCAM/SR will run about $700 to $1,500 to output and master.
Don't encrypt! If you make a DCP, you will be tempted to play like the studios and encrypt your film. However, everyone on this panel cautioned against that. Eddey pointed out that you need a separate encryption key for every theater, which means that for some festivals, you'll need multiple keys for your film. And you may limit the festival's ability to switch screenings or add a screening on the fly. Everyone felt the piracy concern was minimal compared to these possibilities.
Negotiate your distribution requirements. Before making a deal, look at your distributor's deliverables list. Budget it out, make sure you can comply with it, and try to negotiate out excessive items.
DIY Theatrical
The most inspiring panel was the session titled, "How Small Groups of Fans Power the Big Screen." It was essentially a case study of the DIY theatrical distribution of Lydia B. Smith's Walking the Camino: Six Ways to Santiago, a documentary about six strangers walking the 500-mile Spanish pilgrimage. Passed over by distributors and A-list festivals, Smith and her team leveraged a fan base not recognized by mainstream marketers to sell out audiences around the country. Of her various strategies, Smith said, "How often I get credited for doing this great plan, but it's just that I got turned down every other way. We spent a lot of money and time applying to festivals. My regret is how much money we spent trying to get into the top level festivals. Without a sales agent or someone in the in or huge stars, it's really hard to get into the top level festivals. I realized that all the distributors go to the top band of the very top film festivals."
Among the things she did:
Paid rough-cut screenings. While the film was in post, she booked theaters to screen rough cuts of the film, selling tickets and making audience members feel as if they were part of the film's shaping.
Use extra footage to develop audience and for crowdfunding rewards. "What people wanted was videos," said Smith of her fans during the film's production and post-production process. "We put out tons and tons of little videos and get volunteers to cut them together. We had both a six-minute trailer and a 23-minute trailer, which they could see for $25 donation.
Leverage festival play into local distribution. Walking the Camino had a "double premiere" at Ashland and AmDocs, and Smith used the former to launch an unexpected six-week run of the movie. By selling out two festival screenings, she demonstrated a strong local audience for the film and then went back to Ashland where a local theater ran the film for six weeks.
Think about audience when targeting festivals. Too many filmmakers just go for the biggest festivals. Instead, argued Smith, go where your audience is. "We played in markets where we had the largest support rather than going to NY or L.A. first," she said. "American Pilgrims gave us two small grants, and we worked with chapters and went to places [where they had members]."
Sell out your screenings. ""If you get into a festival and you're just starting out, I want to encourage you to be responsible for selling out your films," Smith said. "Don't think, 'I'll kick back and go to the parties.' We didn't rest until we sold out our screenings. We reached out to churches, yoga studios, outdoors groups."
Sell merchandise, and save your energy for doing so. In true indie band fashion, Smith manned the merch table after her screenings. She said she has sold DVDs and other items to the tune of $70,000, with a 45% return. But, she said, her personal presence is what drove sales: "if my energy was down, our sales went down."
Hire a skilled booker. Michael Tuckman, who Smith used to book theaters, was on the panel. She said she was encouraged to try "the Burn model," which involved four-walling theaters, but rejected that: "I felt in my heart of hearts it was wrong." Instead, she hired Tuckman, who'd get her one-to-two day runs that then expanded. "People wouldn't have considered us if it wasn't for Michael and his reputation," she said. "He would convince [theaters] that I was going to put in the work and draw an audience. They'd give us one or two days, and then when we sold out they'd give us more days."
Building and Selling from a Website.
Squarespace's Jeremy Schwartz and VHX's Jamie Wilkinson jointly hosted a talk on independent film website design. Their advice can largely be boiled down to:
Keep it Simple, Stupid. When you start to publicize your film, before production, said Schwartz, you need "a clean home page and a simple call to action — collecting email addresses. […] It is so hard to get traffic, to get people to pay attention, to get them to read three paragraphs about why what you are doing is going to better the world. When it comes to the landing page, you have to be direct and mission-driven."
Deepen the Relationship. Once your film is out in the world, think of ways you can deep the relationship with the fan base you have built. What else can you do with your movie, asked Wilkinson? Keep the conversation going.
Give away free content. Said Wilkinson, "There's a direct correlation between how much content people have sold on VHX and how much free content they've given out."
Run flash sales. "Flash sales" — where you suddenly discount and promote a film for a short period — "work every time," said Wilkinson. "But attaching a time limit is essential." And look for news events that would add logic to a flash sale, and be creative with your coupon code. Wilkinson cited the example of Minecraft: The Story of Mojang, which ran a flash sale with an irreverent coupon code following the game's sale to Microsoft.
Create deluxe editions (and save your unused content). Your content doesn't need to be priced cheaper and cheaper as it moves through the distribution chain, said Wilkinson. "You can create a digital equivalent of a deluxe Blu-Ray." As an example, check out the VHX page for Stripped, which offers several different deluxe editions, including a fully-loaded $65 version with hours and hours of additional content.
Producing Challenges and Takeaways
The final program of the day, titled "The Producorialist," featured four producers speaking about the big issues — sustainability, the challenges faced by the independent film business, and the things producers do to stoke their enthusiasms for their job. Beyer organized the panel around several questions, the first of which was:
The Single Biggest Challenge Facing Producers Today
For producer Mynette Louie, it was "the devaluation of content." "The audience doesn't see the value [in a movie]," she said, when there are so many other, often free media products vying for their attention. The second biggest problem: sustainability.
For Obvious Child producer Elisabeth Holm, it was the competition from television. "I feel like I should be making television instead of movies," she said. "Even if you look at panels here [at the IFP], there's the introduction of web series. It seems like a lot of the really exciting, edgy [projects] are in television. People are more apt to take those risks there."
For It Follows producer Rebecca Green, it was the ballooning job duties of the producer. "There's this acceptance that the job of the producer is growing and growing," she said. "We are on a lot of projects a lot longer, and we often can't do multiple projects. What we are expected to do is just too much." As an example of a way to counteract this, Green talked of pushing back against a hired PR firm that expected her to do too much of what she thought was their job. "I'm trying to find a balance between not letting things not happen but letting people that there are things that are truly not my job."
Green's answer was echoed Deepsouth director Lisa Biagotti, who also spoke of producer mission creep. "Every time I think I'm done there is another producing role that I have to have, which is now 'impact producer.'" she said.
The Biggest Opportunity Producers Fail to Recognize
For Holm, that was that the definition of "success is going to be different on every project." She also quoted producer Ron Yerxa, who, at the Sundance Producers Lab, answered a similar question by describing the independent film model as a bottle of beer: "'The glass is broken, but there's plenty of beer left in the bottle. So, the opportunity is that beer.'"
For Louie, echoing Holm's earlier comment, the biggest opportunity independent producers have failed to recognize is the fruits of the television world. Still, that world can be hard to access "as a creative producer if you are a non-writing producer."
Said Green, "We are the opportunity we are missing. We are the tastemakers. We read scripts, and we are in the power position of deciding what gets made." In other words, Green urged producers to not feel like they are lesser members of the process. "We feel we are in service to the movie and the director, but we choose to be. Evaluate the choices you are making, and remember you are the tastemakers. You are putting your stamp of approval on a project."
Single Pieces of Advice
What single piece of advice would these producers give that would help someone else?
Make the film, said Biagiotti, and don't hang yourself up on thinking about long-term models: "If you have one shot, go for it. Make the film you want to make. Be okay if that's the only film you want to make."
Get them to say no, said Louie, quoting James Schamus by way of me. Schamus gave me this advice years ago, and while it's counterintuitive, ignore it at your own peril. Too often you'll try to get a financier to say "yes," and you'll do meeting after meeting, and you'll wait month after month. But "yes"'s often come quickly, and people in the industry often hate to say "no." Don't waste time in relationships that won't end in anything concrete. Get them to say no and move on.
Try to be happy. Green spoke emotionally of the ways that filmmaking can inappropriately crowd out the more important things in life. She spoke of her mom's passing, and the argument she had by cell phone over final cut language while she was shopping for a dress for her funderal. "We're just making movies," she said. "It's a privilege to make movies. There are a lot oof people with regular day jobs; we are making art with friends and having amazing experiences. But the majority of movies we make are just another movie in our culture, and I don't put too much importance into it. I'm very lucky to be doing this. I want to have fun and be happy and enjoy it, and a lot of us don't."
Finally, said Holm, remember that movies are like a marriage and a marathon. "As in a marriage, work with people who are not shitty. And, like a marathon, remember that making movies and especially producing is such a long process."
Photos by Douglas Ros.