Back to selection
Kickstarting the Joan Didion Documentary We Tell Ourselves Stories in Order to Live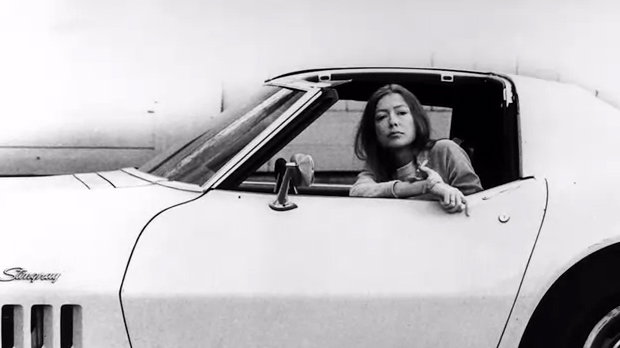 We Tell Ourselves Stories in Order to Live
One of the most high-profile projects to take advantage of Kickstarter's support system, We Tell Ourselves Stories in Order to Live turns its lens onto Joan Didion. President Barack Obama referred to her as "one of the most celebrated American writers of her generation" when presenting her with the 2012 National Humanities Medal, adding "I'm surprised she hasn't already gotten this award." It's equally surprising that no documentary has yet been made about the essayist, journalist, novelist and screenwriter.
That changed when her nephew made the pitch. Actor, director and producer Griffin Dunne is related to Didion through his father Dominick, whose younger brother John Gregory was married to Didion for almost 40 years. Griffin's observation of "Aunt Joan" over his lifetime has extended beyond the familial into the professional as he watched creative, political and other types come into association with his aunt and go back out into the world, extending her influence through their work. In the documentary's fundraising video, Griffin refers to his aunt and uncle as "probably the hippest people on earth." It's a claim promising a good amount of unpredictability and fun for the documentary alongside its more serious examination of Didion as "a voice of moral authority" for more than half a century.
Griffin, who will be co-directing alongside veteran doc editor Susanne Rostock, spoke about the technical and aesthetic decisions behind his forthcoming film, including the joys of having "true independent money" to work with, while Alex Daly of creative services agency Vann Alexandra shed light on the doc's Kickstarter campaign, which has cleared $200,000 since its launch on Oct. 21.
Filmmaker: I imagine you went the crowdfunding route to both gauge and build an audience for the film as well as to not be beholden to commercial interests. Is this kind of freedom very different from and perhaps more scary than anything you've done before?
Dunne: That's exactly why we did it. I'd never done anything like this before in terms of Kickstarter and I don't find it scary; I'm really very excited about it. It's an incredible opportunity to get this movie made. While there's definitely an audience, it's still not necessarily the kind of subject where you can walk into a financing company and say, "I want to do a documentary about Joan Didion" and they go, "Sure, here's a million and a half dollars." But what's great about it is not just getting the money that'll take me to rough cut, but the response has been so huge that it'll be very clear, when we do go to an investor to complete the film, that there's a big audience for it. So we're in a far better position than when we were just talking about it conceptually.
Filmmaker: How do you think that you're going to balance the objective viewpoint that a documentary is often expected to have with the personal connection and reverence you have for your aunt?
Dunne: I don't think there's any rules for any documentary. What you described is certainly pretty traditional in a terrific way, but this isn't really going to be people coming at it from different directions. It's going to be about the filming of a life, the good and the bad of it, what I was there to witness and that I played a part in. This will be very reverent, so if anybody doesn't like her work they're not going to like this. Creatively, I'm really trying to tell her life through her own words because she described her own life the best. That's what she does. That's why it's called We Tell Ourselves Stories in Order to Live. We will have interviews – that's particularly what this [campaign] is for – and it will be everyone from people that knew her in her life to people who were influenced by her to literary critics who maybe have never agreed with her or liked her work. The fact that I'm related is not really featured too heavily in this; it's not My Dinner With Joan or anything. The reason it's getting made is because I'm her nephew and I direct films, but that's not my take on it.
Filmmaker: In your Los Angeles Times interview about the project, you said there was "a certain obligation" to make a documentary about your aunt because one had never been made before. But given her dense and rich literary canon – which, as you said, documents her life so thoroughly in words – why would you say there's a need to do so on-screen cinematically as well?
Dunne: Because I'm a filmmaker. And I think that her writing is incredibly visual, her life is perfectly dramatic, and people who go see this who might be familiar with one of her things would then be turned on by other things. It's a perfectly legitimate question, but then it's like, why do a documentary about any writer if they've written anything? Which, by the way, doing a documentary of a writer – unless they stabbed their wife or something – is pretty challenging. We're lucky to have her books to get that across. So it'll be that, and it'll be illuminated by the interviews and enhanced by the archival footage on the subjects she's writing about.
Filmmaker: I keep hearing from people who viewed the Kickstarter video – filmmakers and non-filmmakers alike – about how much they love the video for the fact that you do very much keep that familial relationship aspect to the side. You did an outstanding job of saying, "Yes, we are related; this is who I am, but here's the story and the whole point of it," and I think that's really resonating with people.
Dunne: I do, too! I was the obvious person to go on camera to pitch it and [my relationship] will be absolutely a part of carrying it through, but… that sort of threw me. I haven't really figured out what that part is. Right now, I have a much more objective point of view and, if anything, a biased point of view, not just as a protective nephew but as a fan of her work. But I'm not sure what role the guy on camera will play. This is pretty common, I think, with documentaries. It's constantly changing. Every proposal I've ever read for a documentary, the final product isn't really like the proposal. It's because the filmmakers go into the editing room when they've got everything and hone their perspective. Or the story itself takes a turn they weren't expecting. So we just leave ourselves open to all that.
Filmmaker: How are you and Susanne working together to tackle the directorial duties for fulfilling this creative vision?
Dunne: Susanne is a very extremely accomplished editor, so that's definitely one of her great strengths. I have only done narrative films and she's only done documentaries, so we complement each other like that. As far as interviews and that sort of thing, I've been more the one out front and asking the questions because the people we're contacting are people I already know and grew up with or know professionally.
Filmmaker: Can you talk about the technical choices you've made for the film – camera, lighting and the like?
Dunne: The sections where we shot Joan reading in settings were art directed by Happy Massee, a very successful set designer, and shot by Reed Morano, who's a great cinematographer, on an ALEXA. Then there are other sections that William Rexer shot on a Red camera.
Filmmaker: Are you going to recruit a composer for the film?
Dunne: Yeah, I would imagine. I think that this calls for a score of sorts. The majority of the budget I think is probably going to be devoted to music rights and archival footage rights.
Filmmaker: Once the film is complete, what's your ideal method of distribution? Are you thinking of doing festivals or going straight to a wider audience?
Dunne: It seems a natural for festivals, but I hope we have a distributor before then.
Filmmaker: I'm sure you're getting inquiries – I would hope the success of the campaign is helping with that.
Dunne: Yeah, actually we've had quite a few, which has been great. But we don't really want to partner. We love all of this true independent money that will get us to rough cut.
Filmmaker: Lastly, what was the pitch that you gave to your aunt that made her say yes to a documentary after all of these years?
Dunne: She asked her publisher to ask me to do the Blue Nights promotional video, and we made a very, if I say so myself, beautiful collage of words and images. We had a great experience where we'd take the crew and all pile into a van with Joan and go up to St. John the Divine and shoot there and then go to the Botanical Gardens. It was great! It was a real run-and-gun kind of a shoot over a period of two days. The crew, who were all Didionites, could not believe that they got to have lunch with Joan, and Joan loved the experience. So when we finished the short and saw it, it seemed a natural progression to make a feature. And Joan had already been baptized with kind of what we wanted to do and how we worked, so it really was not a big struggle. She was pretty open to it.
•
Filmmaker: Alex, how did you sell the creative team on your services and specific strategy?
Daly: I met with [producer] Annabelle [Dunne] in person and we immediately liked each other. Not only did I love the project immensely, I loved the team too. (I think they feel the same way.) I was able to sell our services on our track record alone. We have crowdfunded several documentaries, and have a 100% success rate across the board. We also collaborate with an excellent team of filmmakers, who produced the video, and a great publicist.
Filmmaker: How did you create the video?
Daly: Prior to starting Vann Alexandra, I was a film producer, and I draw from that experience when producing these videos. We collaborate with a production company named Rava Films, which is run by a lovely husband and wife team. They brought their filmmaking expertise to the table and integrated the fundraising element. It worked really well and we will continue to collaborate on campaign videos moving forward.
Filmmaker: What were your strongest dos and don'ts for the film's team when it came to crowdfunding?
Daly: Every project is unique. We like to work closely with our clients and find what works for them as opposed to imposing our ideas on our clients. Of course there are many do's and don'ts that we have learned from working on so many campaigns, and that expertise is part of our services.
Do: Test your idea before going public. Reach out to influencers, press, etc. and gauge whether or not there is an interest around your story.
Do: Come up with creative and appealing rewards. Get your donors engaged in your campaign through the rewards process.
Do: Consult with professionals if you're not confident with certain aspects of the campaign (video, copywriting, press). Think of it as a small investment that will pay off in the end.
Do: Be realistic about your funding. Failure is a big risk, i.e. with Kickstarter, if you don't raise all the funds, you get nothing. It also doesn't look good if you don't reach your goal from a publicity perspective.
Do: Before you launch, send it to your mom. Does she understand it?
Don't: Launch right before or around the holiday season. It's an almost impossible time to fundraise.
Don't: Be generic. Don't stare into the camera for your campaign video and say, "Please give me money!" and think that's enough to get people excited.
Don't: Be boring. A lot of people are using crowdfunding nowadays, so think of ways to set yourself apart from everyone else.
Don't: Think the campaign is over when it officially ends. That's where the real work begins.
Don't: Be intimidated. If you do it right, it could be one of the most exciting things you ever do.
Filmmaker: How are you guiding the team now that the goal was reached and the amount continues to grow?
Daly: Once a campaign goal is reached, every dollar beyond that only strengthens the possibilities for the project. Additional funding will go towards archival research, which is instrumental to this documentary. We are currently strategizing the most creative and effective ways to use our remaining weeks from a fundraising and outreach perspective. Several of our campaign supporters are accomplished writers, artists, and designers and we are working out fun and compelling collaborations to raise even more awareness around our campaign. For example, we collaborated with fashion consultant and journalist Christopher Niquet and illustrator Joana Avillez to design limited edition t-shirts exclusively for the campaign. We are also having our supporters take over our Instagram to raise awareness around the campaign. We have had takeovers with journalist Stephanie LaCava and the fashion blog, Man Repeller. More exciting things to come!