Back to selection
Five Questions with Monsieur Le President Director Victoria Campbell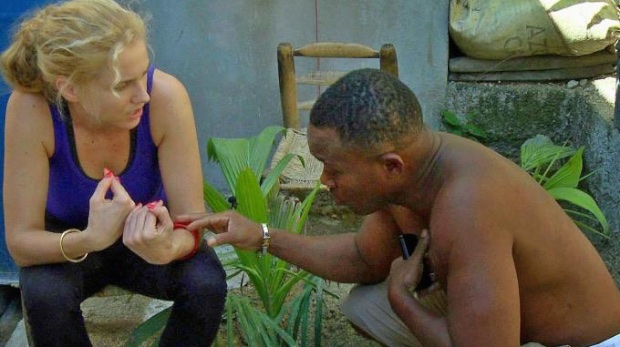 Monsieur Le President
World premiering tonight at DOC NYC is Monsieur Le President, the sophomore feature documentary from New York-based visual artist and filmmaker Victoria Campbell. In 2010, Campbell and a friend travelled to Haiti to volunteer after that country's devastating earthquake. There she met Gaston Jean Edy, a voodoo priest, and returned over three years to film a doc that tracks both his efforts to start a local medical clinic as well as her own complicated friendship with her subject. Below, Campbell and I talk about the complications of that relationship, filming in disaster zones and one shared favorite movie.
Filmmaker: Tell us about volunteering in Haiti after the earthquake. When did you decide to travel there, and at what point did the idea of making a film occur?
Victoria Campbell: I was living in New York City at the time of the earthquake. My dad called me up and said, "Go down to Haiti and translate for the docs and nurses. Go with your friend Abby who also studied French." So I asked my friend, Abby, if she was up for a trip to Haiti. We flew into Santo Domingo with a suitcase filled with basic medical supplies we bought at a Duane Reade. We were told by everyone in Santo Domingo the border to Haiti was closed and no one was getting in, that it was useless to try. A Dominican friend suggested we wear scarves and rosaries and dress as nuns. She gave us her clothes and rosaries, and we got on a bus headed to Port-au Prince — they marked our passports with "religiosa" stamps. French journalists snickered at us on the bus, thinking we were religious missionaries from the U.S. We entered Haiti a week after the earthquake. We had one contact at a hospital called Saint Damien, where we worked for the next several days as translators and nurses. We slept on the roof of the hospital with doctors and journalists from all over the world (a woman taught us how to dress wounds and do basic catheter stuff as they were desperate for help). We documented some of our trip that first week but mainly stuck to taking care of people and translating. When I met Gaston [Jean Edy] five days later at the hospital I thought it was very interesting he was a voodoo priest, and I hoped to return to film his ceremonies. But I never envisioned a film until much later.
Filmmaker: Your principal subject, Gaston Jean Edy, became a personal friend, and the film deals with the complications of that. How did you balance your personal relationship with him with the demands of being a filmmaker?
Campbell: Since he was quite excited to be the center of attention it was easy to film him and have my camera simply as an added limb. He always felt comfortable with the camera on, and in a sense I became closer to him by filming him. I was able to see more layers. He was and is a showman of sorts, a hustler if you may, but we always understood that about one another. I was in a sense a hustler too — gaining the access he gave me and filming his neighborhood (to document or tell a story I didn't quite know at the time what it would be). I was allowed into his neighborhood because we were close and he trusted me. I trusted him as well.
Filmmaker: We share a favorite film — Barbara Loden's Wanda. What have you taken from this film in terms of your own journey as a filmmaker?
Campbell: Yes I love Wanda. It is such a testament to great filmmaking with a small crew and a burning desire to tell a simple story: a little offbeat, raw, unpolished and slow. I also loved how Barbara Loden put herself in it; some of it was loosely based on her own life and then she took liberties. It was a way to get out of being at the mercy of someone else's story all the time as an actress. It was a way to create her own work and her own vision. And that has been my aim. Documentary just became the easiest and quickest way I could gain access to my own life/work by picking up a camera (albeit not always very masterfully) and filming what I could, trying to make sense of my own world and experiences — how I see what's around me. I still feel clumsy with my work but much more clear with my vision and how I want to tell stories, and that's a great freedom from waiting for approval as an actress, waiting to be cast (since I started out as an actress). There are so many stories to tell and so many fascinating lives to peer into, and the camera gives you amazing access and freedom to do so — especially in this day and age.
Filmmaker: You're also an actress, and your various other films and shorts have dealt, in parts, with the subject of performance. How does Monsieur Le President continue this line of inquiry?
Campbell: As much as I love cinema verité and such auteurs as Maysles and Wiseman, I'm not sure my path will follow in their footsteps — although I would like to make a film where I am utterly a fly on the wall. One day, perhaps. I think being an actress makes me want to be part of my films because in a way I am melding both worlds: performance and real life. I can't pretend I am not having this close relationship with my subject, so it seems just natural to be part of the story. And certainly this is the case with Monsieur le Président. So much of what is revealed of him is through our chatter, and I wanted the audience to feel caught in my own surreal travels back and forth between Haiti and NYC. Maybe that is what I seek, to have the audience experience what I am experiencing. Hopefully in the future I will trust the visual experience more and not have to extrapolate so much. This is my hope…. Little by little.
Filmmaker: What are the challenges — aesthetic and ethical — of shooting in disaster zones?
Campbell: Disaster zones are often hard to navigate and require you to be prepared for what you will see and encounter. Things become really ripped open and you have to be on guard. Yet at the same time you have to be relaxed and not scared, if that makes sense. People will pick up on your fear and that just creates tension, shame, walls to be put up. I felt I was always sort of letting go, becoming loose-limbed to really listen and empathize with people and not feel anything I was seeing or witnessing was strange or awful — that it was sad and tragic but all very human. I certainly was aware that I was this white American woman with a camera who had come to film tragic events. I had no illusions on that end, but I wanted to really be part of that neighborhood, Christ- Roi, and part of the people. Since my friend and I had become makeshift nurses initially following the earthquake, I felt a very strong connection and bond from the beginning. Had I been a journalist heading down to tell a news story I think I would have felt differently with the camera.
The ethical question is always difficult. And I am not a great person to respond to it. But I think it's important to be respectful and know why you are there in that disaster zone – how you are connecting to the people around you and the situations you see and encounter. It's important not to separate yourself too much or use the camera as a way to protect you from what you are seeing or the people you are filming and encountering.