Back to selection
"The Lingua Franca of Non-Fiction Filmmaking Should be the Language of Cinema, Not Grant Applications": Sundance Documentary Film Program Director Tabitha Jackson at DOC NYC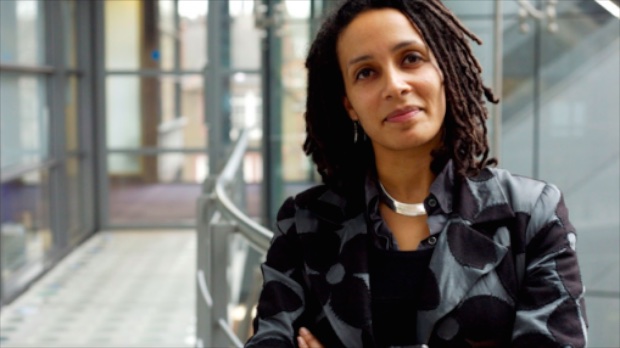 Tabitha Jackson
"We have to make artful films," declared Tabitha Jackson at this morning's DOC NYC keynote. Her thoughtful and engaging address — accompanied, half-jokingly, by what she dubbed her first attempt at Powerpoint — was filled not with statistics about audience reach or NGO partnerships but instead illustrations drawn from documentaries as well as poetry, visual art and experimental films. Indeed, this Director of the Sundance Documentary Film Program — one of the field's most important funders — could not have been clearer about the direction she intends to bring to the program when she said, to applause, "The lingua franca of non-fiction filmmaking should be the language of cinema and not the language of grant applications."
One year into the job this week, Jackson's background is well known within the documentary community. A former Commissioning Editor at Channel Four in London, Jackson has been an executive producer on such formally ambitious docs as 20,000 Days on Earth, The Pervert's Guide to Ideology and The Imposter. So, it wasn't surprising when she said, "So many [documentary] films don't need to be films. They don't speak the language of cinema."
But what was notable about today's speech was the situating of her advocacy within an overall narrative for the Sundance Documentary Fund program. She identified "three pillars" of the program she termed "non-negotiable," associating each with a different era of its history. The program's first director, Diane Weyermann (now at Participant) was known for a focus on human rights subject matter. She was succeeded by Cara Mertes (now at the Ford Foundation's JustFilms), who was committed to social justice. The third pillar Jackson intends to champion, and which will be just as sacrosanct as the prior two, is artistry and cinematic excellence.
Jackson illustrated her point with a list of values expressed as binaries in which documentary is "painting, not illustration"; "metaphor, not simile"; "the question, not the answer," and "empathy, not sympathy." Going on to recall the recent writing of Leslie Jamison, she dubbed documentary "an empathy machine" and, reporting the outcome of a Sundance Documentary Program staff retreat, reported the takeaway that "art changes the way we reach people." (Similarly, about the Paradise Lost trilogy, Jamison writes in her The Empathy Exams, "These filmmakers are curators of outrage; they entrust you with an injustice it hurts to hold. So you figure out somewhere to put it.")
Jackson made clever illustration of her ideas with film and audio clips as well as paintings. She found a sly analog example of the current trend for data-driven, algorithmic "curation" in Komar and Melamid's satiric "Most Wanted Painting," a treacly historical landscape whose style, subject matter and even color is derived from focus group findings. And she found a rallying cry for sensitive and artistically compelling documentary practice in the work and words of Latvian filmmaker Herz Frank, whose 10 Minutes Older, an excerpt of which she screened, contained for Jackson "every emotion you might experience in an entire lifetime" in the single shot of a child watching a puppet show. She quoted from Frank's writings:
The first rule of the documentary filmmaker is, have the patience to observe life. If you are observant, if you look not only with your eyes but also with your heart, then life for sure will present you with some particular discovery. And then the reality recorded by you will gain an artistic point of view, become inline with art and always excite people. The facts and events will become old — they become history — but the feelings we felt regarding those events stay with us. Therefore, art is the only living bridge between people of various generations and time periods.
Jackson's speech ended by pivoting to a broad-strokes discussion of how these values can be implemented within the documentary field by both artists and funders and then a set of actions she'll be undertaking with her program at Sundance. She called on us to "demand more" of the field, and she warned against the "creeping up of budgets" and the protracted fundraising and production schedules of so many documentaries that result in documentary becoming a field that only members of the elite can participate in.
Asking herself, "What can Sundance do?" Jackson pledged to "experiment with our fund," which she dubbed "the gateway into Sundance and the Documentary Film Program." This experimentation will involve examining both the structure and timeline of that funding. "We want to make sure we are taking the creative risk early with the filmmakers," she said, "so that we can put the imprimatur of Sundance on their films to help them raise money more quickly and easily and make their film and move on to the next one." As for the funding cycle, Jackson said Sundance will reexamine its current bi-yearly schedule to make sure it's the most responsive to the needs of filmmakers.
Finally, Jackson teased something new: Sundance is "committing to create an initiative that is all about artistic experimentation — backing people rather than their projects… and giving people the space to fail," she said. Jackson said Sundance was in the midst of identifying potential partners — Cinereach was one possibility she cited — but that this new program would develop itself in the shadows for now. "The weight of expectation can be an oppressive, constraining thing," she said.
Jackson wrapped by quoting from a recent speech by her predecessor, Mertes, who "talked of a false dichotomy between art and social issues." "I agree with that," Jackson continued, "but at the moment it feels more aspirational than real. I think there is a gap, and I think if we come together we can close that. If we come together as a community — financially, collegially, communally, experimentally, then we can trust the artist to lead us creatively, morally and socially. If we let them."