Back to selection
"All Films are about the Tugging of the Heart": 5 Questions for Jeremy Irons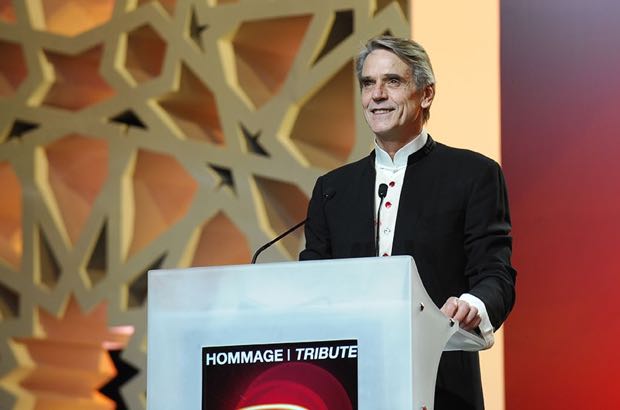 Jeremy Irons (Photo: Marrakech International Film Festival)
After attending the inaugural edition in 2001, English actor Jeremy Irons returned to the Marrakech International Film Festival on Saturday night to receive a career tribute award. The Academy Award-winning star greeted fans at the fest's opening film The Theory of Everything and accepted his award before the screening The Imitation Game the following night. The festival opened with two films about geniuses, and Irons himself plays a mathematician in the upcoming The Man Who Knew Infinity, across from Dev Patel as the famed Ramanujan.
Irons has come a long way since his entry into the Hollywood elite with 1981's The French Lieutenant's Women. He frequently crosses between indies and larger fare, with upcoming films including tentpole Batman v Superman: Dawn of Justice, Ben Wheatley's J.G. Ballard adaptation High-Rise, and Race, about Olympic gold medalist Jesse Owens. We spoke with Irons about the current trend of films about genius, how the industry has changed over the years, and what we can expect from the new Batman.
Filmmaker: What's this trend now with so many films about scientists and mathematicians?
Irons: I've just made a film called The Man Who Knew Infinity about Ramanujan, the Indian mathematician. I don't know why these things happen but they seem to come in little bursts. Certainly the last two films here justified the interest in that area. I'm glad that there's a little burst of stories about academics, inventors, mathematicians, rather than just ancient empires, which we have a lot of also, whether it be The Borgias or Game of Thrones. 
Filmmaker: What's challenging about making a film about mathematicians?
Irons: You have to make these types of films about relationships, which — in my instance with The Man Who Knew Infinity — comes out of a shared passion for mathematics. I think all films are about the tugging of the heart at the center. That's what engages the audience, whatever professions the character happen to have. It's about passion for the subject and passion between the characters in the film.
I thought the film about Stephen Hawking was extremely emotional. I was crying about four times throughout the film. The director was, interestingly, a documentary director. My only experience working with a documentary director was Michael Radford in The Merchant of Venice. A director who comes up through documentaries, they're looking for real situations. That's what they demand when they do a drama, and it makes for a slightly different sort of director, one I like.
Filmmaker: What's changed in the industry since you've begun?
Irons: It seems to me that the attention span of audiences affects career planning for actors. I watch my son, Max, who is 29 and has made his fifth film. You can see that there's this huge appetite for youth, which was always there, but somehow, like everything in life, has gotten more. I think fashions come and go much quicker now. Everything is quicker, and I think it's harder now for young actors to develop a strong, stable career. There's such a large young market now and I think it's bigger than when I was starting. That youth market has to be fed with young actors, and therefore the falloff rate is quite heavy.
Filmmaker: What advice did you give to your son?
Irons: I said, "Don't be an actor," but it's very difficult. His mother is successful, and I'm successful, and so he thinks that's what actors are. I said, "There are a lot of actors who don't work very much." But he seems to be enjoying it and he seems to have something to offer.
Filmmaker: You're taking over the role of Alfred in the upcoming Batman v Superman. How did you make such an iconic role your own?
Irons: He is quite a different Alfred than we've seen so far. Zack Snyder had very clear views about what he wanted. But it's not a large role because there are so many iconic characters in Batman v Superman. I would just say he's more hands-on perhaps than just a butler.