Back to selection
SIERRA LEONE'S "REFUGEE ALL STARS"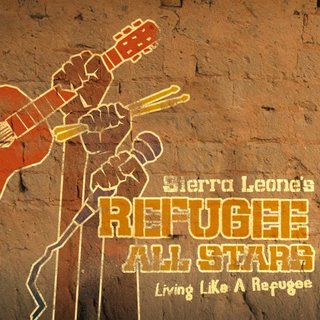 The uplifting documentary, Sierra Leone's Refugee All Stars, follows a talented group of Sierra Leonean musicians who cope with the decade-long civil war ragging in their country by forming a band and touring to the neighboring camps to help their fellow West Africans forget their problems.
Directed by Zach Niles and Banker White (and executive produced by Ice Cube), the doc was well received on the fest circuit and was awarded the Documentary Award at the AFI Fest. And last June it aired on PBS' P.O.V.
Through the doc the filmmakers follow the band, who have a Western-influenced R&B/Reggae style with uplifting lyrics that encourage social change, along with hearing the band members' stories of survival. In fact, the villagers they perform for are so loyal to the band that in the film we see the U.N. enlisted the band to spearhead an effort to encourage Sierra Leoneans to return to their homes after word of a piece agreement with the rebels begins to spread. The band takes on the task, but not without many of them questioning if it is the right decision.
Niles and White present a touching look at a group of people who through music bring attention to a part of the world that few Westerners know about. And since the making of the documentary, the band has continued its mission of piece as they've gone on an international tour and currently have an album out.
The doc is on sale today by Docurama for $26.95.
[AMAZONPRODUCT=B000QXDD32]