Back to selection
"TONY MANERO"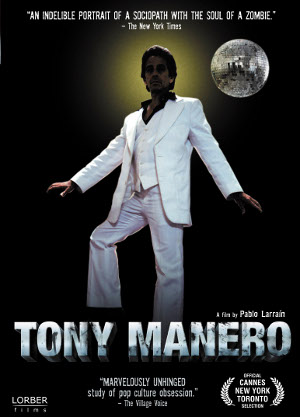 Set during Augusto Pinochet's brutal dictatorship in Chile during the 1970s, director Pablo Larrain mixes social commentary and the love for cinema to create a horrific (and darkly humors) tale with a tour-de-force performance by lead actor Alfredo Castro.
We meet Raul (Castro) as he shows up to a popular talent show prepared to take the crown as the Chilean Tony Manero. Yes, John Travolta's legendary character from Saturday Night Fever. Unfortunately for Raul he shows up on the wrong week (they're currently finding the Chilean Chuck Norris). A small man with little to say, we almost feel sorry for Raul and his quest. Once he realizes it's the wrong week he rushes back to the movie theater to study Travolta's moves. Even repeating his lines in English.
But quickly Larrain forces us to change our perspective of Raul as he goes on a string of murders and thefts to achieve his goal. Larrain channels the ruthless and brutal violence done by Pinochet's goons around town into Raul's psychopathic madness.
There's the comedic, like Raul breaking glass and pasting broken pieces onto a soccer ball to create his disco ball, and the arguments over the number of buttons on Tony's pants in the movie. Then there's the unthinkable, like the local movie theater which suddenly stops playing Fever so Raul kills the projectionist and steals the print of Fever, and the junkman he kills so he can use his glass tiles to duplicate the floor on the Fever poster (he even defecates on a competitor's suit).
Shot with striking handheld camerawork by DP Sergio Armstrong (The Maid), he uses the occasional out of focus shot to portray Raul's distorted life (and our viewing of it).
But the film works because of Castro's dedication to the Raul character, which can be compared to De Niro's Rupert Pupkin in The King of Comedy. Playing it with a blind obsession that's horrifying, comedic and impossible to look away from.
Currently on sale through Kino Lorber.
[AMAZONPRODUCT=B0038O6UOK]