Back to selection
There's Still Hope for Cinema: Ted Hope in Toronto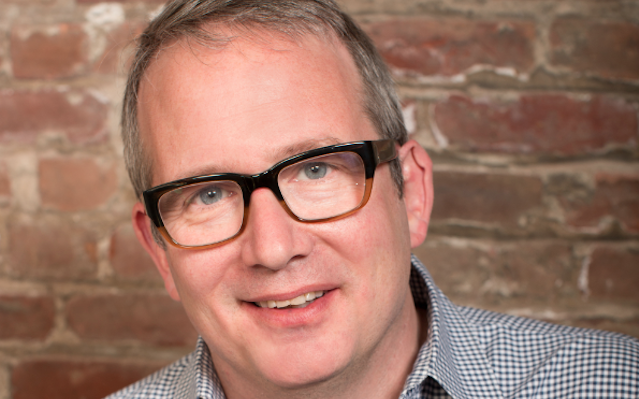 Ted Hope
On a chilly night earlier this week at Toronto's TIFF Bell Lightbox, Ted Hope addressed a capacity audience of filmmakers to wax about the future of film. For 90 minutes, the former CEO of Fandor and producer of indie classics 21 Grams, Happiness and In The Bedroom held a Socratic, existential discussion that (unsurprisingly) dismissed Hollywood's traditional blockbuster-based mentality. "We're stuck in a rut of legacy practices," he declared. Hope urged new distribution and marketing models, yet failed to offer a framework in its place.
Instead, Hope and SampoMedia's Michael Gubbins engaged in an abstract dialogue that inspired many filmmakers in the audience, who tweeted their reverence onto a large projected screen onstage. However, other attendees were frustrated by Hope's lack of concrete examples detailing prospective investment and distribution models. His was a philosophical talk, not a business one.
"When we think of film now, it does have the capacity to be any form, any length, and not just something with a beginning, middle and end," Hope said at the start of the evening.  Movies started within a business model, he explained, not as an art form, "and the art form expanded to fill that business model."  Today, various platforms from VOD to theatrical have allowed "film" to take many different forms. "So when we think about what are we going to create and how can we exploit it for fun and profit, it doesn't have to be that form."
But what is the new form?  Hope didn't say, but likened traditional filmmaking to an incomplete triangle. "We took our available leisure time, we went to the movies, converted that leisure time into intellectual capital, then we went to the party or coffee shop afterward and converted that into social capital." That's not a triangle, he added, but an "open angle." Only due to recent technology, specifically the internet and mobile devices, have we been able to enclose that loop. "The problem is that last leg has become the dominant form. All the chatter we engage on online becomes even shinier and brighter than the product that we created to begin with."
A successful example lies in genre films and documentaries, which have "virtual calls to action built into them," reaching specific audiences despite the shiny chatter.  The question then is "if we're not practising those two genres, how do we embed calls to action?"
Hope raised the question — perhaps as an intellectual challenge to the audience — without offering an answer. With a horror movie or a documentary (based on its subject matter) an audience generally knows what it's getting, so therefore the filmmaker can build an online community easier than, say, a brand-new dark comedy about dysfunctional siblings (i.e. The Savages).  So, don't we need that shiny, online chatter to cultivate an audience?
The solution, said Hope in so many words, is niche targeting or what he calls "building the aggregated community." For example, "we have the left-handed wooden boat-builders association and we want content from it. There are people making work that will appeal to that same core values, but what we don't yet have is that affiliate marketplace where I can say I can put together a collection of boat-builders." Hypothetically, he posited, a filmmaker would give up 10% of his revenue to let his film play on a popular website. "That would allow me, the maker of left-handed wooden boat-building movies, to reach a wider audience." As yet, he added, we haven't built this affiliate market or community, but "both are entirely possible with off-the-shelf tools right now.  It's a great, brave future for the left-handed wooden boat-builder filmmakers of the world."
Immediately, a Toronto film producer tweeted, "Can the films about left-handed boat builders pay the bills? Yes," he answered himself, "but you need a name cast."
Hope never addressed the issue of star attachments or production costs, but did address the rise of S-VOD (subscription video-on-demand), something he personally knows about. After all, Hope's (former) Fandor is a subscription movie website specializing in indies, foreign films and docs, where filmmakers share in the revenues. "Why did it take so long?"  Hope compared S-VOD entities Maker Studios and Fullscreen to comic book giants Marvel and DC: "They had a low-cost way to generate new characters — generate, test them, build new worlds around them, see the response. It's what the online world is doing…Here is a direct relationship with the audience.  You see all of their behaviors," implying that audience tastes and reactions can be easily tracked online.
Hope was also encouraged by crowdfunding, because "the audience can demand what they want to see from concept. It's a big shift."  He was also excited by developments such as Netflix ordering a 10- episode prequel to the 2001 low-budget indie comedy, Wet Hot American Summer. Instead of feeling overwhelmed, Hope was excited about the "overabundance" of films in the world and urged the audience to make films that had something to say.
"I have a lot of hope for film."