Back to selection
Cinematographer Tom Garner on Shooting Sundance Feature The Strongest Man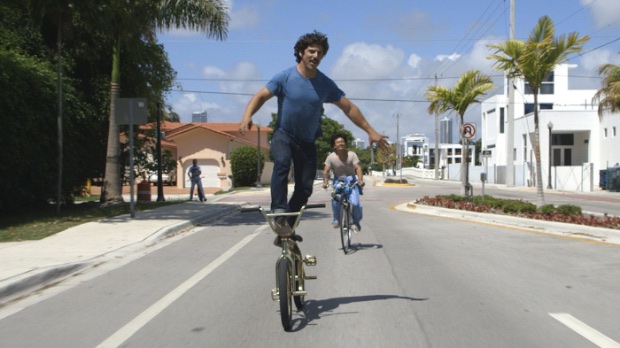 The Strongest Man
Making their feature film debuts at Sundance are director Kenny Riches and cinematographer Tom Garner for the offbeat and ingratiating Miami-set buddy movie (of sorts), The Strongest Man. Artist and metalworker Robert Lorrie plays Beef, a Cuban construction worker set out on a small-scale spiritual odyssey across the streets and into the apartments of Miami. He's accompanied by his pal Conan, played by YouTube star Freddie Wong, and their adventures have a shambling charm reminiscent a bit of Rick Linklater's Slacker. The considerable appeal of the on-screen performers is echoed by Garner's cinematography, which sees contemporary Miami in a way that's fresh, honest and nicely matter-of-fact. Below we talk about the challenges of natural light, why Canon cameras are great, and dream sequences. The Strongest Man premiered last night in the NEXT section of the Sundance Film Festival.
Filmmaker: How and why did you wind up being the cinematographer of your film? What were the factors and attributes that led to your being hired for this job?
Garner: I wound up being the D.P. for the film The Strongest Man because I've been friends with the writer/director Kenny Riches since film school at the University of Utah and we have always planned on making a film together. Besides being close friends whom share a great deal in common regarding film, music and art. And, I have worked as a videographer/cinematographer for the last 10+ years for a living. I believe my years of experience and my particular style that I have settled into over the years played heavily in the factors that made the director and producer confident in their decision to bring me on board.
Filmmaker: What were your artistic goals on this film, and how did you realize them? How did you want your cinematography to enhance the film's storytelling and treatment of its characters?
Garner: I had two main goals on this film. They were that I use natural light to the best of my ability while maintaining the overall feel of summertime in Miami and, number two, that the camera did not get in the way of the story and the setups not overpower the characters. Many times I feel like when there is a lack of story or character development that filmmakers try to compensate the various shortcomings with fancy dolly shots, overuse of shallow depth of field, over the top jib/crane/aerial moves etc etc. As I read the script I knew that the location was as much of a character in the story as the actors were, and I took a very traditional fly-on-the-wall approach as to not distract from the key element which were the story and the characters that make up the story.
Filmmaker: What were the biggest challenges posed by production to those goals?
Garner: The biggest challenge that I faced with these two goals were easily lighting-related and crew size. We had a number of exterior day shots, and I wanted to capture the beautiful summertime skylines/clouds as our characters roamed the streets of Miami. The budget really only allowed for a small lighting package and a few students to help at various times so I was on my own for the most part. It would have been easy to blow the highlights out but I wanted to capture the color in the sky as well as the clouds and without lighting sources powerful enough to compensate for a high contrast situation I had to get creative and find alternate solutions such as pushing exterior shots away from mid-afternoon. Also, oftentimes I feel like most of the day spent on various sets is spent waiting for "camera." This was something we absolutely didn't have the luxury of messing around with so it was a real challenge moving quick and staying light on our toes since we always had more scenes to shoot each day than we felt like we had time for.
Filmmaker: What camera did you shoot on? Why did you choose the camera that you did? What lenses did you use?
Garner: I chose the Canon C300 and C100 as our A and B cam. I chose the camera for a number of reasons but mainly because it's the closest thing to a "one size fits all" camera. I've shot on every digital camera that there is from the ARRI ALEXA, Sony F65, down to the smallest of the DSLRs, and I've never worked with a camera that's as practical as the C300/C100. I knew from day ONE that I would have to move quick and that I wouldn't have tons of toys to outfit the camera with (I pulled my own focus for heaven's sake), so I went with the Canon Cinema line of cameras because of their built-in neutral density filters, very impressive dynamic range found with the C-Log, XLR inputs, low-light performance, incredibly detailed 4k sensor that outputs possibly the best HD image I've worked with, small file size (even though we ended up recording to an Atomos Ninja 2), and of course their instant ability to work with Canon mount lenses without tons of ridiculous lens adapters (try putting Canon lenses on Sony products and you'll know what I mean). As for lenses it's kind of a funny thing but the budget restraints only allowed for my personal collection of various Canon-mount lenses, many of which I'm not that impressed with but that really gave the film a nice softer film-like look in the end. I've only ever really used L-series lenses on the C300/C100 but was extremely happy with how my Sigma 17-50 2.8, Sigma 30 1.4, Tokina 11-16 2.8 and Rokinon 85 1.8 looked both during the edit process and more importantly on the big screen while checking color correction at a local theater before the Sundance premiere.
Filmmaker: Describe your approach to lighting.
Garner: Both the director and I have a love and appreciation for natural light and therefore we went into this production knowing that crew size and gear limitations would mean using natural light to the best of our abilities. I always love a single source of direct light and so my overall approach was to cut or flag all but one existing source of light and then compensate with fill or bounce where and when it was needed…. For example if we were in a room with windows on each wall then I would block three of the windows and allow for the scene to play off the existing light from just the one window that's left. My kit included a few LED panels, a couple Kino Flos, a few Par Can lights and lots and lots of sheets and blankets for diffusion and flagging.
Filmmaker: What was the most difficult scene to realize and why? And how did you do it?
Garner: This was a no brainer for me, and I saw it coming the first time I read the script. There are a handful of scenes where we get inside the main character's head and the script describes it as an empty warehouse with a bucket of water, a crate and a chicken. I knew that the director was going for something abstract and not literal and since we didn't actually have a warehouse to shoot in we had to work in some interesting locations and use lighting to sell the idea that we were in the subconscious mind of a rather eccentric Cuban construction worker's mind. In order to achieve this I started by turning every light out so that we were in as close to pitch black as possible. From there I started building a look mostly with Par Cans that were very direct and focused (or intense) and then gave the finishing touches by bringing up the overall ambience to surfaces and objects via light panels that were on dimmers. We shot these scenes late at night in the back of a workshop on a skate ramp… Needless to say it was very difficult, besides the fact that there was no air conditioning, the lights put out a lot of heat, and it was the middle of the summer in Florida.
Filmmaker: Finally, describe the finishing of the film. How much of your look was "baked in" versus realized in the DI?
Garner: As mentioned earlier, one of my favorite things about the C300/C100 is the C-Log mode found within the menu. The picture looked so great in camera that the director kept telling me that he didn't even know if he wanted to color correct it or touch it in post. Most cameras have a very flat, low contrast, almost black-and-white feel when shooting in a mode that allows for the most dynamic range, but the Canon series and C-Log still holds a lot of color and has a very smooth roll off in the highlights that gives it a nice film look without doing much to it. Of course we had some basic white balance correcting to do but besides adding a little contrast in post the director actually ended up desaturating the whole look a little, and that's where the film ended up… so most the look was realized in camera during production and not in the DI.