Back to selection
Eight Sundance Veterans with Advice on Eating, Interview Technique and Hot Tubs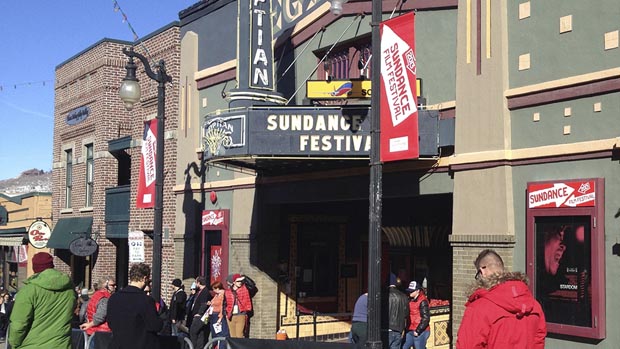 As part of our lead-up to the 2015 Sundance Film Festival, yesterday we published producer Mynette Louie's advice for Sundance newcomers. Today we're following up with eight suggestions from veterans of the '14 and '13 editions. Read on for advice, much of which you should take and some you will hope you don't have to… — SM
Ana Lily Amirpour (director, A Girl Walks Home Alone at Night): The day I arrived at Sundance I got terrible news that my production designer Sergio De La Vega passed away in a sudden tragic accident. So that night we were drinking at the house, and I had a lot of bourbon, slipped on some ice, cracked my head open and ended up in the emergency room where i got 30 stitches. That was the night before our premiere, so I had a mild concussion the day of the premiere, and I did a factory line of press that day. But because of my concussion I was mellow and grounded (not from pain medication — I didn't take any). I was happy to talk to every person i talked to. I took my time, looked people in the eye, and was present. The combo of the head injury and losing someone important, made it so I truly didn't give a shit about the reviews or selling the film or anything like that; I was just happy to be alive. I'm so grateful for that concussion and for the reminder that life is fragile and you have to appreciate what you have and who is standing next to you and where you are. And you know where that is? Fucking Sundance! So if you can induce a concussion-like state of zen, I highly recommend it.
Tim Sutton (director, Memphis): I guess my main piece of advice is to not worry about the first out-of-the-gate Twitter reactions to your film. Those are often not really thought through shouts and are mainly about that particular critic needing to get his/her voice out there quickly. The more nuanced critiques come much later, so try to be patient. Also, listen to the chatter after your film on the shuttle. There was a point when my editor, Seth Bomse, and I were listening to three separate conversations about Memphis happening simultaneously — which helped us know the film was hitting in its own way. Congrats to all.
John Baker (producer, Memphis): I'm not sure I have anything unique to add to this conversation (do dress warmly and stay hydrated kids!), but there's one piece of advice I received from a great friend and producer that really worked for me last year. Be sure to set aside some time each day just for yourself to recharge/relax. It made all the difference for me in staying focused and ready to go to the next screening/party/meeting/random thing that came up.
I guess the other thing I'll add is to try and keep perspective amidst everything happening around you from the industry side of things. You put your blood, sweat, tears, and likely many years/dollars into making your film happen. It's almost a miracle that it even exists! And now you get to showcase it at one of the premiere film festivals in the world amongst your peers and hopefully meet some future collaborators. Savor that because who knows when it will happen again. You can't control how critics will write about your film, or if there's going to be an overnight bidding war for it (or not). There will be people who dig your film and some who don't. At the risk of sounding corny/cliché, enjoy the ride. You did the work that got you to this moment and that's what matters most.
Kat Candler (director, Hellion): For me, it was really just savoring every second of the experience. The highs, the lows, the madness, the late night pajama parties in your condo with your closest friends and loved ones. Every inch of the roller coaster ride you'll remember forever so take it all in. And always keep snacks on you because you'll forget to eat.
Alix Lambert (director, Crime, the Animated Series — Marcus McGhee): Make sure you have a place to stay and warm clothes. Don't forget that the air is thin up there (especially if drinking). Don't worry about finding your friends, you will run into all of them within two minutes of arriving. Try to leave the festival at least once and see the ice fishers and the snow.
Elisabeth Holm (producer, Obvious Child): Gil [Robespierre] and I would like to advise the following: have a pizza party with your team, try to see at least two movies that are not your own (that is a pathetically low number so figure it out), walk up Main Street by yourself and order chicken wings wherever possible. Keep your expectations low and adrenaline high. Also final reminder that being hungover at your premiere is not fun or cool.
David Zellner (director, Kumiko the Treasure Hunter). See as many movies as you can. It seems obvious but it's easy to get caught up in all the hubbub and not prioritize that. See something you're completely unfamiliar with; some of our favorite experiences have been from wandering blindly into a screening we knew nothing about. It's much easier than other places to meet fellow filmmakers and industry folks, which often just seems to happen naturally by being there. But no matter how much you have going on with movies and meetings and parties, at some point it's important to take a break from everything and go ride Park City's Alpine Coaster.
Jeremiah Zagar (director, Captivated: The Trials of Pamela Smart): My refuge was an outdoor swimming pool. I bought a pass for the week, and it wasn't cheap, but I have a shitty back and a ton of anxiety and swimming helps! It's freezing outside but the pool is heated, often empty and there is a hot tub at the end with a killer view of the mountains.