Back to selection
Cinematographer Martijn van Broekhuizen on Shooting Sundance Horror Drama, The Hallow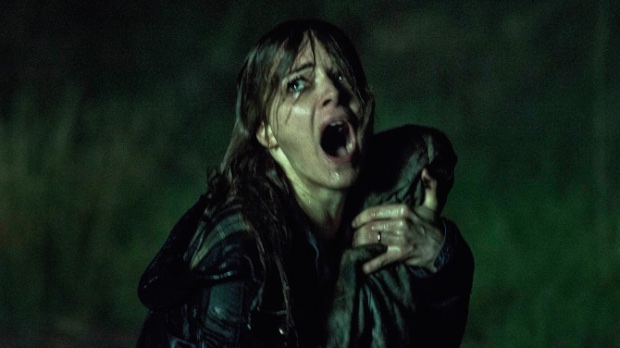 Among the positive qualities cited by Variety in their review of the Sundance-premiering horror film The Hallow was the cinematography of Marijn van Broekhuizen, with Geoff Berkshire writing that it "plays with shadow and light in eerie, evocative ways and beautifully embellishes the script's fairy-tale quality." Below, van Broekhuizen answers questions about being hired by director Corin Hardy, basing his lighting schemes around backlight and the challenges of night shooting.
Filmmaker: How and why did you wind up being the cinematographer of your film? What were the factors and attributes that led to your being hired for this job?
Van Broekhuizen: It was not very far off the actual production that my agent Jerry from LUX-Artists contacted me to see if I was interested in reading The Hallow. I hadn't worked with Corin before but I had worked with a lot of his colleagues at Academy Films, so I knew of him. After reading the script and being very happy with what it was, we got onto Skype. I do remember that Corin immediately took me away and brought great enthusiasm to the project. He knows so well what he wants and tries to accomplish, and knows how to communicate that into words or boards or in his very specific beautiful visuals. I showed him some work I did on a Dutch feature with some very specific lighting in complex forest nighttime situations, and I think that was eventually the biggest reason why he agreed to have me as his cinematographer.
Filmmaker: What were your artistic goals on this film, and how did you realize them? How did you want your cinematography to enhance the film's storytelling and treatment of its characters?
Van Broekhuizen: It was a combination of things. The Hallow is a genre film so it allows us to be a little bit more abstract or extreme at times. Lighting and camera-wise we made a couple of distinctive choices; how we would address the scene and work with the actors was another. We created a mixed light situation in which we made the exterior night a little bit more cyan to give it a bit more of a "fairytale" look, and we made the interior (practical) light very warm to create a big shift between the inside and the outside. The tungsten light, which plays a role with the creatures, had a very specific role throughout the film.
Every scene inside (and out) is narratively led by a light source and every time it has a different meaning and function. This was extremely interesting for me to be working with because your light plan is constantly changing in color and contrast.
Camera-wise we chose to be very free and flexible, following a well prepared plan. We would always light a whole room, house, forest and then move freely with the actors and be open to their energy at any specific moment. This allowed me to shoot almost 180 to sometimes 270 degrees within every location. It didn't mean that we had to make any concessions to the quality within our frame because the lighting and obviously Corin's directions also dictated where the scene should go. So we could be quite precise in our own given freedom of space. I think my main goal was to create a visual look that was very diverse in detail, creating lots of layering in light and camera movement to constantly trigger something different.
Filmmaker: What were the biggest challenges posed by production to those goals?
Van Broekhuizen:: The ambition of working with many layers of light, shooting approximately 75% of the film at night, this was a big thing for production. [Producers] Joe Neurauter and Felipe Marino were always very supportive and pushed us the same way we wanted to go, so that was brilliant. The biggest challenge apart from that I think in the end was still time. The nights weren't very long as we shot April/May, so we were often running the whole night through!
Filmmaker: What camera did you shoot on? Why did you choose the camera that you did? What lenses did you use?
Van Broekhuizen: I chose to shoot ALEXA. As we shot with so many practicals, I wanted a camera that would work well within these circumstances. Other than that I really like the ergonomics of the Alexa, shooting the whole film handheld with long camera movements. This was a very big part of the decision making.
Filmmaker: Describe your approach to lighting.
Van Broekhuizen: My approach to lighting maybe comes from when I was doing a lot of documentaries. I would use the light that was presented by the sun or the moment. In a way I approach a drama in the same way. I mostly light a place or room with one big source as a back light and see what happens; and then you finalize it bit by bit. The beauty of this I think, creating a camera style that allows you to follow the actors freely, is that you can really let the actors go and not have to cut them. [I'm] always following my backlight and being able to catch the actors energy in every mood. With this film we also chose to divide the interior and exterior by color. And script wise, it was amazing that Corin created all the light elements as playing a role in the film. It created such a diversity in storytelling in my opinion!
Filmmaker: What was the most difficult scene to realize and why? And how did you do it?
Van Broekhuizen: I think one of the most difficult scenes was inside the Hallow forest, the end sequence. It was a very big setup and it was an extremely technical scene. Definitely for Joe Mawle (Adam) who had very big prosthetics and holding an animatronics baby; having difficulties talking and seeing because of this. His leg was broken (in the film) so he had difficulties to walk, so for him this was so hard. Knowing that and knowing how big the scene was and how little time we had for it, we had to remake our plan a couple of times during that night, breaking up the scene and ending it at a different location. The collaboration with Corin was super nice as it is so difficult in those moments in which you have very little time to switch and have to be very creative with an immense pressure. Because allowing the scene to have more time means that something else will be under more pressure and how do you solve that puzzle!? It's a very interesting challenge!
Filmmaker: Finally, describe the finishing of the film. How much of your look was "baked in" versus realized in the DI?
Van Broekhuizen:As we did most effects "on camera" like animatronics, suits, prosthetics, we still had quite a lot to do in post-production. We did our post at Windmill Lane in Dublin. Most of how the film should look like was baked in the film. This didn't mean that we were finished after two weeks of grade because still there is so much detailed work to be done and Dave Hughes, our colorist, did an amazing job on it.